At Rotts of Friends Animal Rescue, you'll find Bam Bam, a tiny 3- to 4-year-old neutered male Chihuahua. He only weighs about 4 pounds and is looking for a snuggly home.
Bam Bam is a curious guy and will keep you smiling with all of his goofy antics. The miracle is one of four gorgeous German shepherds looking for homes.
This dog is a 5-year-old super-sweet female. Miracle needs some obedience training, but since she comes with free lifetime obedience training classes, you'll have her following commands in no time.
She's a lovely dog and will make a great companion for some lucky person.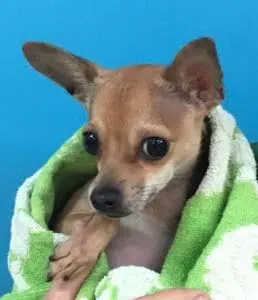 Bam Bam, the Tiny Chihuahua
The next Rotts of Friends adoption event is from 8 to 11 a.m. Saturday, Oct. 24, at 34505 County Road 29 in Woodland. Come by 10 a.m., as it takes at least an hour to meet and adopt a dog; everyone who will be living with the dog should come out to meet it.
Get the latest Chihuahua Buzz
Bring proof of homeownership, such as a mortgage statement or property tax bill. If you rent, please bring proof that your landlord allows you to have a dog in your home. That includes a pet clause in your lease or a note from your landlord.
All dogs adopted from Rotts of Friends are healthy, microchipped, up-to-date on their vaccines, and come with free lifetime obedience training classes. For more information, visit facebook.com/rottsoffriends.
He's in a Bit of a Pickle
This tiny pocket pup weighs only 5 pounds. He's a red and tricolor Chihuahua known as Mr. Pickles. The shelter staff thinks he is about 11 years old.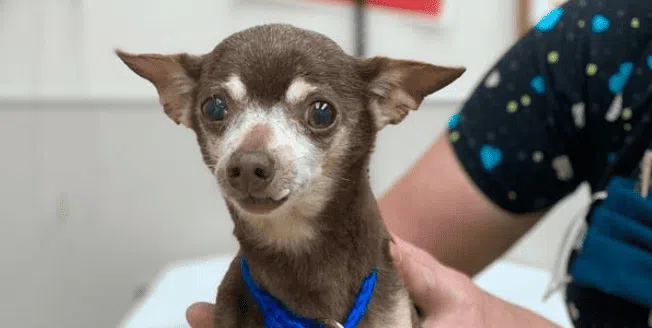 The staff said, "Our darling little senior, Mr. Pickles…would love to be someone's lap dog and snuggle buddy. He does love to be held. At the shelter, he is walked by volunteers and does like to go on these outings. He has recently had a dental resulting in the removal of his teeth.
He will need soft food for the rest of his years. Adorable is not lost on this guy. He does have a loss of hearing and limited sight. We'd love to find a lovely retirement home for him…Pickles qualifies for our senior adoption rate of $35.
For more information about Mr. Pickles, call the Humboldt County Sheriff's Animal Shelter at (707) 840-9132 and ask for information about animal ID number A097490.