A bill that has finally landed on New York Gov. Kathy Hochul's desk would ban the sale of dogs, cats, and rabbits in New York pet stores, prompting mobilization efforts from animal activists and the pet store industry alike.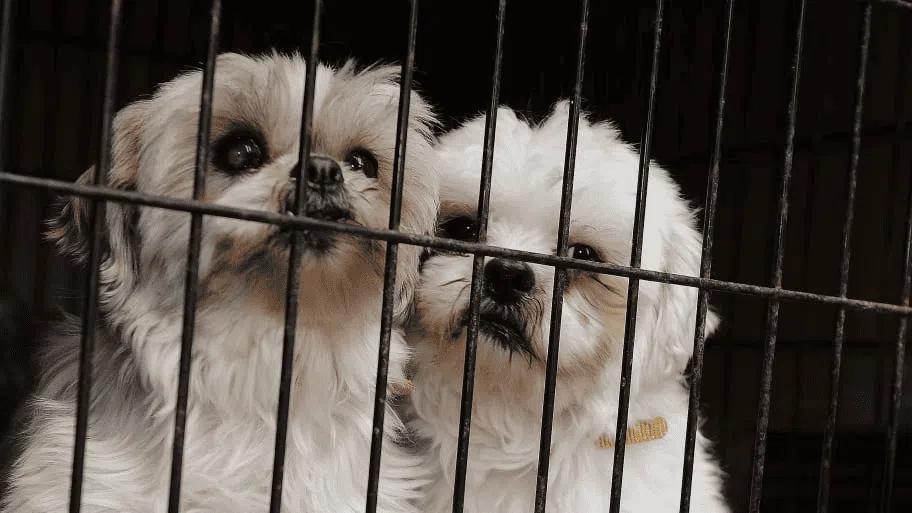 As The New York Times reported, animal advocates argue that the bill would curb the prevalence of puppy mills. Which they say are cruel and too loosely regulated. Pet store owners, however, say the bill would put them out of business and create a puppy black market. The pet store lobbyists say the dominant narrative about puppy mills is unfair.
And with the president of a national pet trade association saying corrupt breeders are "few and far between." State Sen. Michael Gianaris, for one, said he considers the industry indefensible: "I don't think we should sanction the torturing of animals…to keep people in business." Hochul hasn't publicly indicated her views.
Pet Stores Can Say All They Want
Nudelman showed several clean U.S. Department of Agriculture inspection records of the breeders he works with, noting breeders and pet store owners must keep extensive records and paper trails of every dog sold for several years.

"They can say all they want," he said of the ASPCA. "They're activists. They're after us.
"Some of these stores, these things they're showing on TV of these puppy mills, are not places we can get, nor would we want to get, our dogs from," he added.
Get the latest Chihuahua Buzz
Supporters of the bill say the USDA fails to enforce the Animal Welfare Act and approves licenses to breeders too easily.
"Just because someone issues you a license it doesn't mean they're doing their job," Ketzer said. "And we have seen over and over again, that these are not isolated incidents."
A handful of lawmakers who voted against the bill argued the measure will only hurt legitimate breeders or small businesses. And they will not stop puppy mills from existing.
About 43% of puppies shipped to New York pet stores arrive by truck from Missouri, home to 750 commercial dog breeders, according to the report.
Roughly one-quarter of puppies sent to New York pet stores for sale come from dog brokers.
"With so many good animals in need of rescue, there is no need for abusive puppy mills to supply pet stores, especially when less than two percent of [$130 billion national] pet store revenues come from pet sales," Gianaris said in a statement Thursday. "I hope Gov. Hochul signs this bill into law soon. S,o we can better protect animals from the scourge of puppy mills."