How to choose Chihuahua croquettes?
The Chihuahua is often mistaken for a fragile dog, but in reality, it is pretty resistant and lively! He enjoys an excellent life expectancy. Choosing the right croquettes, however, remains quite tricky, given the breed's characteristics.
Chihuahuas have a very narrow jaw, unsuitable for croquettes, for example. Whether it's the type of croquettes or how to feed it, Chihuahua needs special attention regarding diet, which must be balanced and adapted to its physiological stage.
Chihuahua and its Food Needs
Chihuahua is the smallest dog breed in the world! Females measure up to 16 cm, compared with 20 cm for males. But it is also an animal full of surprises since it is much less delicate than we imagine. However, as with many dog ​​breeds, Chihuahua feeding should be considered according to its physical characteristics.
Here are some things to consider when choosing your Chihuahua croquettes:
Chihuahuas are highly predisposed to dental problems, mainly because of the narrowness of their jaw. It will, therefore, be necessary to favor a diet of size adapted to the oral morphology of the dog, and regular care (brushing teeth, candies to chew of quality).
Because of its small size, Chihuahua has a high energy requirement, so the nutritional value of its kibble should be studied so that the dog does not miss anything.
Chihuahuas have high risks of hypoglycemia.
Finally, Chihuahuas are known to enjoy changing food quite often because their taste buds need to stimulated, often more than other dogs. Their food should, therefore, be sufficiently palatable.
Remember that you will find physiological needs (depending on your age, possible illness, etc.) if the characteristics of your Chihuahua croquettes are significant.
Get the latest Chihuahua Buzz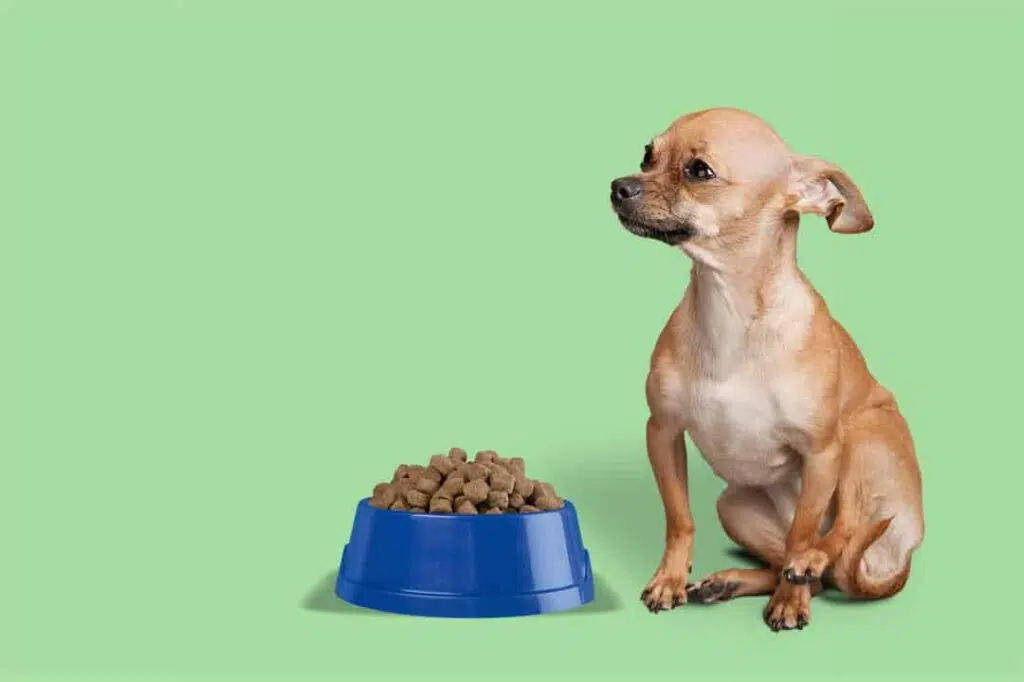 Which Chihuahua Croquettes are the Best?
Beyond the nutritional needs of the dog, such as the supply of proteins, minerals, or vitamins, Chihuahua needs croquettes adapted to its physical characteristics.
It will, therefore, be necessary to opt for:
Customized croquettes: because the size jaw and its teeth, the croquettes of Chihuahua will have to be of adapted shape and size. Knowing that dogs weighing less than 1.5 kilos may be better to opt for pâté or croquettes for cats that will be equally suitable.
It is best to give the Chihuahua at least 4 to 6 small meals a day during the first six months of his life if he knows how to control himself.
Hector Kitchen's Motto
Each dog is unique; his diet must be too!
Each Chihuahua has nutritional needs that clean. These recommendations are not the only ones to consider when choosing your croquettes.
Its age, but also its weight, its level of physical activity, or its possible diseases, are also significant. To better prepare the meals of your Chihuahua, no one is better qualified than a specialist in animal nutrition.
When and How to feed your Chihuahua Croquettes?
Once the choice of croquettes of your Chihuahua made, you will need to know when and how to feed it. In general, it is advisable to give the daily ration of your dog at fixed hours, every day, to avoid possible digestive disorders. The amount of croquettes is, of course, to adapt according to the weight and daily activity of the dog.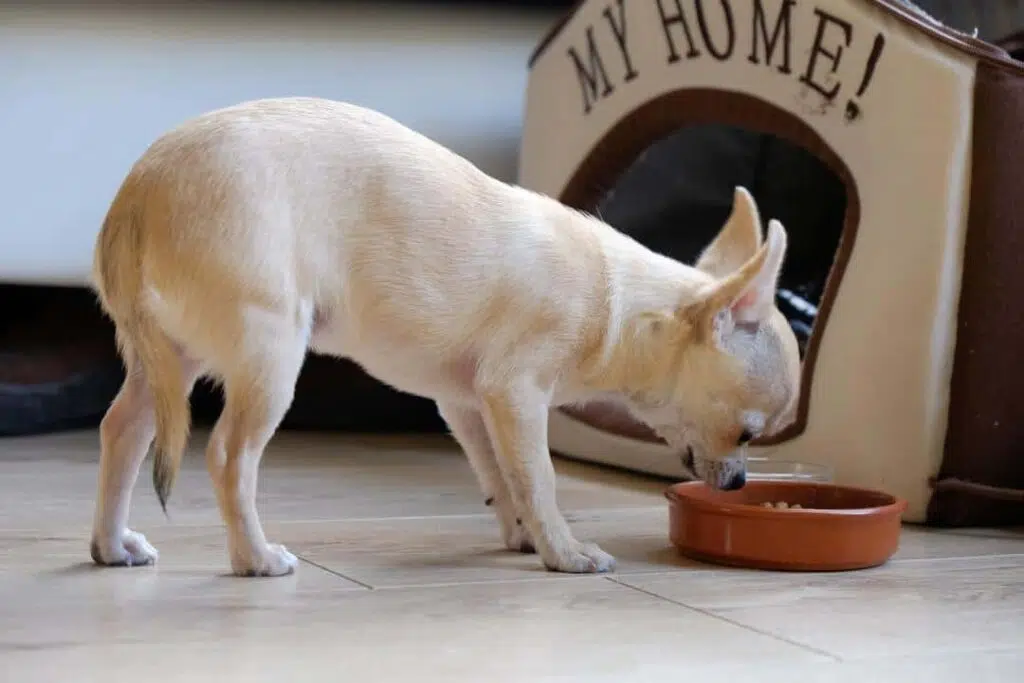 Here are some recommendations to take into account to best feed your Chihuahua:
Give him his meal in silence, in a room away from the heart's hustle and bustle, and if he settles well or at a fixed time.
It is best to give the Chihuahua at least 4 to 6 small meals a day during the first six months of his life if he knows how to control himself. After the first six months, you can let him adjust himself, provided he is not overweight, or continue to give him his ration in 4 to 6 small meals.
The amount of croquettes depends mainly on the weight of the animal, its physical activity, its age, and any declared diseases.
Also, ensure that your Chihuahua has constant access to a source of water. The hydration is integral to his diet and is essential in the dog's health. Change your bowl every day so that the water is always fresh.
The treats: in addition to cakes, you can offer healthy treats to your dog from time to time. Pieces of fruit or cooked vegetables will do the trick! Be careful, though, if your dog is overweight. To protect yourself against the risk of hypoglycemia, always have some "Nutrigel" or honey on hand.
Prohibited: Naturally, certain foods or other treats are to banned from your dog's diet. Sugar, cold cuts, chocolate are toxic foods for the dog, chicken or rabbit bones, etc., are also not recommended.
Source:tripwithdog