A small dog is in recovery after he was found "cemented" to a Florida sidewalk where he was "left to die," according to an animal services organization.
The Pekingese mix, who has been named Trooper, was found in a disheveled condition near Yamato Road in Boca Raton, in southern Florida.
Tri-County Animal Rescue, where Trooper is receiving care, said in a post on Monday: "He was cemented to the ground. You read that right. Completely stuck to the sidewalk off Yamato Road for what seemed like days.
"He was left to die. The smell was unbearable. There was no way a dog could have ended up like this overnight."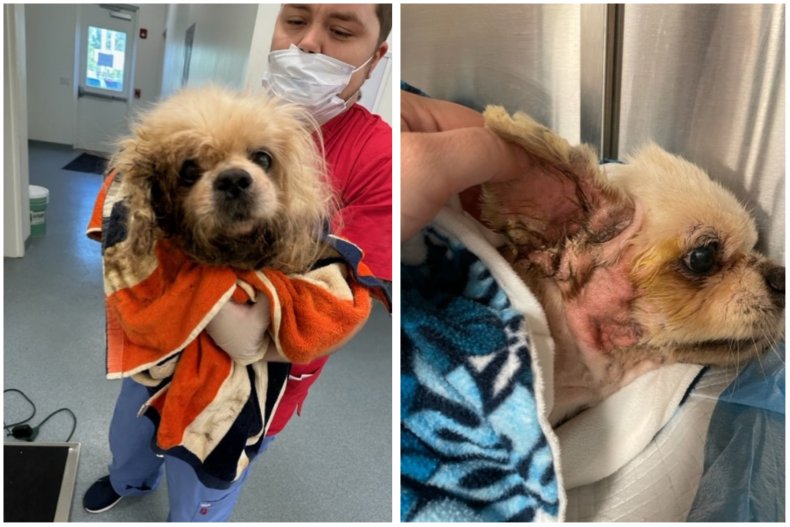 Tri-County Animal Rescue spokesperson Amanda Zimmer told Newsweek: "What we found was disgusting even as far as maggots coming from an open sore and ears so infected they were oozing with puss.
"After he was cleaned up, we found intestinal parasites, anemia, and severe infection. But the worst of it was he was unable to stand. After X-rays, our veterinarian determined he has been that way for a long time. And it was most likely from being hit by a car or kicked very hard and no treatment was given."
Explaining Trooper's condition, Zimmer added: "He is still too weak to undergo surgery for his back to correct his discs and dental. But he is on daily fluids, medications, and rehabilitation to help with mobility. As of this morning, he was able to stand for 3.5 minutes alone and relieve himself as well. Two feats he couldn't perform when he arrived."
According to the pet resource website Vetreinarians.org, an estimated 10 million animals die every year in the U.S. as a rezult of abuse.
The American Society for the Prevention of Cruelty to Animals said an estimated 6.3 million companion animals enter U.S. animal shelters nationwide every year.
Get the latest Chihuahua Buzz
Of this, approximately 3.1 million are dogs and 3.2 million are cats. While the figure is high, it has declined from approximately 7.2 million in 2011. So, with the biggest decline in numbers being with dogs: from 3.9 million to 3.1 million.
After hours of grooming and shampoo baths due to "urine and fecal burns" as well as several tests, staff were able to identify Trooper suffered from 22 ailments. Including paralysis, an ear infection, and heart murmurs.
The animal rescue said Trooper's medical care had already cost $2,500 at the time of the post. But that they hope to get the dog to a specialist to see if he can walk.
A fundraiser has since been organized to aid the pooch's recovery.
So far, the campaign has managed to raise more than $16,480 for Trooper, and more than 425 people have donated to help.
Trooper has lived up to his name and is attempting to heal, even if the road to recovery will be a long one.
An Instagram video uploaded on Sunday showed Trooper using his strength to stand on all four legs as a friendly dog approached and smelled him. A caption on the video read: "Up to three minutes and making friends."
The clip has gone on to attract hundreds of likes and many commenters have said they donated to support Trooper.
Commenters shared numerous words of encouragement after they saw Trooper making progress.
Lui_liur said: "Yay, go Trooper. You got this."
Francigirl10 added: "Oh my goodness, this makes me so happy."
Theresawaul posted: "Stay strong Trooper. You got this."