Nearly 200 Chihuahuas were rescued in Pennsylvania. The Pennsylvania Department of Agriculture Executive Deputy Secretary Mike Pechart described it as one of the worst animal-hoarding cases.
The 185 Chihuahuas, one Coonhound, and one mixed-breed dog were removed from the Columbia County, Penn. home Thursday and Friday of last week. Pennsylvania State Police and the state's Department of Agriculture served a warrant to the homeowners, who have been identified as Albert and Thomas Ambrosia of Benton.
Despite their less-than-ideal living situation, the 200 Chihuahuas were found to be in better condition than authorities expected. While examining the dogs, veterinarians discovered no serious ailments — only minor skin, teeth, and eye problems.
The dogs appeared friendly, wagging their tails as authorities walked through the home.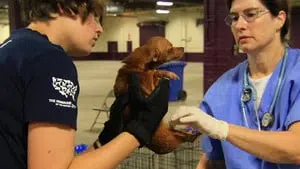 200 Chihuahuas Rescued
"The owners were telling us their names as we were tagging them,"
Get the latest Chihuahua Buzz
"[The owners] were doing the best they could in the circumstances they were in," Bucher added. "It just got out of hand."
While conducting the investigation, officials discovered the bodies of 30 Chihuahuas in the home's freezer. The dogs apparently died of natural causes and the owners explained that they were planning on cremating them.
Albert and Thomas Ambrosia have not yet been charged with animal cruelty for violating state law, which requires any person who owns, transfers, or boards more than 25 dogs to obtain kennel licensure. Licensed kennels are also subject to annual facility inspections. Charges could be forthcoming.
The dogs are doing well and have been transferred to shelters throughout the area, including the Adams County SPCA, the Humane League of Lancaster County, and the Humane Society of Lebanon County.
For a full list of shelters currently caring for the rescued dogs, check out the Pennsylvania Department of Agriculture press release.
Sources: PennLive.com, Timesleader.com, dogtime