Columnist Steve Lange's family recently found out their little dog has big genetics. All it took for this was a DNA test.
So recently, we got a DNA test for our dog, Finch.
Which, when I write that, sounds ridiculous.
When I was a kid, say as a 10-year-old in 1979, just the idea — paying money to extract a pet's DNA for vanity purposes — would have been relegated to people like Zsa Zsa Gabor or one of the grandkids of John Paul Getty.
Yet there we were, in October, listening to daughter Emma, 14, tell us what she wanted most for Christmas was a DNA test for Finch.
We adopted Finch from Paws and Claws in June after years of Emma begging us to get a companion for our 12-year-old Chocolate Lab, Scout.
Emma fell in love with this 13-pound, doe-eyed dog at Paws and Claws, and, beaten down by quarantine; we gave in.
Half chihuahua, we guessed. Half wiener dog. They call those Chiweenies.
Emma researched dog DNA tests and made her case for one called Embark, which, we assume, is pronounced with the emphasis on the "bark."
And there we were, in November, swabbing the inside of Finch's mouth and sending it to Embark's "state-of-the-art, dog-approved lab facility" where they would "run a DNA microarray to produce a detailed view of your dog's genome."
The Big DNA Test Reveal
This genome would be extrapolated through their "proprietary bioinformatics pipeline," which was created by the "top dog DNA scientists in the world"!
Get the latest Chihuahua Buzz
And there we were, Christmas morning, waiting for Emma to open the test results.
Our entire family was excited. Even me, and we had written our guesses down in advance. Studied photos of dog breeds. Tried to match Finch's personality with breed character traits.
Emma slowly opened the results. We did that where you clap your hands excitedly in front of your face. Someone did a drumroll …
Here's something: Wife Lindy took her own DNA test a year ago. These tests — we gave her the 23 and Me Ancestry test as a gift –can track your ancestry to one of 2,000 geographic locations. They can also reveal important genetic insights, like predisposition to coronary artery disease or gout.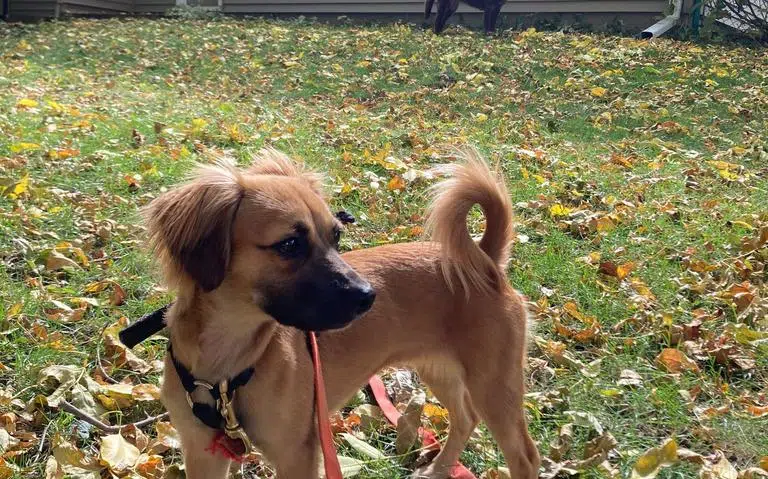 They can tell you if you're likely to have — and this is from their website — bunions, flat feet, the hatred of chewing sounds, a fear of public speaking, an aversion to cilantro.
Lindy, in this case, swabbed the inside of her own mouth. Sent the results in to what I can only assume was a "human-approved lab facility."
None of us remember her getting the results back.
A few months later, we asked about it. Her family line is, it turns out, from the Netherlands. She's more likely to prefer salty over sweet foods (true), chocolate over vanilla ice cream (true), to dislike cilantro (true).
The Big Results
Sure, we were interested. But there was little fanfare.
I had to wonder if she thought about that when we were all drumrolling for Finch.
But then we found out that Finch is (DRUMROLL)…
Nearly one-quarter pitbull! In that tiny body?
One-quarter poodle! One-quarter chihuahua! 12% Doberman! No weiner dog!
Excited by all the fuss, Finch jumped into my lap, which that little rescue rarely does.
And, for a second, I felt just like Zsa Zsa Gabor.
Source: postbulletin