Responsible parenting doesn't only apply to humans, it also does to animals. The latest insight from vets came regarding marrow bones. So, keep reading to keep your pup safe!
Vets are warning dog owners about the dangers of feeding their dogs with marrow bones.
From a dog's perspective, it's like being on cloud nine whenever they're given marrow bones to chew, there is no denying this, right? Unfortunately, that's where the problem is coming from.
The Wasson Memorial Veterinary Clinic shared a picture of a massive marrow bone stuck over the lower jaw of a dog.
They captioned the photo, "Watch out for marrow bones. Here's another unlucky dog."
Veterinarians are actually seeing this case more often and they are not liking it. It may not look fatal but it still brings danger to dogs' lives.
Sadly, this isn't the only dog to get stuck in a marrow bone.
Firefighters from North York, Canada, responded to a similar case. A woman came to ask for immediate help when her 10-month-old dog named Ginger got a huge marrow bone stuck on her lower jaw.
It appeared that the woman already went to a vet but then she was told to bring her helpless pooch to an emergency veterinary hospital.
While she was on her way, she decided to drop by the fire station to seek on-the-spot assistance from kind firefighters.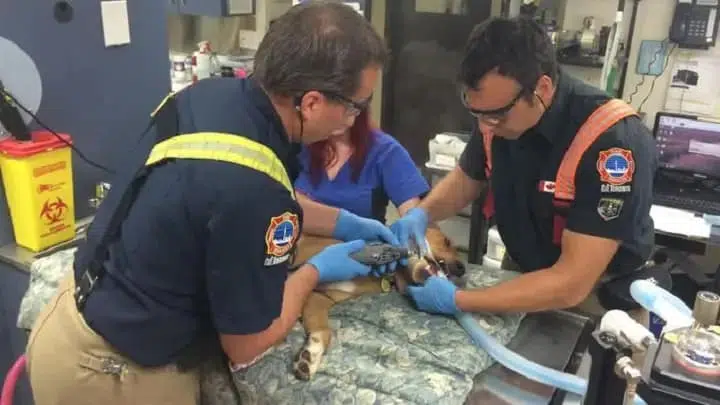 The dog was not in any serious danger when they arrived because she was still alive.
Get the latest Chihuahua Buzz
The fire crew decided to bring Ginger and her worried mom to the Willowdale Animal Hospital. They also offered assistance in removing the marrow bone from the poor dog's jaw.
They used a Dremel to cut the two sides of the giant bone.
A Dremel multitool is a handheld rotary tool that uses a variety of attachments and accessories. You can use a Dremel tool on wood, metal, glass, electronics, plastic, and many other materials, including bone.
Dr. Jonathan Bloom was the veterinarian who took care of Ginger's case. He said that it's quite normal to see dogs with marrow bone stuck on their lower jaws nowadays.
How does it happen and how to treat it?
Here is the problem, the marrow bones get stuck on the dog's large fang teeth (canines) and when their lips swell, it locks the bone in place around their lower jaw.
Anesthesia is commonly given to the dog and then, they will try to shake the bone off until it gets loose.
If this method doesn't work, then the bone needs to be cut off. According to Dr. Bloom, that was the first time that firefighters came to assist and a Dremel tool was used to remove the stuck marrow bone from a dog's lower jaw.
What does it take to be a responsible dog owner?
There are no specific criteria for becoming a responsible dog owner. Some may say this while others may say that. There is no right or wrong when it comes to taking care of dogs, as long as it comes from a genuinely caring place.
When something bad happens to a dog, more often than not, the owner takes the blame. But that doesn't mean that they aren't a responsible dog owner.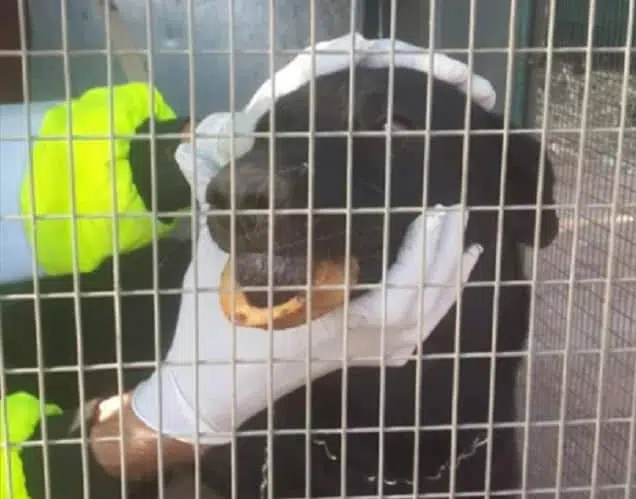 Because of these frequent cases, Dr. Bloom and other veterinarians would like to remind dog owners to be more careful of the types of bone that they feed their dogs.
Such types of bone can break or split their teeth which may result in serious stomach issues.
If you ever do see a dog with one of these gnarly bones stuck over their jaws, seek veterinary assistance right away, and be sure to spread the word to all of your dog-loving friends.
Source: The Animal Rescue Site, Wasson Memorial Veterinary Clinic, CityNews Toronto, ronproject, iheartDogs
Do you like this article? If yes take moment to share with your frieds. We would love to hear your comments, leave us one below!