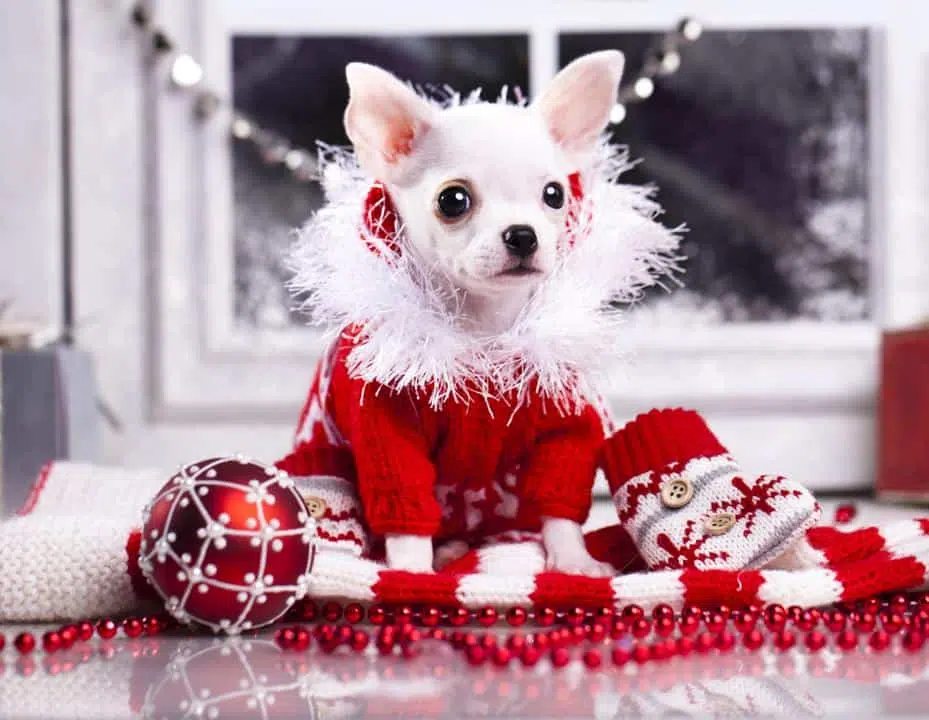 Christmas is one of the most wonderful holidays of the year; it's a time of family, friends, and of giving. So if you have a Chihuahua or know a Chihuahua lover, then you'll love this page all about a Chihuahua Christmas.
In this section, you will find:
Some great Chihuahua gift ideas for yourself or a Chihuahua lover. Either for yourself or when looking for the perfect present, we've rounded up some of the most adorable Chihuahua-themed gifts and collectibles. 
Answers to the most commonly asked questions concerning having a Chihuahua on Christmas such as which holiday foods he can safely eat, how to help a puppy or dog tolerate a house full of people, and other concerns. 
If you are looking for ideas on great gifts to give to a Chihuahua, we've got you covered there too. 
Adorable Chihuahua Christmas Ornaments
Before the production of mass-produced Christmas ornaments, trees were decorated with homemade items and food items. This included such things as apples, ribbons, candy canes, and small pastries that were shaped into flowers, hearts, and stars.
In the late 1500s, store-bought ornaments became popular due to a man named Hans Greiner from Germany who created beautiful glass beads and tin figurines to adorn Christmas trees. This notion soon caught on, and from there, all sorts of baubles and ornaments were created. 
Now, many people across the world take great pride in creating a Christmas tree ornament collection. It can be themed or, often, reflects a family's love and interests. One of the great things about ornaments is that each year your collection can be built upon, which reflects changes and growth over the years. 
Whether you are looking for some Chihuahua ornaments to adorn your own tree, to show that you want your puppy or dog represented or you are looking for the perfect gift for a Chihuahua lover, ahead are some of the cutest Chihuahua-themed ornaments.
Chihuahua Christmas Cards, Greeting Cards
You know how good it feels to receive a Christmas card and that's part of what causes you to send them; reaching out to loved ones and friends around the world with a holiday greeting is one of the most popular traditions of the season. In the United States alone, over 2 billion Christmas cards are sent each year.
The world's most expensive Christmas card sold for $38,000 USD at auction; however, this was indeed a very special card. It was a bit controversial at the time because it was an image of a small group of people celebrating the holiday by raising glasses of wine; in that era, the combination of Christmas and alcohol was not acceptable.
Get the latest Chihuahua Buzz
The message on the card was a simple one that still holds through today: A Merry Christmas and a Happy New Year to You.
Luckily, if you are looking for some cute Chihuahua-themed Christmas cards, they will be considerably less than Sir Henry Cole's cardboard greeting. 
Unique Chihuahua Themed Gifts and Collectibles
When it comes to Chihuahua collectibles, there are some really adorable items to either spruce up your home or to add (or start) a collection. Items range from kitchen cookie jars to pillow covers, flags, figurines, artwork, and more.

If you want to treat yourself to something special, find something cute to give to a family member in your household, or are looking for the perfect present for a Chihuahua lover that you know, these are some of our most lovely picks.
Chihuahua Jewelry
This lovely Chihuahua bracelet and necklaces are great to treat yourself or to give as a gift.
Chihuahua Shirts
And if you want to announce your love of the Chihuahua in a bolder way, or give a stylish present to someone who's crazy about this breed, a quality shirt is a great idea.
Chihuahua Stuffed Animals
Note that the first one is a singing Chihuahua!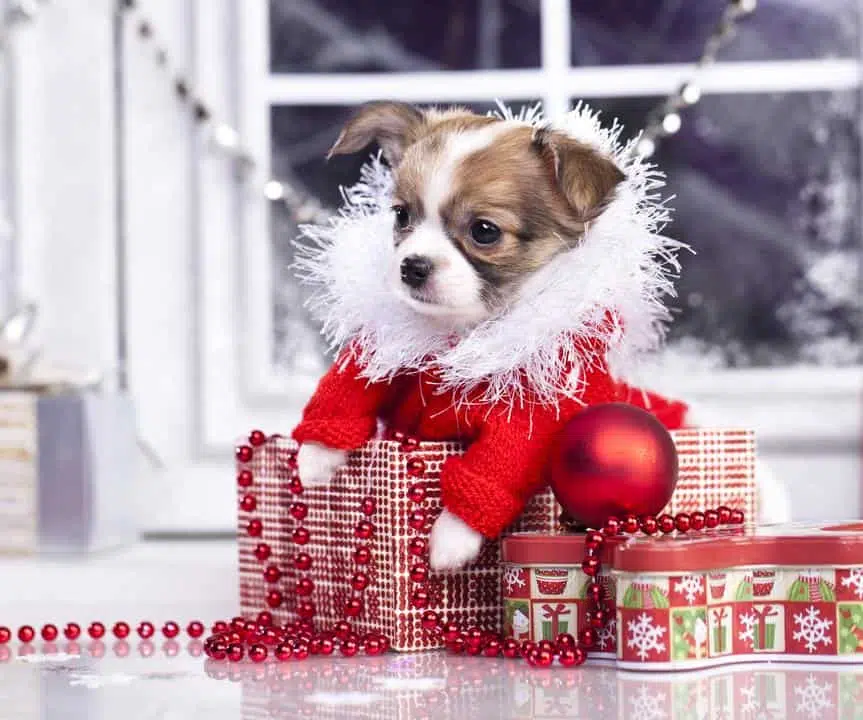 Chihuahua Christmas Related Q&A
What traditional Christmas foods can a Chihuahua eat?
When you're going to enjoy a holiday feast, it's always tempting to make a small plate for your Chihuahua or to hand-fed him a few tidbits (or someone may do this under the table!), so it is a good idea to know in advance what is safe and what is not.
Let's look at some of the foods often served around the Christmas holidays and if it's okay to give some to your Chihuahua puppy or dog:
Turkey – Turkey meat itself is okay to give to a Chihuahua, however, you will want to steer clear of the skin since seasonings such as salt, onion or garlic may be present, and you'll want to go through the meat carefully to ensure that there are no bones. 
Ham – A small piece would be fine, however, even a moderate amount of ham has a very high sodium content. It's best to refrain from giving ham to a Chihuahua. 
Stuffing – Unless you make homemade stuffing and know that there are no onions or raisins, do not give this to your dog. If you make stuff yourself, you can set aside a small amount with just basic ingredients; bread, bacon, mushrooms, and turkey drippings are just fine.
Mashed potatoes – Unseasoned mashed potatoes are safe to give to your Chihuahua and are actually a great food for both special occasions and year-round.
Extra Foods that Are Okay
Gravy – Most gravies contain onion powder as well as high amounts of salt, so you'll want to keep this away from your Chi.
Carrots – Very good for dogs and perfectly fine to give.
Green Bean Casserole – If you want to set aside some plain green beans for your Chihuahua, you can offer him those without issue.
Pies and desserts – Be very careful when it comes to Christmas goodies. Chocolate is terribly toxic to canines, as is raisins (can be deadly). Do not give any fruit cake to your Chihuahua; many contain currents and/or raisins, both of which are very poisonous to canines.
It's a Chihuahua Christmas Indeed
Dogs can eat foods with sugar, though you'll really want to limit the amount ingested so as to not cause a raise in blood sugar levels. 
How do I keep my Chihuahua happy when the house is full of guests?
It's always great to have company over for the holidays; however, some Chihuahuas do not do well with the sudden appearance of guests or the prolonged stay that they may have. Here are a few tips:
Ahead of time, prepare an area for your Chihuahua to retreat to, should he feel the need. This can be just his doggie bed, his indoor canine playpen, or a gated-off area. However, do be sure that it is far enough away that he can feel he is escaping overwhelming stimuli but not so far away that he feels isolated from the family.
If young children will be coming over and these are not youngsters that normally see and play with your Chihuahua, speak to both them and their parents ahead of time regarding proper handling, and expected play rules (no wrestling, no tail pulling, etc.)  Have interactions nearby you so that you can routinely monitor the play.
If you'll be having a large number of guests over, assess if you feel that this could be a hazard to your Chihuahua. If this is a possibility, it will be best if your Chihuahua is in his playpen or gated area any time that you cannot hold him or keep him safe.
Bonus Tips
How do I keep my Chihuahua happy if we're visiting a relative's house?
Many owners struggle with this, not wanting to leave their dog home alone, but also concerned that he does not do well when out visiting. You'll have to decide which option is the best of the two. If you do bring him along, the most important element will be to bring his regular items. Most important are his dog bed, favorite toys, and bowls. This will help him feel more comfortable and secure when in new surroundings. 
How do I stop my Chihuahua from attacking the Christmas tree?
Trees are big tempting toys for some puppies and dogs. Some methods that we do not recommend are placing plastic runners upside-down (the tiny spikes cause pain to the paws, as a deterrent) or tapping a dog's nose if he paws at the tree.
What can work is to shut off lights (that is often what is entrancing to a dog), close supervision, and offer a reward any time he obeys a 'no' or 'don't touch' and/or place a gate around the tree. You may also want to consider only placing non-breakable ornaments, to negate the possibility of a glass bulb falling, breaking, and becoming a dangerous hazard. 
Source: petchidog