Yoda, a Chinese crested and Chihuahua mix, passed away in her sleep at the age of 15. While Yoda's unique appearance was the butt of jokes. So, her win at the 2011 World's Ugliest Dog contest made her a beloved celebrity.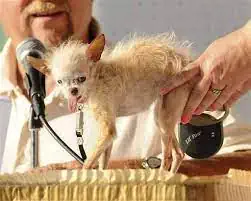 A Rough Start
Yoda's life began on a rough note. The 1.8-pound pooch was found abandoned behind an apartment building, and Terry Schumacher mistook her for a rat. After Schumacher realized that Yoda was a dog, she took the little Chihuahua under her wing, and the two became inseparable.
From Abandoned to Adored
Yoda's unique appearance eventually caught the attention of the World's Ugliest Dog contest, and she soon found herself in the national spotlight. Her short tufts of hair, protruding tongue, and long. So, seemingly hairless legs won over the judges, and Yoda was crowned the winner. Her victory earned her $1,000 and a trophy 15 times her size, and she and Schumacher became overnight celebrities.
Get the latest Chihuahua Buzz
A Beloved Companion
Yoda's fame brought her and Schumacher a great deal of joy, and the little Chihuahua became a beloved companion. Despite her unique appearance, Schumacher loved Yoda's "funny little ways" and was heartbroken to hear of her passing. However, Schumacher takes comfort in knowing that Yoda will be reunited with her late parents. Who loved the little dog so much?
Remembering Yoda
Though Yoda's unique appearance may have earned her the title of "World's Ugliest Dog," she was a beloved pet who brought joy and happiness to those around her. She may have passed away, but her memory will live on forever.
Source: press democrat