Yes, Chihuahuas can eat fish. But there are a few things you should be aware of. This is how to cook fish for dogs, the right way.

First, except for canned salmon where the bones are soft from processing, dogs shouldn't be eating fish bones. They're sharp and can scrape up their throat and guts.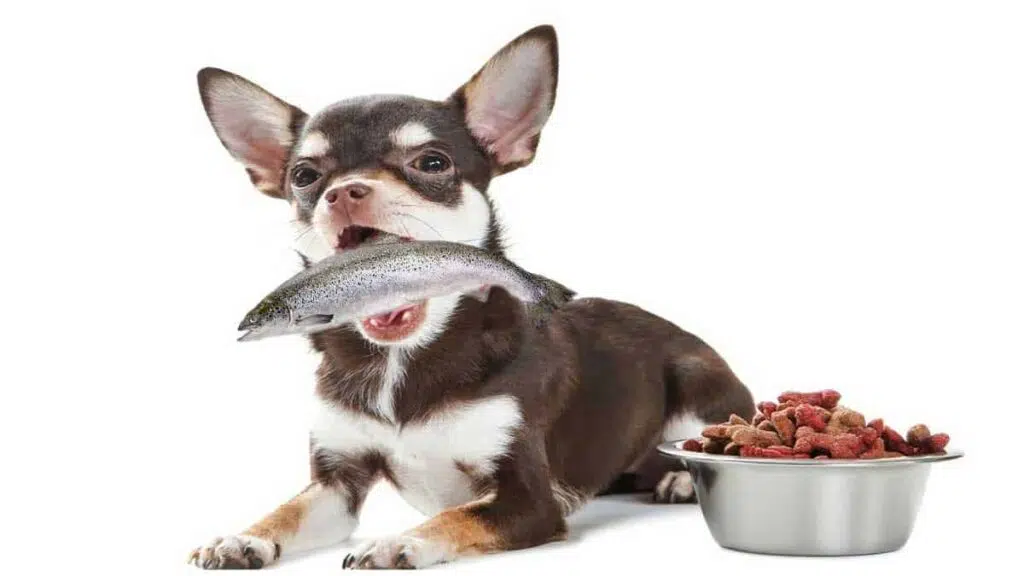 So if you do feed your dog fish then please make sure that you have the fish completely deboned first.
Second, long-lived fish like tuna and swordfish can be high in heavy metals. It's fine for your dog to have these once in a while, but you don't want to make them a staple part of their diet.
Is Fish Good for Dogs?
Yes! not only can dogs eat fish, but fish is good for dogs.
First, most dogs think that fish is delicious!
In fact, my dogs' favorite treats are a salmon cookie. And I have a tuna treat recipe I want to try soon.
Second, fish contains a ton of omega-3 fatty acids.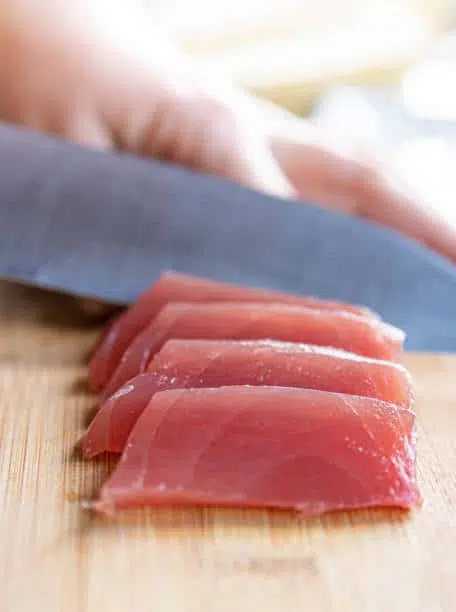 These are great for brain and heart health and so much more!
Now, some dogs are allergic to fish. So, if your dog hasn't had fish before, check in with your vet and keep an eye on them the first couple of times you give them these fish dinners.
Usually, the allergy is mostly itchy rather than dangerous. But it's best not to take risks.
In most of these recipes, you'll be able to substitute ingredients for both the fish (using other kinds of fish like tilapia or salmon) and the carbs – using other grains.
Important note: If you do go with a regular homemade diet for your dogs – using these recipes or others make sure you check with your vet. I'm not a vet and while I use these recipes regularly (I also use commercial dog food). It's a good idea to check with your vet to make sure your dog's nutritional needs are met.
5 Easy Fish Recipes for Dogs
I've included 5 different fish recipes in this collection. All of them are suitable for dogs as well as humans – if you're so inclined.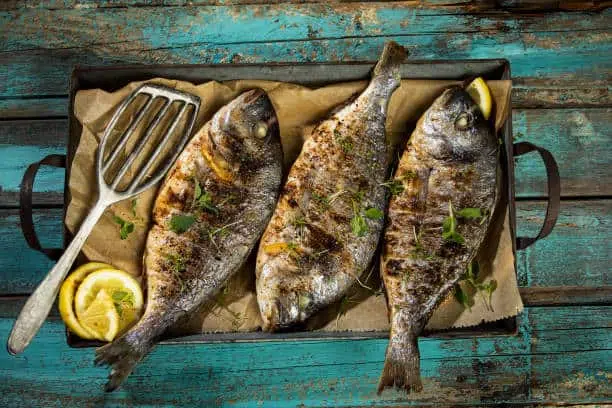 All of these recipes give you step by step instructions on how to cook fish for dogs.
But the big thing you need to know is that your dog can eat fish cooked almost any way as long as the bones are removed.
If you get tired of cooking fish, you can find a collection of 13 pup loaf recipes here – they include ground beef, turkey, and lamb varieties.
Get the latest Chihuahua Buzz
1. Super Easy Fish Dog Food Recipe
Ingredients:
2 pounds of fish fillets
1 or 2 cans of pink salmon
3 whole eggs (raw or cooked)
3 cups of diced vegetables
1 cup of cooked rice (white or brown)
Instructions:
Dice up the fish fillets or grind them, then cook it.
Heat your vegetables with water until they boil. Simmer for about 5 minutes. Drain.
Combine fish, canned salmon, vegetables, and rice in a large bowl.
Cool before serving.
Store in a sealed container for up to three days, or freeze.
Notes:
Fish – you can use frozen or fresh fish here. Just be sure that all the bones have been removed. Also, tilapia and swai are both great options for this step. They're lower cost and nutrient-packed.
Vegetables – you can really pick any vegetables you want. The original poster recommends choosing two or more of the following: cabbage, cooked squash or pumpkin, peas, green beans, or kale.
Rice – you can also substitute cooked oatmeal, quinoa or lentils if you'd like to try new things.
Source: Heavy
2. Canned Salmon Dog Food Recipe
Ingredients:
2 large potatoes, peeled and chopped
4 ounces of frozen peas
1 large can of Salmon (about 14-15 ounces)
2 cans of albacore tuna
2 large eggs, hard-boiled and chopped
large handful of parsley, chopped and divided
Instructions:
Boil the potatoes in unsalted water until tender. Let cool and then thoroughly mash them. Mix in ~1/4 of your parsley. The potatoes might be a bit dry but don't add anything to them.
Cook the peas according to the packaging.
In a large bowl, mix together the salmon, tuna, remaining parsley, chopped boiled eggs, and peas.
You can either mix in the potatoes or, as I did, serve the potatoes stacked on top of the fish mixture.
Form into patties appropriate to the size of your dog and serve!
Store the rest in the fridge for up to 3 days.
Source: Food with Feeling
3. Fish and Sweet Potato Dog Food Recipe
Ingredients:
Fresh fish ( Trout, salmon and mackerel )
Sweet potatoes
Instructions:
Steam or bake the fish until it is cooked through.
Allow the fish to cool and remove the bones and cut fish into bite-sized pieces.
Peel and boil the sweet potatoes until they are tender.
Once tender, remove the sweet potatoes from the water and mash them with a fork.
.Combine the fish and sweet potatoes in a bowl. 1 cup of fish and 1/2 cup of sweet potatoes.
If desired, stir in 1 tbsp. of olive oil per 1 cup of food to add healthy fats to the recipe.
Source: Daily Puppy
4. Tilapia Dog Food Recipe
Ingredients:
60 oz Tilapia
31.9 oz Sweet Potato
24.6 oz Barley
26 tbsp Canola Oil
10 oz Mixed Vegetables Kale, green beans, cauliflower, broccoli
3 grams Morton's Iodized Salt
Instructions:
Bake the tilapia in the oven. If frozen, you will need to bake for longer at 350 degrees. We bake frozen tilapia all at once using two trays for 45 minutes. Save the juice that the tilapia produces and use it in the food mixture.
While the tilapia is baking, peel and slice sweet potatoes into 2-4 inch pieces. We cook them in a bowl in water for 20 minutes in the microwave.
Start your barley on the stove according to the instructions.
Once the sweet potatoes are done, take your bag of frozen vegetables and cook them in the microwave.
Place the cooked sweet potatoes and vegetables in a blender and add in the canola oil. Puree until smooth.
Once the barley and tilapia are finished cooking, add everything together including the salt in a giant container or pot, and mix together thoroughly.
Source: Alicia's Holistic Pet Wellness
5. Salmon Loaf for Dogs Recipe
Ingredients:
1 16 ounce (450g) can of salmon in oil
1 cup plain breadcrumbs
1 egg – beaten
1 carrot – finely diced
1 stick celery – finely diced
½ teaspoon finely chopped parsley
1 tablespoon cottage cheese
Instructions:
Preheat your oven to 350F (180C)
In a medium-sized mixing bowl, combine the salmon, egg, cottage cheese, and breadcrumbs well with a fork. Be sure to break up all the salmon pieces and remove any bones you find. Dice the carrot, parsley, and celery finely and add these to the mix. If the mixture is too moist, add some more breadcrumbs.
Place the mixture in a small loaf pan and bake at 350F for 30-40 minutes. When the loaf is cooked through, leave it out to cool. Slice into sections to serve.
Store any unused portions in an airtight container in the fridge for up to 2 days, or in the freezer for up to 2 weeks.
Source: Sarasota Dog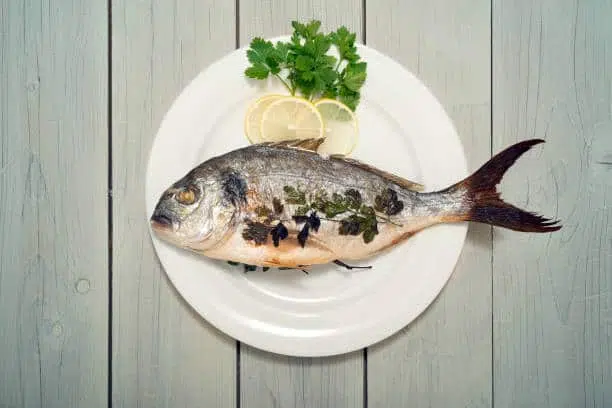 Homemade Dog Food Storage
If your dog doesn't eat any of these recipes completely, you might want to store them.

It's simple to do. You just store homemade dog food the same way you store people's food. In airtight containers in the fridge.

Most leftovers will be good for about 3 days.
For more great dog food recipes, check out our posts Lucky and Libby's Favorite Dog Food and Thanksgiving Dinner for Dogs.
Please keep in mind that we may receive a small commission when you click our links and make purchases and as an Amazon Associate, this site earns from qualifying purchases. However, this does not impact our reviews and comparisons. We try our best to keep things fair and balanced, in order to help you make the best choice for you.
Source: patchpuppy