Meet Ollie, the charming dachshund and Chihuahua mix capturing hearts and attention across social media platforms. With his distinct looks and delightful personality, Ollie has become a beloved sensation, thanks to his devoted owner Cassandra. In this article, we delve into Ollie's online fame, his unique breed mix, and the positive impact he's making on dispelling stereotypes. Let's explore why Ollie has become a favorite among pet lovers everywhere.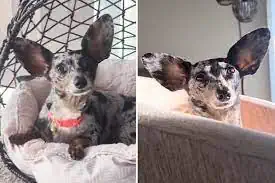 Ollie: The Viral Star
Under the TikTok handle @bygollymisterollie, Ollie, a three-year-old pooch from Virginia, has amassed a substantial following, charmed by his endearing appearance and captivating videos. Cassandra, Ollie's owner, regularly shares delightful clips that showcase his irresistible charm, particularly his standout feature – his big ears.
Ollie's Breed Mix and Positive Messaging
Through a DNA test, it was revealed that Ollie is a half-dachshund and half-Chihuahua mix. Cassandra shares their journey on social media to challenge negative stereotypes often associated with small dog breeds. Ollie's unique mix surprises some people, while others appreciate the fusion of both breeds. By showcasing Ollie's positive qualities, Cassandra aims to promote inclusivity and celebrate the diversity of dogs.
Get the latest Chihuahua Buzz
Health Considerations
Dachshunds, known for their elongated bodies, are prone to back problems. Rachel Rodgers, a clinical animal behaviorist, explains that the risk of Intervertebral Disc Disease (IVDD) is present in both purebred dachshunds and dachshund mixes like Ollie. While it's important to be aware of potential health issues, Ollie's charming personality shines through, bringing joy to those around him.
Ollie's Temperament and Behaviors
Cassandra describes Ollie as a sweet-natured dog who delights in car rides, cuddles, and playtime. Both dachshunds and Chihuahuas can exhibit low frustration tolerance and anxiety. However, with proper support and training, Ollie has grown into a confident and happy companion. His charming demeanor and unique characteristics have endeared him to his ever-growing fanbase.
Online Admiration and Positive Feedback
Ollie's videos have garnered thousands of views and a flood of positive comments. Users are quick to declare him "perfect" and express their adoration for his irresistible charm. Ollie's uplifting presence on social media serves as a reminder of the joy and happiness that pets bring into our lives.