The apparent rise in the number of suspected criminals suing US police forces for the damage caused by their dogs has led to an Ohio sheriff hiring one of the smallest pooches on the planet.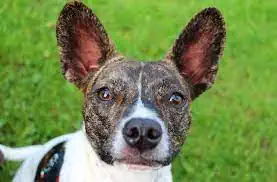 Midge, a seven-month-old 2.7kg chihuahua-rat terrier, is the latest recruit for the Geauga county sheriff department's K-9 unit.
Sheriff Dan McClelland began training Midge for drug-detecting duties when she was just three months old. And after reading about departments being sued by suspects whose cars or homes were damaged by larger dogs.
Geauga county, set amid picturesque rolling farmland and home to about 90,000 people east of Cleveland, has had German shepherds and Labrador retrievers for years including the 56kg Brutus.
Still, Brutus's intimidating, deep-pitched bark disappears when Midge – her name is short for midget – playfully wrestles with him in the grass outside the old jail. That is where the dogs participate in narcotics training, where Midge watches the bigger dog maneuver through cabinets, heating vents, and other spaces in search of marijuana.
Get the latest Chihuahua Buzz
"She is very calm and is not happy. She likes people a lot, really loves kids," said Sheriff McClelland, who has also trained Midge to ride on his motorcycle.
The new idea here:
Sheriff McClelland's idea of using smaller dogs was reinforced when he returned from a holiday in Canada and saw American customs officials using beagles to sniff luggage.
The sheriff seems to be part of a trend, as others are training smaller dogs for police use. Dogs called Belgian Malinois have earned jobs in departments in Pennsylvania, Michigan, South Carolina, and Ohio after training by Dave Blosser, owner of the private company Tri-State Canine Services in Warren, Ohio.
The breed can be as small as 18kg, and Mr. Blosser compared the dogs favorably to larger breeds. "Size-wise, endurance wise they last longer," he said.
And there are other advantages to smaller dogs, according to Bob Eden, whose Eden Consulting Group trains police dogs and handlers. "Smaller pups can get into smaller and tighter spaces in order to carry out their searches," he said.
On the other hand, dogs that are too small may not be able to get around certain obstacles – and there could be a credibility problem, he added. "A Jack Russell terrier may make an extremely capable narcotics detection dog," he said. "Yet some agencies would shy away from using such a breed simply because the dog doesn't have the same respect level from the public as a Lab or shepherd might."