Claire Stokoe found a photo on Facebook of a tiny Chihuahua with big, scared-looking eyes, cowering beside a can of Heinz vegetables. She picked up the phone and called a local rescue group that had posted the picture. When she inquired about adopting the Chihuahua – whom she later named Brie – she learned that the dog had come from a puppy mill in a rural area of Wales in the United Kingdom.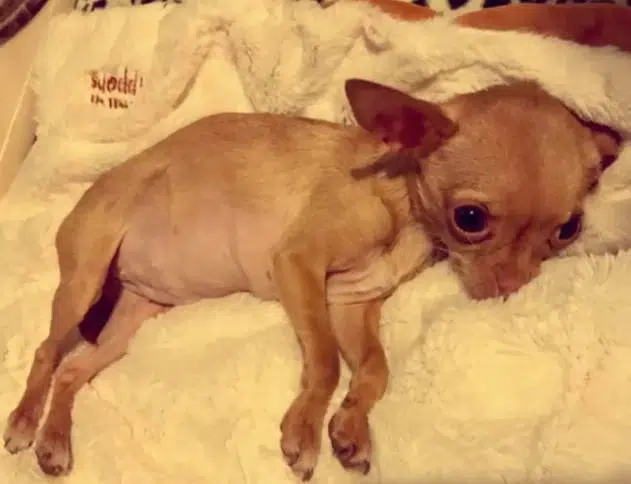 Brie's past left her with scarring on her legs, scabs covering her ears, and trouble opening her eyes in the light. She was tiny and malnourished, which was partly due to being a teacup dog, deliberately bred to be small, and partly due to not getting enough food at the puppy mill. Additionally, Brie had given birth to two litters via C-sections and had been used as a breeder dog, taking a heavy toll on her small body.
Meeting Brie for the First Time: A Heartwarming Encounter
Despite Brie's health issues, Stokoe was determined to adopt her. Once her application was accepted, Stokoe embarked on a 600-mile roundtrip from Durham, England to Wales to pick her up.
Meeting Brie for the first time was different than Stokoe expected. Brie was emaciated and shaking, clinging to the lady at the rescue. But Stokoe quickly realized that she could offer something to Brie – comfort. She took the front of the case off, and Brie ran up her stomach, hiding her face in Stokoe's neck. Brie fell asleep, and soon they were all dozing in the back of the car.
Get the latest Chihuahua Buzz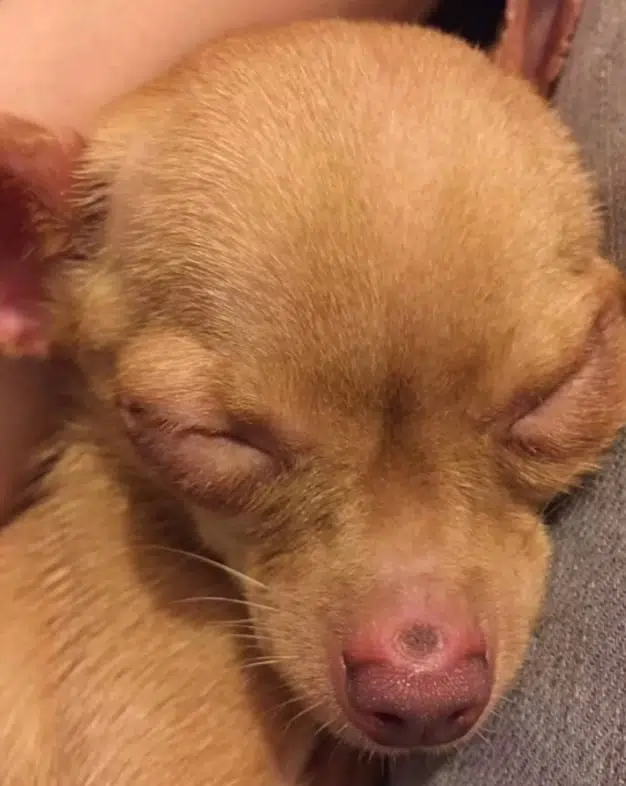 Once Brie was safely at Stokoe's home, she met Stokoe's other dogs, Bouddica, Dexter, and Vesper. Brie formed a particularly close bond with Vesper, who took to her straight away. With love and care and patience, Brie's natural personality emerged. She does a hilarious little thing where she grabs her ears. She opens her mouth really loud, making a noise like chimps do when they laugh. And acts very much like a young puppy, racing around the house, playing with toys, and chasing and throwing socks around.
Brie continues to have health issues, but she seems too busy living her life to worry about them. She has constant contact with humans who love her and want to protect her. She plays with toys, sleeps in her own bed on a soft blanket with access to water, walks off-leash. And she runs with her brother and sisters.
Brie's story is an example of the resilience of animals and the power of love and care. Despite her traumatic past, Brie was able to recover and live a happy life with Stokoe. Her story has touched the hearts of many and serves as a reminder of the importance of adopting animals in need.