You've seen those dog shows on TV and are assured that your puppy needs to be on them. After all, the ring, the light, the people – everything is glamorous. You go on to research and see a massive list of demands convincing you that your furry friend isn't made for the spotlight. If that's your case, we're here to tell you that those remarks are all false. Any dog can be a star as long as you prepare adequately for the challenge.
For starters, we have to tell you that a smaller breed is much easier to handle than a larger one. Little dogs like chihuahuas can be great for entering this hobby as they come with fewer demands on your time and space than a larger breed would. That is if your chihuahua is well behaved and responsive to constructive criticism.
What's the Fuss About Dog Shows Anyway?
A dog show's idea is to connect all registered dogs of a specific breed and make them compete against each other on a pre-established standard. It usually goes that the winner pups will compete against each other for the "Best in Group" category. Typically, dogs aim to win on one of the seven primary groups to which their breed has been assigned. These groups include the Herding Group, Hound Group, Non-Sporting Group, Sporting Group, Terrier Group, Toy Group, or Working Group. Each group's winner then battles for the renowned "Best in Show" title and, hopefully, earns more points toward a Championship.
As a new participator in the world of dog shows, you'll find there are advantages and disadvantages to this process. As long as you can handle fame well and have the mindset of a winner, there's no stopping you.
Get the latest Chihuahua Buzz
Why Small Dogs are Easier to Manage
On some very sharp points, we're going to discuss why chihuahuas are destined for notoriety. First, small show dogs such as your own are generally less labor-intensive to take care of. Regarding the competition, they will take less time and effort to bathe and blow dry before a show. You may think this detail trivial, but you will see just how crucial it is after attending one or two plays. People have continuously given up on dog shows due to the dog maintenance costs, so you should be prepared.
Another reason why chihuahuas are great for dog shows is because of their weight. This adorable breed is more comfortable to lift in and out of a tub and requires less water, soap, and conditioner. Except for long-coated species, the smaller the dog, the shorter the hair, so you'll spend less time with a dryer in your hand. As a result, you can bathe and groom six toy-sized show chihuahuas at the same time it takes to groom one large Standard Poodle show dog.
Secondly, showing small-sized or toy dogs in a show means you can take more dogs with you to share the limelight. Because chihuahuas need minimal space, you'll categorize them with the rest of the equipment. As you may know, each small show dog requires a small traveling crate, but you shouldn't worry about that since bins of that size are light to transport and easy to store. Small show dogs can also share one grooming table, so as long as your pups get along, your chances of success are relatively high.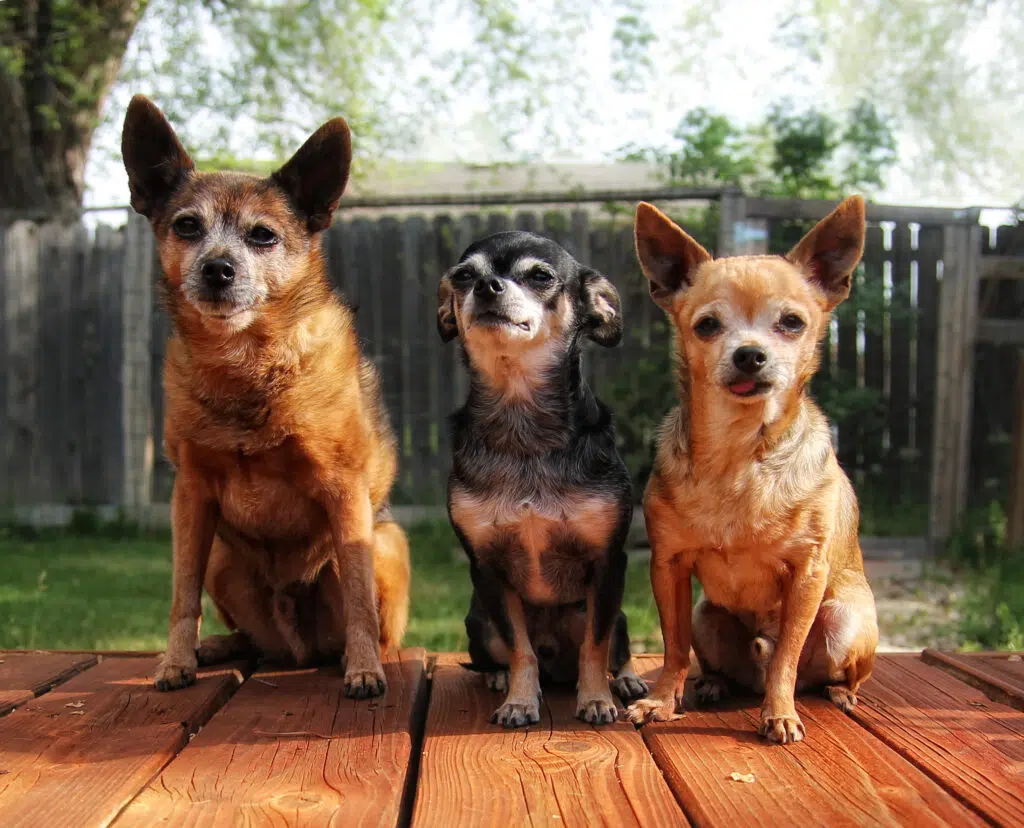 Wasting Just the Right Amount of Breath
The third and last factor is that showing small dogs requires less physical effort in terms of the person handling them. If you're accustomed to the dog show industry, you'll rarely see small show dog handlers huffing and puffing as they race around the ring. Instead, small show dogs work harder to cover the ground and listen to their owner's demands. In contrast, large show dogs cover ground in great strides, which requires the handler some extensive working out to keep up. Also, preparing a small dog for viewing is a simple physical task, whereas a larger dog can involve much more effort, stamina, patience, and willpower.
As you can see, showing small dogs enjoys a bit of an advantage over showing large dogs. For many, the dog-showing business is a meaningful attraction that both you and the pup can enjoy. As long as you take care of your four-legged friend and ensure that all its needs are met, you're good to go.