A Chihuahua's love for her new feline companion has melted hearts online after a video captured a moment of play. Shared on Reddit on Wednesday, Jamie J. from Arizona posted a video of her 6-year-old dog and new kitten, footage that has delighted animal lovers.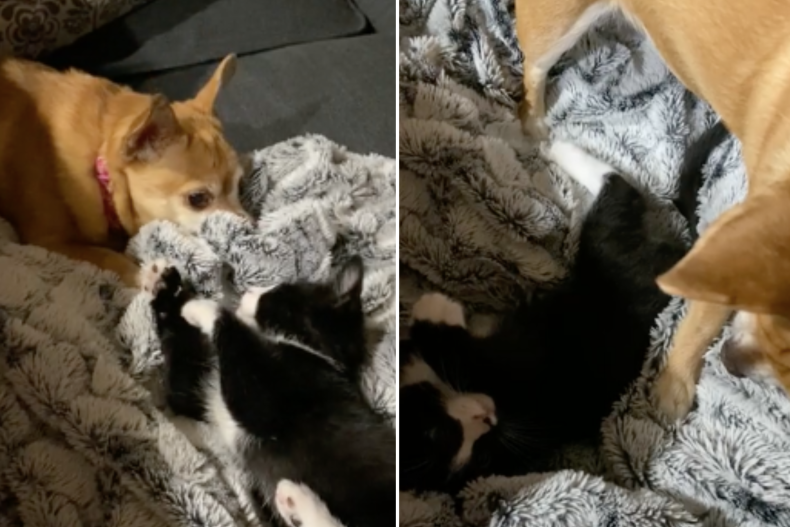 Six-year-old Muffin, the dog, is seen wagging her tail as she plays with 7-week-old kitten Pepper. The caption reads: "My Chihuahua and the new kitten are absolutely in love."
"Muffin was curious but quickly became Pepper's protector and friend," Jamie told Newsweek.
The American Kennel Club (AKC) first recognized the Chihuahua as a breed in 1904. And is ranked number 37 on the list of the most popular dog breeds in the U.S.
A purse dog
The Chihuahua is known for its loyalty and charm. And is famously referred to as a "purse dog" because of its pocket size. But the AKC says that even these tiny dogs require training, noting that: "Without it, this clever scamp will rule your household like a little Napoleon."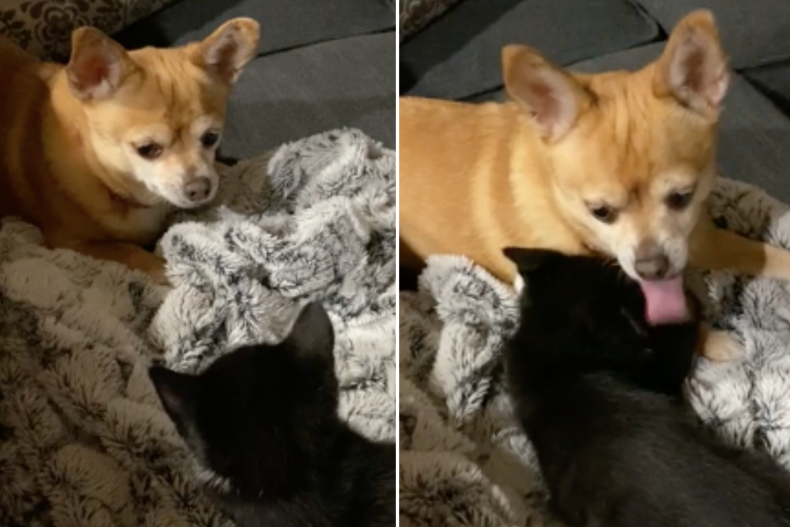 Delighted by the dog and cat's reaction to each other, commenters on Reddit rushed to share their thoughts.
"This just gave me the biggest grin watching this. I love the little snorts and the gentle nibbles on the kitten," read one reply. Another commenter wrote: "Stuff like this warms my cold dead heart."
Get the latest Chihuahua Buzz
"They are lovely and cuddle together and play," said Jamie. "I kept them separate initially, but Pepper kept finding ways to get near Muffin."
Contrary to the common phrase "fighting like cats and dogs," a 2020 study revealed that there is no reason a cat and dog should not get along, but introductions should be done carefully.
Marny Nofi, senior manager of the American Society for the Prevention of Cruelty to Animals (ASPCA) behavioral sciences team, previously told Newsweek: "Taking things slowly will help to avoid a wrong first impression. Some cats will be pretty confident around dogs; others will need to adjust to their new housemates more slowly.
"It's important to be patient and remember that introductions take time. It could take several weeks or more to help animals get used to each other," Nofi said.
The owner was delighted about how the pets had become fast friends and said: "This is just one of the dozens of interactions they had being funny."
"Lil sweetie pies!" posted another commenter on Reddit, while one wrote: "Muffin is so gentle."