Jasper, a dog with a rare condition that makes him look like he's constantly smiling is searching for his forever home. Here's the always smiling Chihuahua and his story.
Jasper, a Chihuahua mix, lives at the Front Street Animal Shelter in Sacramento, California. While the eight-pound pup may look cheerful, his happy demeanor is caused by his facial muscles constantly pulling back.
Sadly, it causes Jasper to twitch constantly, and he also suffers from kidney problems. Highlighting his case and other animals in their care, Front Street Animal Shelter shared a clip on their Facebook page on Tuesday.
Filming Jasper, the on-screen text read: "Meet the shelter dog who can't stop smiling. Jasper has an unknown condition that affects his facial nerves, causing them to pull back into a constant smile. Sadly this is uncomfortable for him and causes lots of twitching, and he has kidney problems.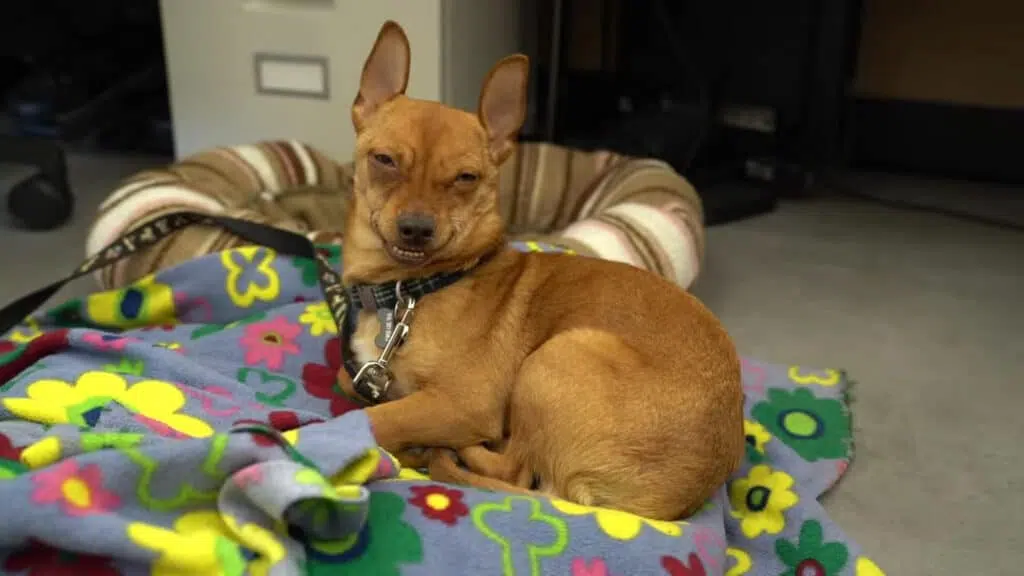 Jasper – the Always Smiling Chihuahua
"We are determined to give him a good life, but the tests and treatment will be costly. We're raising funds to help Jasper and the many other animals who need medical care… We're also hoping to find this sweet boy a home. He is great with other animals and loves everyone he meets."
The caption went into more detail, saying: "He looks happy on the outside, but that's not how he feels. We are intent on trying to give him a happy life, but the tests and treatment will be costly.
"That's why we're raising funds for sweet Jasper and the many other animals in need of care… Can you help? He'll also need a home once he's feeling better, so check out the video to learn how to adopt him when that day comes!"
Get the latest Chihuahua Buzz
They also added a GoFundMe link to the video, which has been seen more than 16,000 times.
Speaking to local outlet CBS Sacramento, Haley Waugh, Front Street Animal Shelter's public information coordinator, raved about Jasper's personality.
The Rare Condition
"I think everyone that sees him just instantly smiles. The first thing you notice when you see him is he has a big old smile on his face," she said. She theorized he has some "neurological" issues, estimating his medical bills may come to $4,000.
"He might not have the most time left, but we're going to do whatever we can to make the best of it and give him as much time here as we can as comfortably as possible," Waugh told CBS.
Back on Facebook, there was an outpouring of love for Jasper. Steph States Zeitler said: "He's a cutie pie. I wish we lived nearby because he would brighten my day every day with his smile."
Kendel Crosby thought: "He is the most handsome."
Cesar Cesar gushed: "So innocent and cute. It made me Smile."
While Vicky Tisdial commented: "So precious, beautiful, and adorable."