This week, we've witnessed some truly heartwarming moments in the world of pets. From adorable twins in the form of a dog and a rabbit to a genius hack for calming down an excited kitten, there's no shortage of delightful stories. Not to mention, our readers have shared their own beloved pets, making it all the more special. If you want your furry friend to be featured as our Pet of the Week, stay tuned for details at the end of this article. Without further ado, let's dive into the heart-melting stories that warmed our hearts.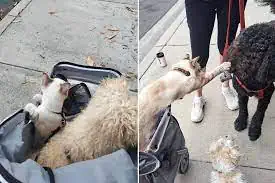 The Adventure-Loving Rescue Cat Murray
A rescue cat adopted by Lisa Russell has stolen our hearts. Originally intended to be a temporary foster, Murray quickly became a permanent member of the family. Accompanied by three canine companions, including Lukas, Kai, and Tica (who sadly passed away), Murray enjoys strolling around the neighborhood in a stroller. Eager to explore the park and with a fashionable blue scarf, Murray's joyful presence is a testament to the power of feline charm.
The Rescue Cat with a Second Chance
Smokey's story is one of rescue and redemption. Margaret Garrett stumbled upon Smokey and her kittens in dire conditions while inspecting a mobile home for sale. Determined to provide a better life for them, Garrett took Smokey and one of her kittens in. Today, Smokey is a cherished member of the household, weighing a hefty 26 pounds. Despite his size, he's a sweet and affectionate feline who loves cuddling up with his owner at night.
Get the latest Chihuahua Buzz
The Canine Travel Companion Maggie, a lovable pooch, played a pivotal role in her owners' decision to embark on an adventurous RV lifestyle. Ray and Janetta Messmer adopted Maggie from a shelter in Conroe, Texas, and soon discovered her struggle with separation anxiety. Taking Maggie's advice to heart, the Messmers sold their belongings, bought an RV, and hit the road. Maggie has adapted beautifully to the nomadic life, behaving impeccably at various campgrounds they visit.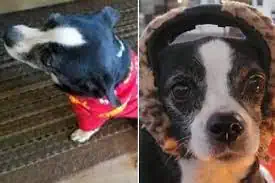 Meet Hunter,
A a three-year-old cat who resides with Marie Baird in Minnesota. Hunter, along with his brother Boots and their mother Sasha, forms a close-knit feline family. Hunter's endearing habits include drinking running water and greeting his owner by making eye contact. Baird describes Hunter as a vocal companion, engaging in daily conversations with his expressive meows.