Breeding dogs to be extra small, or "teacup"-sized, is a popular trend among owners who find extra-tiny animals endearing. While these miniature canines are adorable as can be, teacup dogs are often extremely frail and unhealthy.
This is especially the case for dogs that are naturally 10 pounds or less who tend to become extremely frail and suffer health problems when bred to be teacup-sized.
That's why dogs like one particular chihuahua, named Brie, desperately need the loving care of responsible pet owners. When Claire Stokoe spotted Brie's picture online, she instantly felt she had to try and give the shaking, malnourished puppy the love she deserved.
As it turned out, Brie's condition was worse than Claire realized. The tiny dog had come from a puppy mill and was used for breeding, despite the damage it caused her delicate body. Claire was no longer so sure she could properly help…
Claire Stokoe of Durham, England was scrolling through Facebook one day when she spotted a picture of a scared-looking chihuahua barely bigger than a soup can. Claire said in an interview that "she could barely see over the top of it and she looked so precious and vulnerable."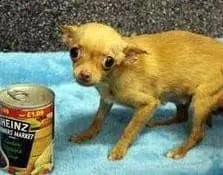 The tiny dog was up for adoption and it wasn't long before Claire called the rescue group that had posted the picture. She ended up adopting the chihuahua, whom she named Brie.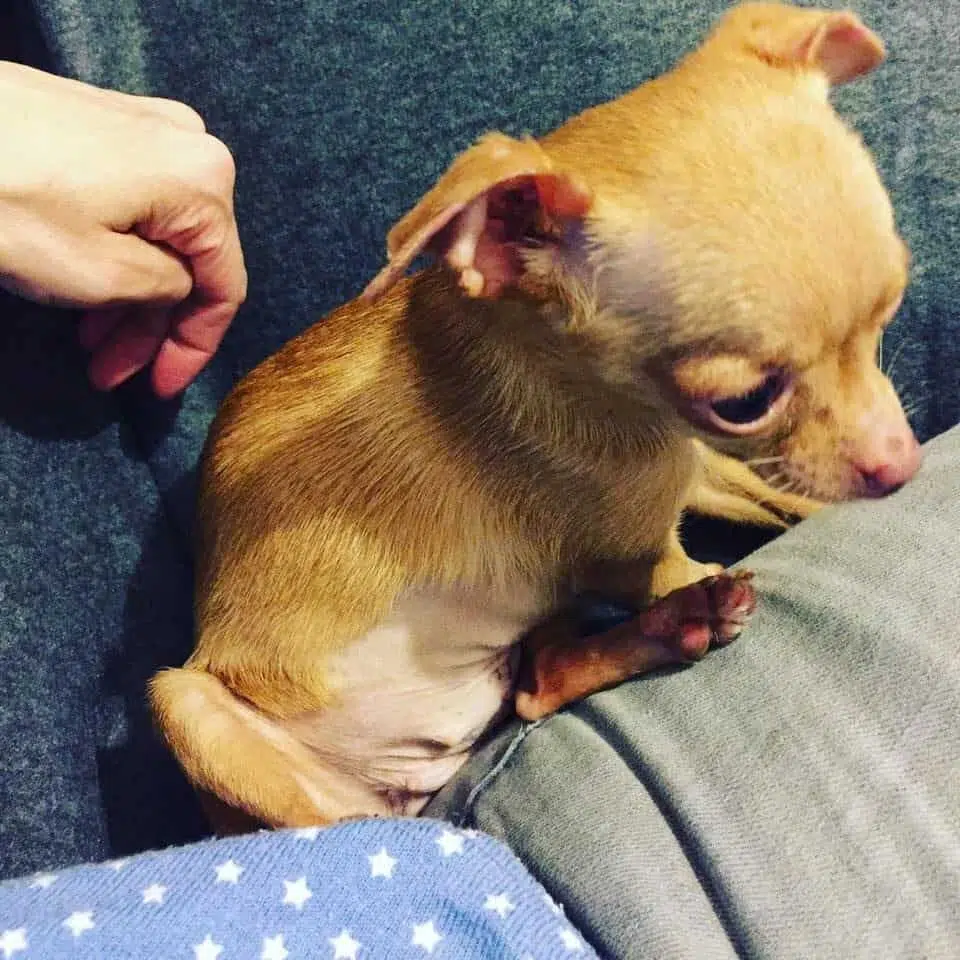 Soon enough, Claire found herself on a 600-mile round-trip journey to Wales to bring Brie home. When she arrived, Brie was shaking wildly and clinging to a shelter worker.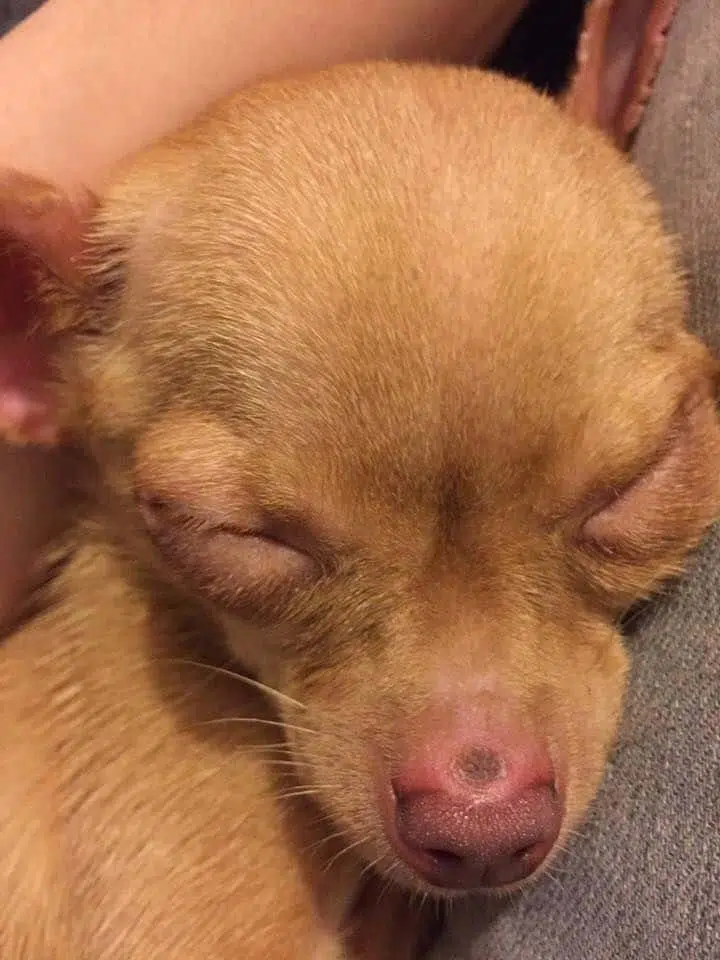 The shelter told Claire that Brie came from a puppy mill, and had scarring on her legs and scabs covering her ears.
She had been used for breeding other teacup chihuahuas, and had given birth to two litters via C-section. Her tiny body had been through much more than she could handle.
Get the latest Chihuahua Buzz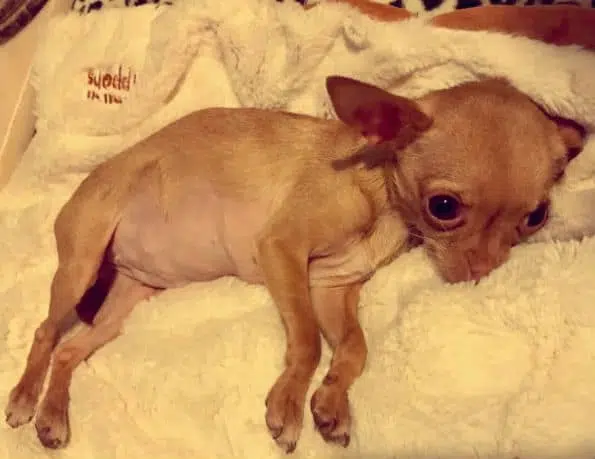 Brie was clearly malnourished, and she most likely didn't receive enough food while living at the puppy mill. She also spent much of her life in the dark, as her eyes had trouble adjusting to light.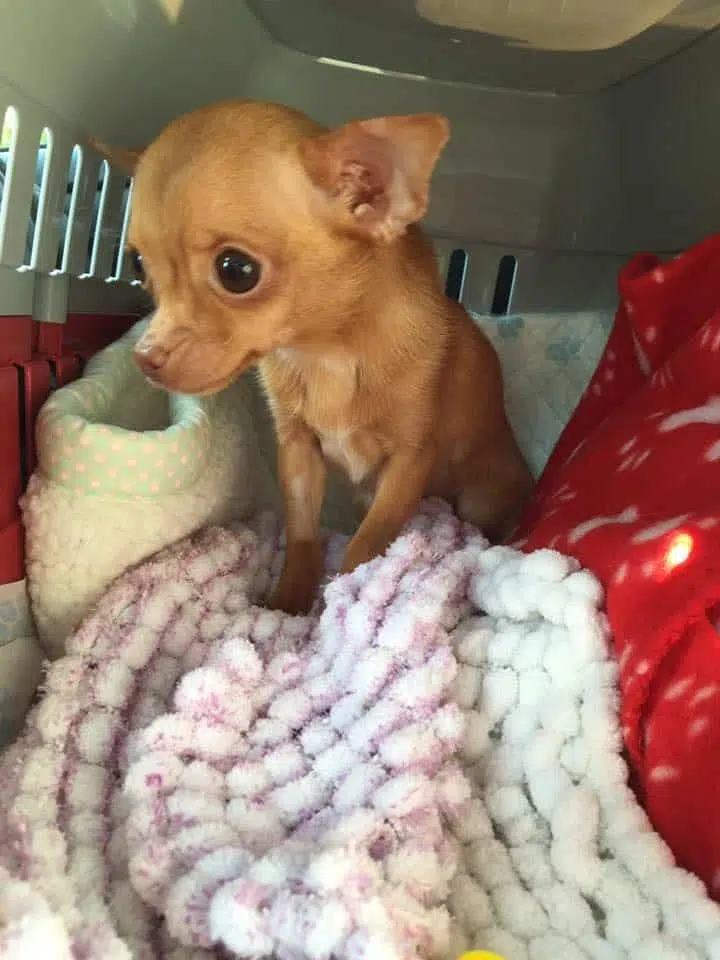 Claire said, "When I saw her I was shocked. She was emaciated and shaking… I wondered for a second if I could really help her.
She looked so pitiful and it was really upsetting. She was crouched at the back of her little carry case, wide-eyed and scared."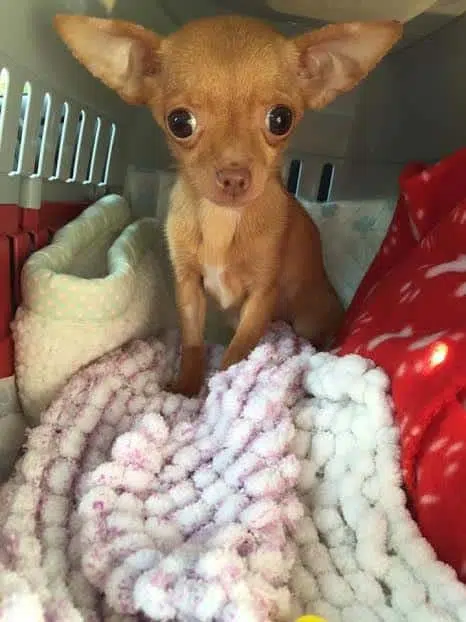 But once Brie was let out of her carrying case, Claire realized the love she could offer the tiny dog would be more than helpful to her recovery.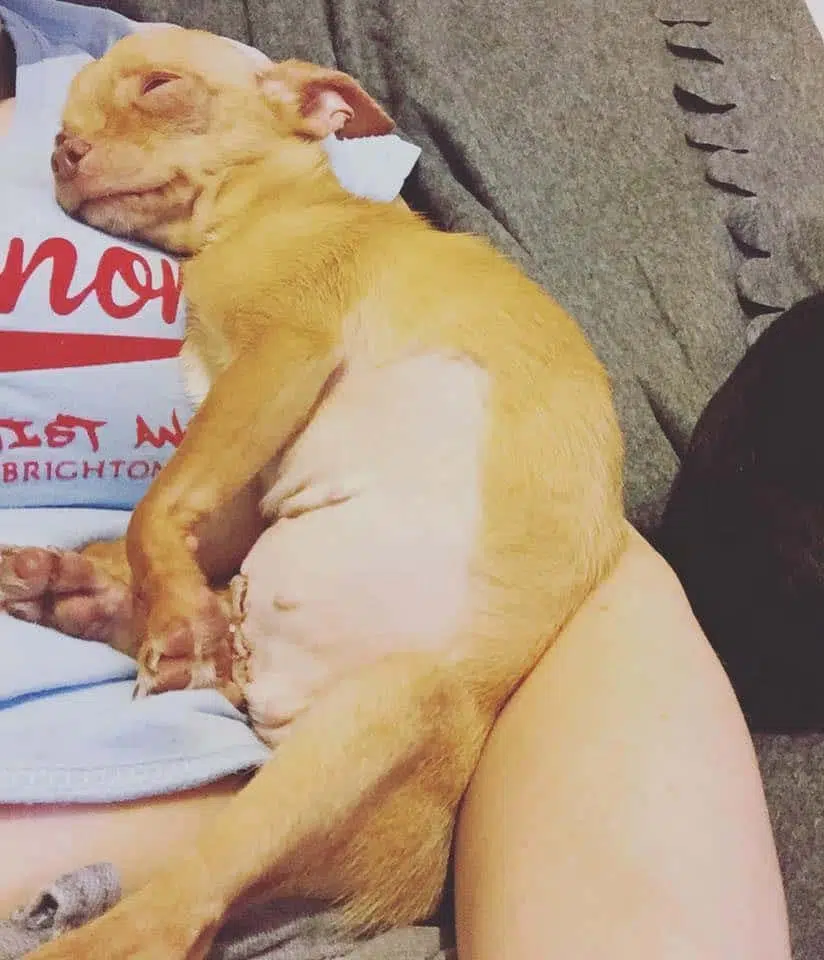 Claire said, "I took the front of the case off and all of a sudden she ran up my stomach and hid her face in my neck. I was dumbfounded and just sat there enjoying the feeling of her little breaths on my neck. She fell asleep and soon we were all dozing in the back of the car. She fell asleep within minutes."
Upon arriving at her new home, Brie met Claire's other dogs, Bouddica, Dexter, and Vesper. They became fast friends!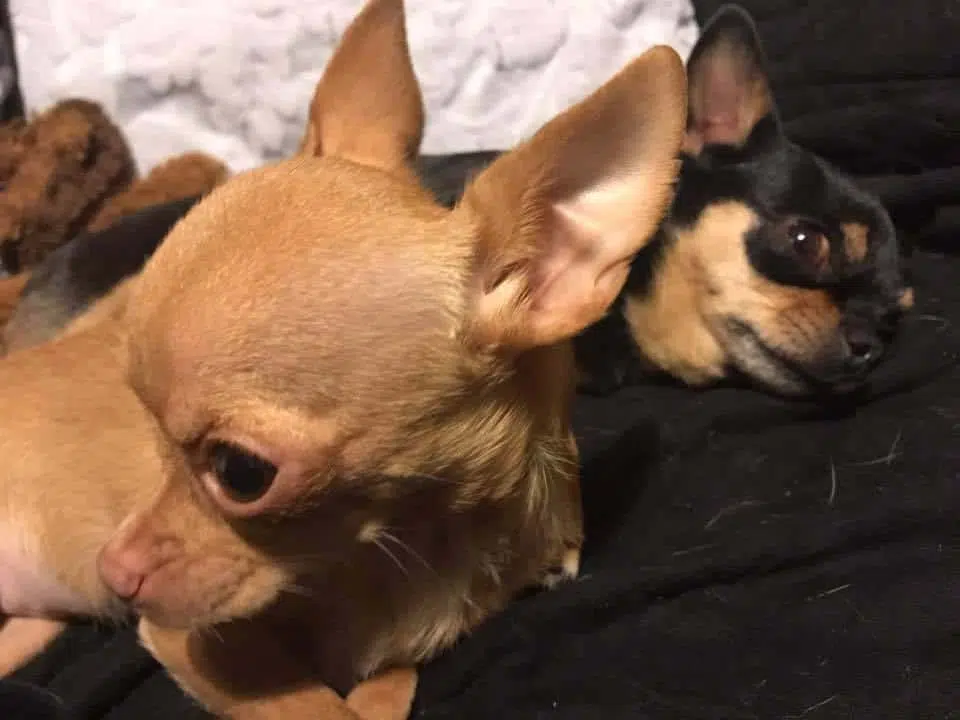 Claire noted, "Vesper took to Brie straight away as if Brie was her puppy. She cleaned her and sat next to her. Brie would walk all over Vesper, and Vesper let her do anything–even eat from her food bowl."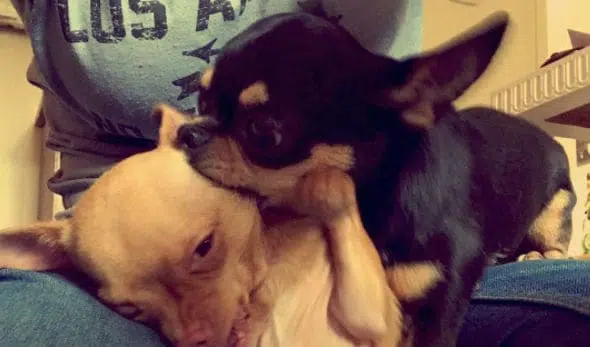 Claire went on, "Vesper even had a phantom pregnancy just one month after I got Brie and the vet said that getting Brie made her hormones shoot through the roof. She was even trying to get Brie to suckle like a puppy."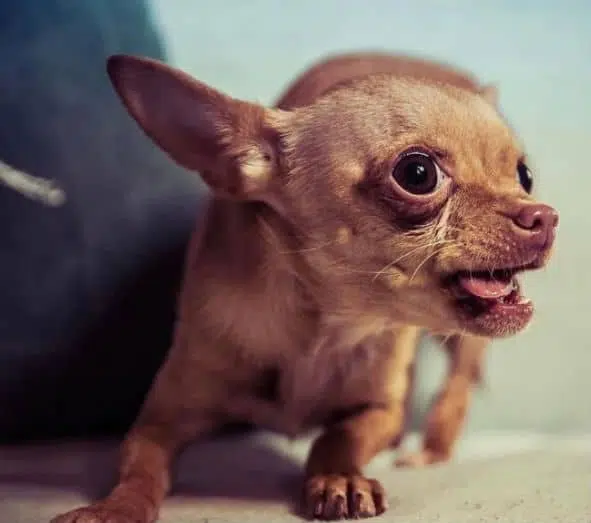 Over time, the love that Brie received allowed her true personality to emerge. "She does a hilarious little thing where she grabs her ears and opens her mouth really loud and makes a noise like chimps do when they laugh… it is the cutest thing I have ever seen."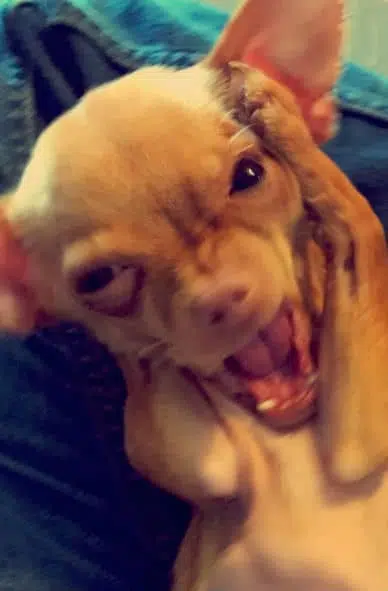 Brie still had health issues from all that her tiny body had been through, but she was too happy in her new home to seem particularly worried about it. Claire said, "She acts like a young puppy in many ways. She races around the house, plays with toys, chases and throws socks around, and slides along the floor dragging her legs behind her."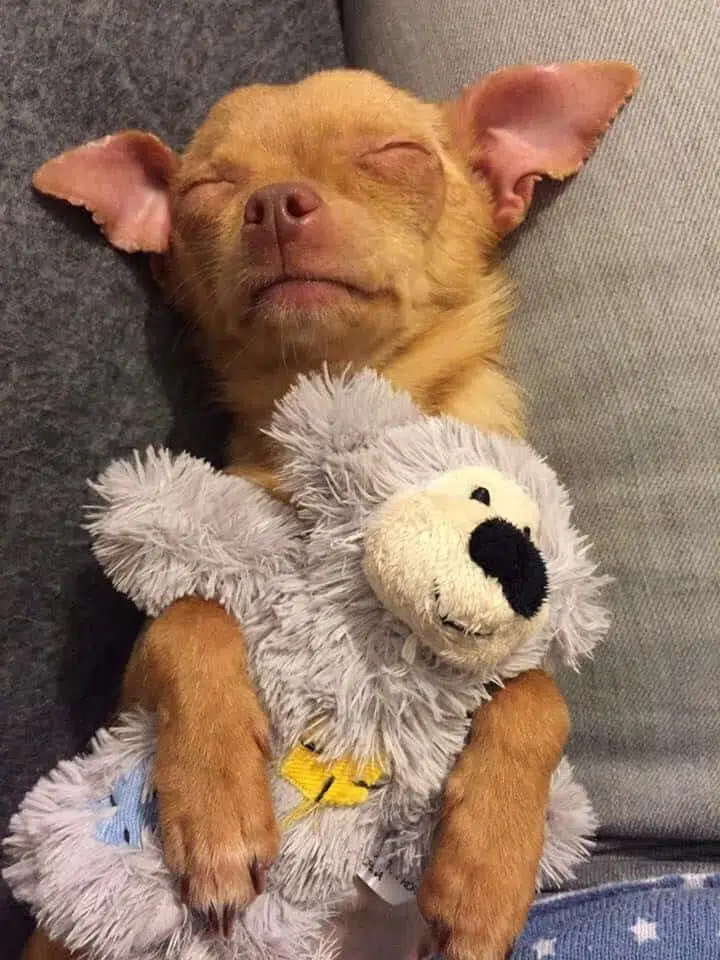 "How she survived two pregnancies, the cold, the hunger and the fear I have no idea," Claire added. "She is made of stronger stuff than me, that's for sure. It's inspiring."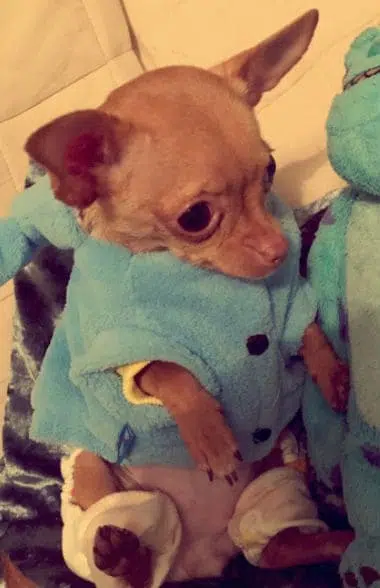 Brie was one lucky Chihuahua to have escaped life in a puppy mill. Her tiny body proved to grow stronger with the love and affection she was receiving from Claire and her new siblings. Nothing seemed to stop Brie from becoming the charismatic, loving dog that she was born to be!
---