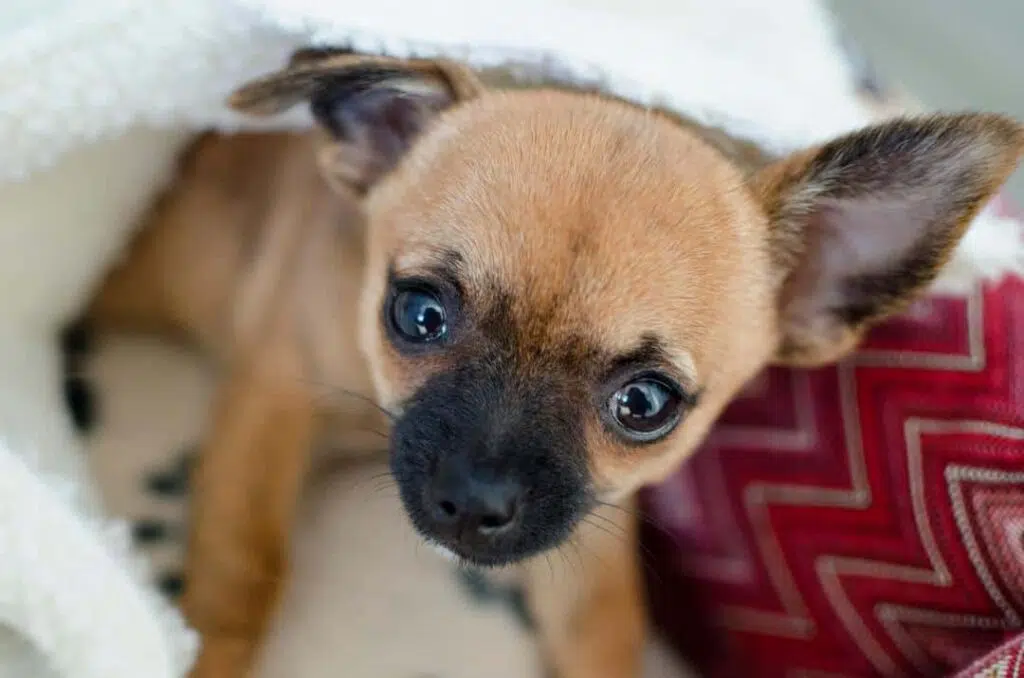 The first night with your Chihuahua puppy is always memorable. For the next (hopefully) 20 years or so, you'll have a loyal, portable, snuggly companion.
I'm sure you're over the moon, excited about your new pup, and happy to have her home for the first time. If only she felt the same way! Most puppies will be stressed out for the first 1-2 weeks in their new home.
Your puppy has no idea what they're in for. As a reader of Little Dog Tips, you'll be an incredibly loving, attentive owner. You're probably learning about the importance of positive reinforcement training, the fallback of punishments, and you may have already decided against using water bottles, shake cans, and other harsh methods to scare your puppy into behaving.
Your puppy doesn't realize that coming home with you is the best thing that could ever happened to her.
She's scared.
Her doggy parents, human puppy raisers, and all those familiar sounds and smells are gone. You and your family members may be tempted to pass her from lap to lap, and there may be mixed reactions from other animals in your home.
Focus on having everything your puppy needs on-hand, and do everything you can to minimize stress.
Supplies To Have Before The First Night With Your Chihuahua Puppy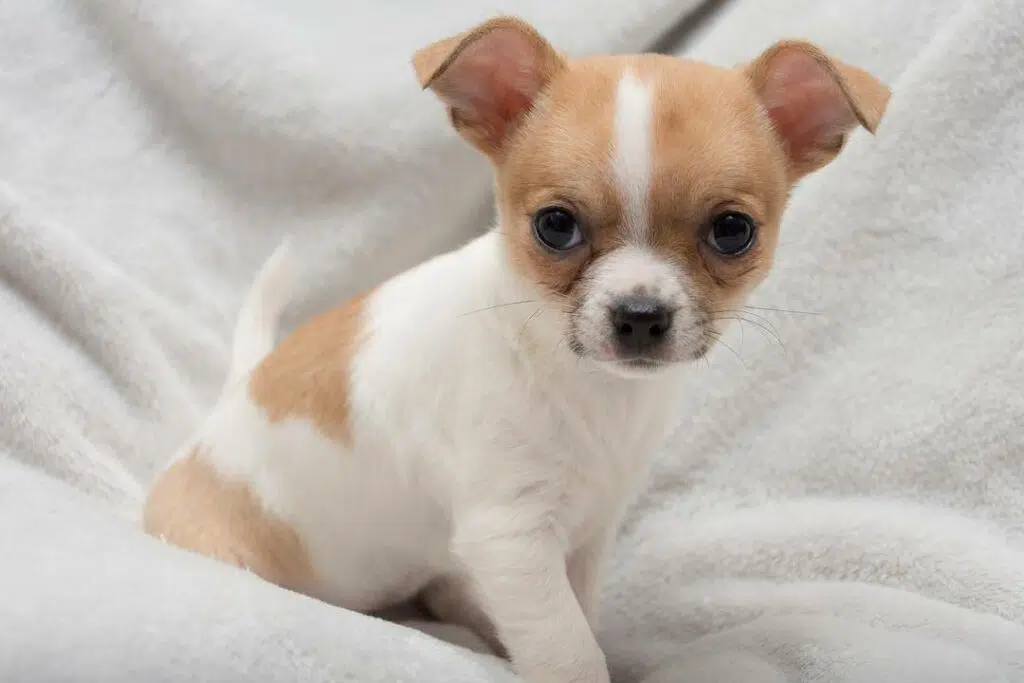 I imagine shopping for a puppy before her arrival brings about the same feelings pregnant women get when shopping for their babies. It's an experience not to be missed.
A crate. Ideally, large enough for her to comfortably stand, lay, stretch out and turn around in at her adult size, with a divider.
Food and water bowls. The water bowl should be larger. Puppies chew plastic, and it collects bacteria in the dents and scratches. Stainless steel or ceramic can be sterilized, and can't be chewed.
A mini Kong. A Puppy Kong seems to be on every puppy shopping list. Stuff food inside and your puppy will be occupied for a while, creating mental stimulation and easing separation anxiety.
A plush toy. The smaller, the better. Few pet stores carry a variety of tiny toys for chihuahuas. When you find some, stock up! Plush squeaky toys encourage your shy puppy to play and bond with you. They may also remind her of home. Even better – try to obtain a toy from her original home so she'll be comforted by the familiar scent. Matilda loves her tiny Kong duck and bear, and they're super durable.
A chew toy. Edible chews may be too much for your puppy's stomach to handle. A mini Nylabone or low-level intensity chew toy are good choices. Yes, you can certainly spoil your puppy-to-be with pre-shopping, but you'll learn what kind of toys she prefers in the coming weeks.
Extra Things to Know
Food. It's best to feed the puppy's original food at first, and hold off on dietary changes, supplements, and various treats until your puppy has settled into your home. Consider feeding commercial raw or dehydrated food to avoid harmful fillers and allergens. Primal Pet Foods makes convenient freeze-dried foods.
Puppy pads. Puppy pads are optional. If you think you'll occasionally use them throughout the dog's life – for travel, after surgery, or cold weather – you should train your puppy on pads, then transition to outside. If you don't plan to use them when your dog is older, you may prefer outside-only pottying to prevent confusion. There are also alternatives to potty pads, like reusable cloth pads and indoor toilet systems.
A vet appointment. Your puppy will probably need a round of vaccinations soon. She may also need to be dewormed.
A collar. It may be difficult to find a collar that fits your tiny chihuahua puppy. A cat collar can work for now, but cannot be used for leash walking if it's breakaway.
A harness. Chihuahuas are prone to tracheal collapse or eye pop-out as a result of neck pressure from pulling on a leash and collar. A cat or rabbit harness could fit a puppy that isn't big enough for an XS harness. Matilda only fits in this Lil Pals harness.
A leash. Be sure the clip is tiny and lightweight. The leash should be 5-6 feet in length.
What To Feed Your Puppy On The First Night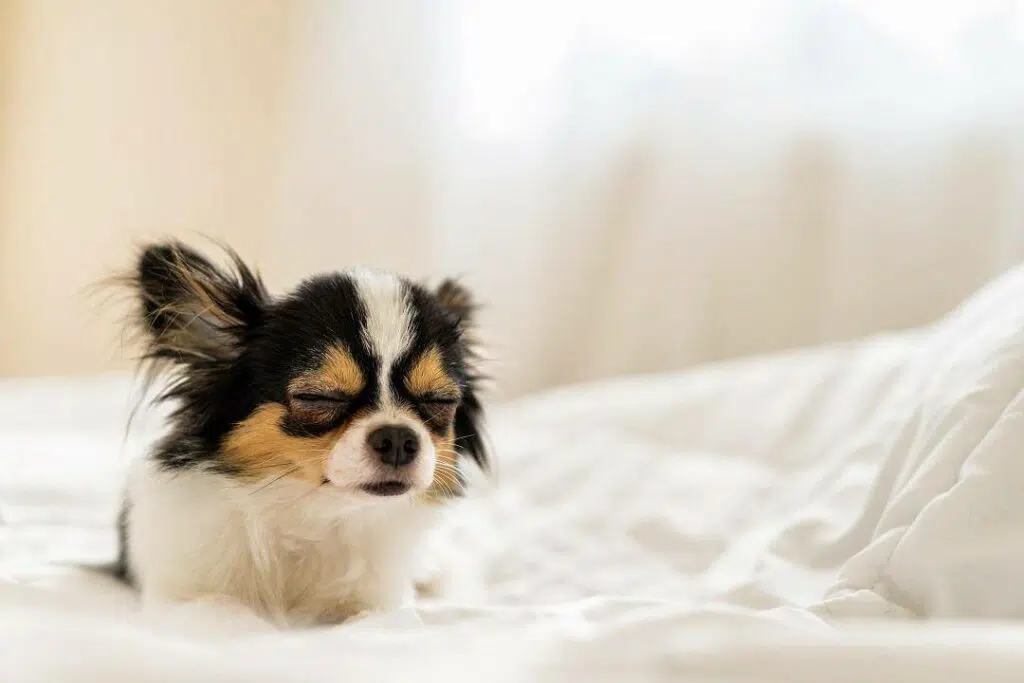 If you can, feed your puppy the same food she's already eating. If you can't, look for a high-quality kibble that comes in tiny chunks. Puppy food has a little bit more protein than adult dog food.
A 4-pound puppy eats twice as much as a 4-pound adult dog.
Generally, a chihuahua puppy will need to eat around 3/4 cup of kibble, split into 3 meals per day.
You can also allow your puppy to eat as much as she wants for about 15 minutes.
Your puppy will appreciate it if you soak hard, dry kibble in warm water for 20 minutes before feeding. You can also soak the food overnight, and keep it in the fridge for up to 48 hours. You may want to heat up cold kibble mush with a splash of warm water.
Giving Your Puppy Alone Time
You may feel tempted to cuddle your puppy all day to comfort them during a stressful first night. But it's best to give her some space. Excess handling can be overwhelming for her, especially if your whole family passes her around.
You certainly can cuddle your puppy sometimes, especially if she is already initiating contact and climbing into your lap.
But you also need to put her in her crate so she can practice being alone for short periods of time.
You can fill her Kong or a similar toy with some soaked kibble mush. Encourage her to go into the crate on her own by placing her meals, water and toys inside.
The Potty Area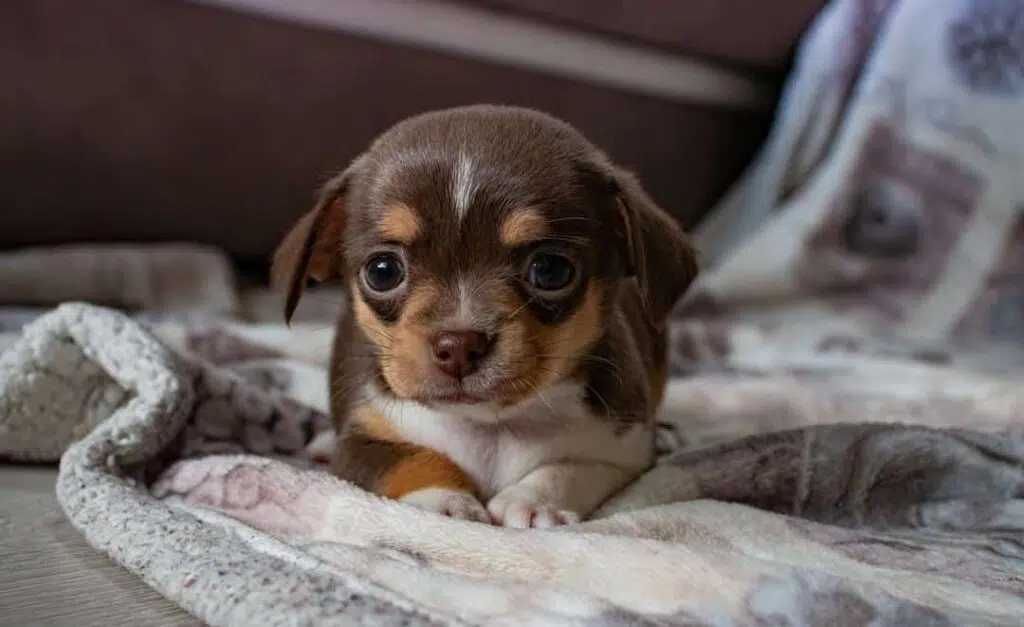 Your puppy will need to relieve herself every 2 hours, more or less. A regular feeding schedule with 3-4 meals can make her potty urges more predictable.
Get the latest Chihuahua Buzz
Set up a potty pad in one area, and make sure your puppy is always within a few feet.
Puppies quickly learn to relieve themselves in the same spot. If she has an accident, soak it up with a potty pad so she will later be lead to her own scent.
If you decide to only take your puppy outside, you'll need to do it often.
A Head-Start On Crate Training
The best way to prevent crying in the crate is to prevent your dog from ever feeling trapped inside.
As often as you can, leave the crate door open as she eats her meals, drinks water, and plays with toys.
Do not lock your Chihuahua puppy inside the crate unless you've just played with her, and she's too tired to do anything other than going straight to sleep.
Typically, a puppy will not soil her crate, unless it is large enough that she could pee in one end and sleep in the other. Most crates come with a divider that allows you to decrease the sleeping area so it cannot be used as a bathroom.
Surviving The First Night with Your Chihuahua Puppy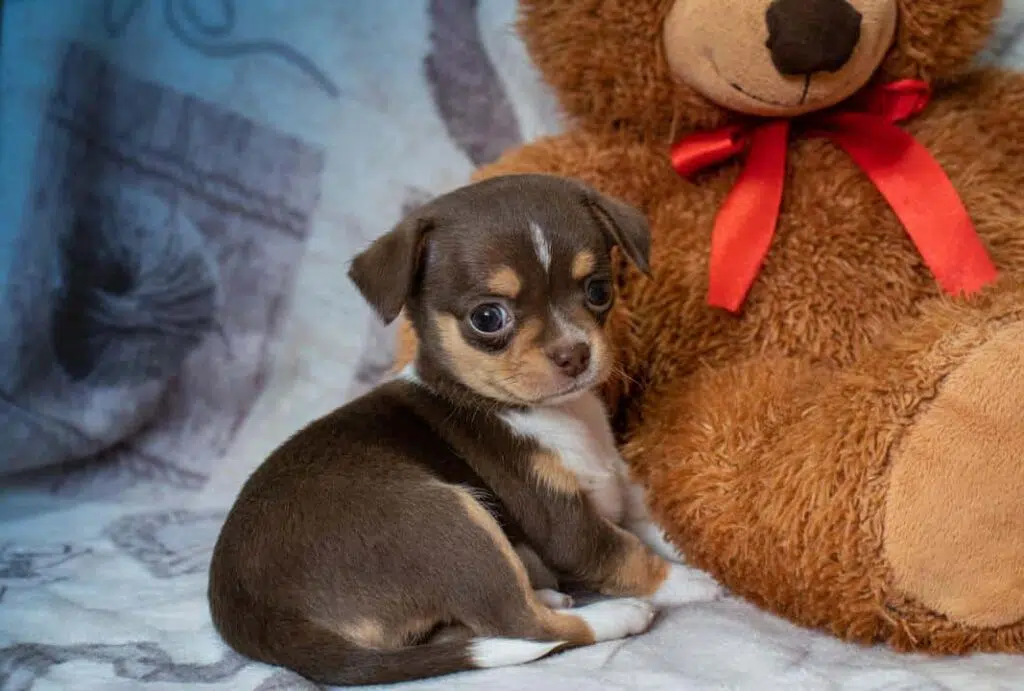 Nighttime is the toughest part of being a new puppy owner.
Many people leave their puppy in a locked crate, and may move her so far away that they cannot hear her. A pup can cry for 20 minutes, sometimes for hours, before tiring herself out and falling asleep.
Forget, for a moment, how that affects your comfort.
A puppy left to cry in her crate, alone in the dark, with no familiar surroundings and understanding of what's happening.
The "cry it out" method of human parenting is on its way out. Human babies who are left to cry it out have been shown to suffer neurological damage, depression, and anxiety throughout their adult lives. When babies are quickly comforted, they experience less crying, avoid that pattern of distress, and can actually grow up to be more independent.
Dogs are no different. The "cry it out" method can cause permanent neurological and emotional damage for your chihuahua puppy.
Exercise Patience
If your puppy is crying in her crate, get closer, but don't take her out just yet.
Spend some time near the crate if your presence quiets her. Be visible to her until she falls asleep, then go back to bed.
Or, if she's too awake to calm down, get close to the crate, but only open it when she's been quiet for a few moments, so she'll learn to settle down before she's released.
Take her outside or to her puppy pad, even if she just relieved herself.
If she wants to play, play with her until she gets tired. It doesn't take long to tire out a puppy, and it'll be the fastest way to calm her down so you can get back to sleep.
Should Your New Puppy Sleep With You?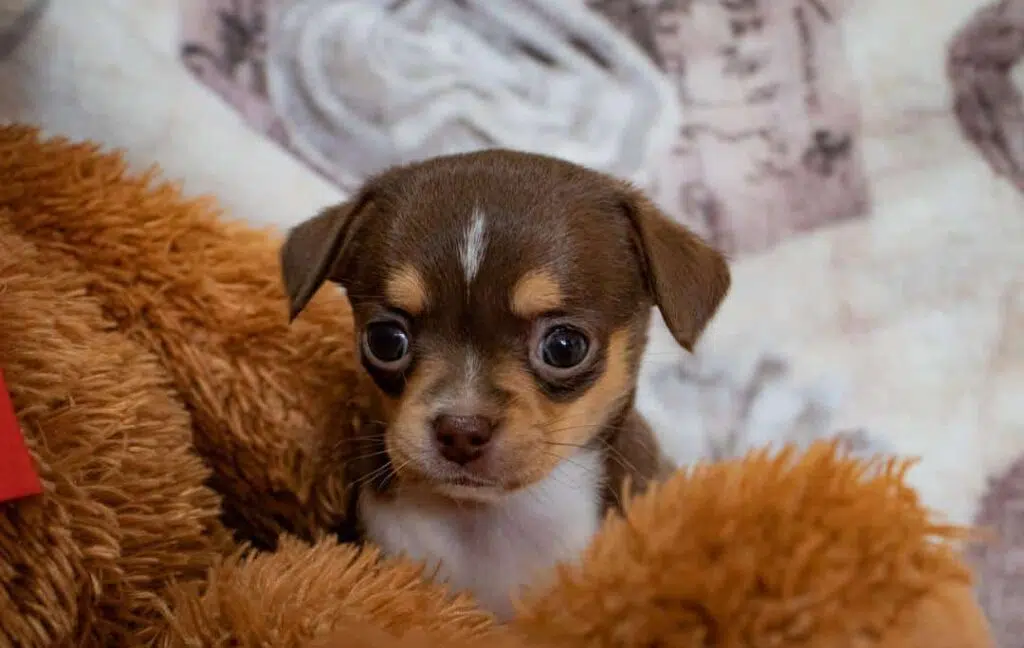 If crate training is extremely stressful for your new puppy, you can work on it later.
A playpen or gated area split into a sleeping area and a potty pad area could be more comfortable for her.
You could have your puppy sleep with you if you have already bonded, and if she seems to sleep peacefully when she's close to you. You just need to be a light sleeper. If the puppy wakes up, you should, too, to take her for potties.
There's a risk that your puppy may relieve herself on your bed, and that can become a bad habit. But she may also see your whole bed as an unsoilable resting area. If you choose to let your puppy sleep with you, you need to make sure it's a good decision for your individual puppy, and supervise her closely whenever she stirs.
Somehow, Matilda quickly learned to hop out of bed, use her potty pad, and hop back into bed without waking us up.
Assume that your puppy will need a lot of guidance, but don't be surprised if she's smarter than you think!
Source: littledogtips