Animal rescue centers in the San Francisco area are calling it the "Paris Hilton syndrome". And, they are not talking about the latest hairstyle or taste in glitzy clothes.
They are referring to chihuahuas, those tiny, wiry, anxious little dogs that the hotel heiress helped to turn into a fashion accessories. They may seem cute, but there's more to them than being adorable little furry friends.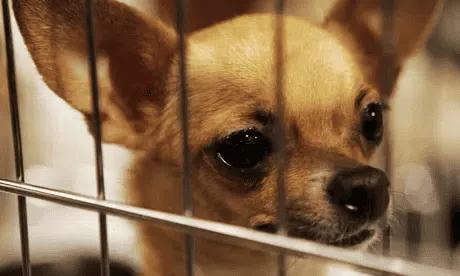 Rise in Abandoned Chihuahuas
Over the past year, animal rescue workers have noticed the number of abandoned pooches rise steadily, and a third of the dogs in shelters are now said to be chihuahuas. The most distressing statistic is that the diminutive dogs with the big watery eyes have now overtaken their antithesis – pit bulls – as the most commonly abandoned breed.
Impact of Hollywood and Celebrity
In California, dog experts believe the trend is at least in part due to the impact of Hollywood and celebrities. Several movies and TV series featuring chihuahuas have influenced people to adopt them.
Get the latest Chihuahua Buzz
Unscrupulous breeders rushed to fill what they perceived as insatiable demand. But, the overall effect has been a drastic oversupply, leaving thousands of dogs abandoned. And, an abandoned Chihuahua is never a good idea.
Effects of the Dire Economy
Across America, numbers are rising too, but rescue shelters put it down mainly to the dire economy. People forced to leave their homes are having to give up their dogs in the process. And, that's just horrendous in itself.
The chihuahua craze that Paris Hilton popularized may have ended, but it left a trail of abandoned dogs. Animal rescue centers are doing their best to save them, but they need more help from people willing to adopt these dogs.
Source: The Guardian