A 3-pound Chihuahua puppy is safe and warm today thanks to the efforts of a San Clemente, Calif., teen.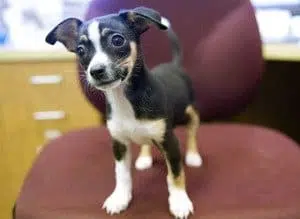 Sarah Romero, 16, was walking home on a pedestrian bridge over Interstate-5 last week when she heard an odd noise coming from a trashcan. She could never have guessed what she would find next on that El Camino Real street corner.
"I heard these little yelps," Romero told CBS Los Angeles. "And I looked in the trash can and there was this puppy right there. All just snuggled up in the trash. It made me kind of sad. It was really cold and it was shivering."
Romero could hardly believe what she was seeing, she explains.
"I couldn't believe anybody would throw her away," the teen told the Orange County Register following the pup's rescue. "My first instinct was just to take her home and get her warm."
Thinking quickly, Romero reached into the trashcan and scooped up the tiny tri-color Chihuahua. The pup appeared healthy, and was relatively clean, but Romero thought some good food and a warm bath would help her new furry friend.
Get the latest Chihuahua Buzz
What Happened to the Chihuahua Puppy?
Figuring that animal shelters would be closed over the holidays and knowing that the Chihuahua puppy had no place else to go, Romero decided to care for the pup for a couple of days. She brought the young Chihuahua home to the apartment she shares with her mother, Carmen Martinez, with the intention of contacting a local rescue organization after Christmas.
It only took a short while for Martinez and Romero to realize their new houseguest had worms. So the mother and daughter contacted veterinarian Dr. Robert Berschauer of Animal Urgent Care in nearby Mission Viejo. Berschauer treated the worms and determined that the pup was only 5-weeks-old. Romero couldn't believe someone would abandon so young a puppy.
"My daughter was so sad to give it away," Martinez said of the pup, with whom Romero had formed a strong bond. "She is still crying. She wanted to keep it," explained Martinez.
Staff at the shelter have since named the petite pooch Eve, after Christmas Eve. San Clemente/Dana Point Animal Shelter General Manager Kim Cholodenko explains that Eve is currently on medical hold but that she should be transferred to a foster home soon. At just short of 6-weeks-old, Eve is too young to be spayed, but should be able to undergo the procedure in a couple of weeks before being officially put up for adoption.
A Christmas Miracle
As for Sarah Romero, the teen is still hoping she can adopt Eve when the pup is old enough to go to a forever home. Romero's mother plans to talk with her landlord to inquire about making an exception to the "no pets" policy. But no matter what the future holds for Romero and the puppy she saved, the caring teen is glad she intervened and wishes nothing but the best for little Eve.
"I would want the family that takes her to really treat her right because I really love her and wouldn't want to see something like that ever happen again," says Romero.
Sources: CBS Los Angeles, Orange County Register
Source: dogtime