We often hear that birds of a feather flock together. But then again, not all birds of a feather are the same. When you look at the two-legged chihuahua and the chicken in the story below, you might think they are about as different as night and day. As it turns out, however, they were both rescued by Alicia Williams, and they have become fantastic friends.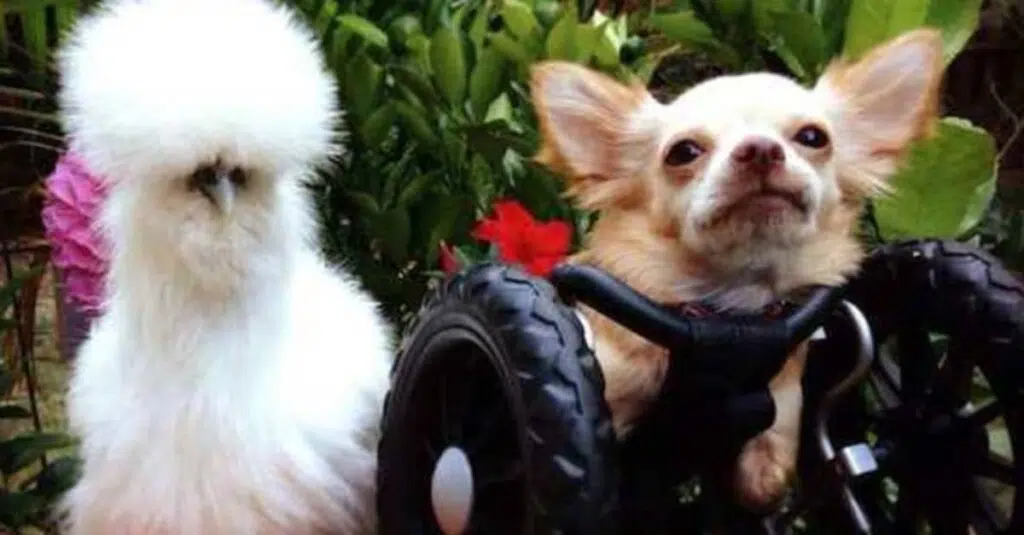 When they found Roo the Chihuahua, the puppy was cold in a ditch. They think a backyard breeder abandoned the dog because he didn't have front legs when he was born.
Penny, the chicken, was also rescued. Penny was abandoned as an "experimental chicken" after the experiment was complete, and it likely would have euthanized her, but Alicia brought her home after getting permission.
Alicia works at the Duluth Animal Hospital in Georgia, and these "odd bedfellows" often hang out. The people at the hospital created this video and uploaded it to YouTube, allowing you to see them as good friends.
Get the latest Chihuahua Buzz
These 2 have incredible adventures; they even hang out when napping to keep warm.
Since the story broke, Penny has passed away, and she managed to leave behind a beautiful story before she did so.
Before dying, Penny had a chick named Pippa, who is good friends with Roo.
You can find them on Facebook to keep up with the latest.
The two have developed a liking for each other and spend a lot of time together. The animal hospital has started publishing the two pals' antics on their Facebook page, attracting attention from animal lovers worldwide. Williams even says clients have scheduled their visits around Penny and Roo's schedules.