A dog owner has gone viral by sharing a video of her blind and deaf senior dog, amassing over 14 million views. Here's what it's like living with an old, blind, and deaf Chihuahua.
Dog owner Katya, @faultyfemale, shared how her 14-year-old Chihuahua reacts to her hand, and viewers were left shocked by the sounds the dog makes.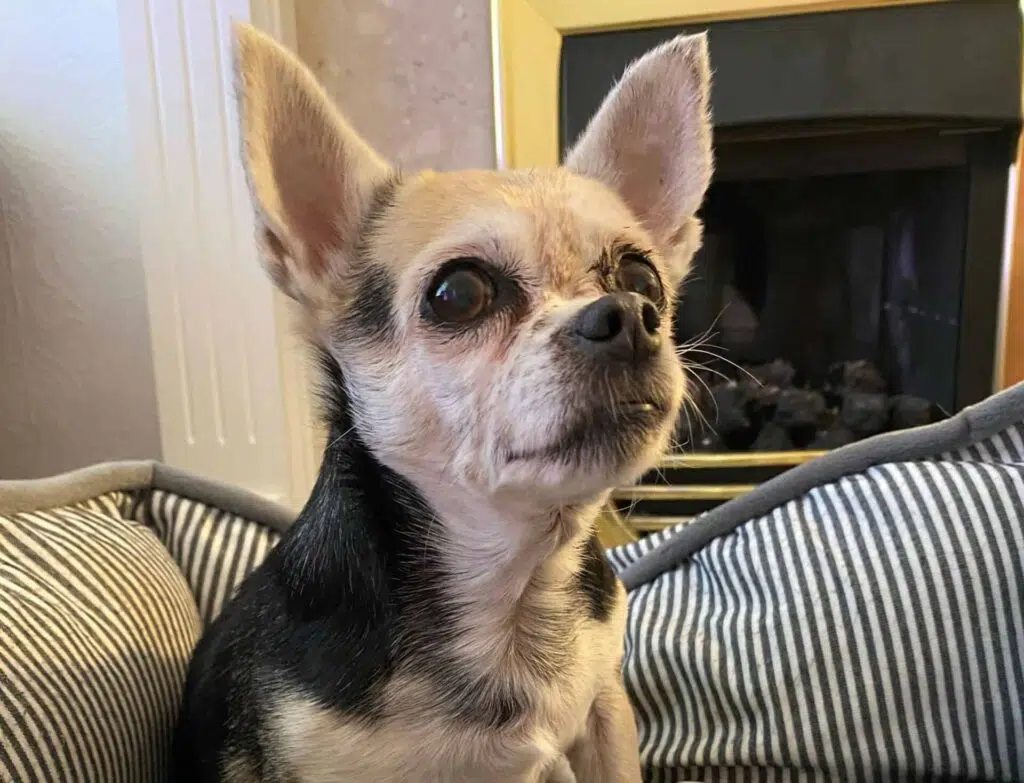 "What it's like living with a blind and deaf 14-year-old Chihuahua," she wrote on-screen as her hand approached the face of the dog Mocha.
The dog began by making a growling sound at hand, approaching him before starting to lick it. Despite warming up to the unexpected object in its face, Mocha continued to make noises the entire time, grabbing the attention of TikTok.
The Deaf & Blind Chihuahua
"He doesn't like being disturbed when he's in his bed," explained Katya in a comment. "He's mostly chill, enjoys walks, playing with his toys, and cuddling. He gets spoiled in his old age, and we all adore him."
"The chihuahua even has a little sling that he can sit on my dad's chest while he's working," she added. "He was particularly grumpy today because the new pup was annoying him. I filmed this before moving him to a place where the pup can't bother him."
What Does the Data Say?
According to the American Kennel Club, it's estimated that 5 percent to 10 percent of dogs in the United States suffer from deafness, either in one ear or both.
For Mocha, however, he's not entirely deaf or blind and can still enjoy music. "He can still hear some things," wrote Katya. "He'll often come and sit on my lap if I play piano. He's always loved the music."
Get the latest Chihuahua Buzz
Katya added that he's "mostly blind, not all. He can still see vague shapes and shadows, and his sense of smell is wonderful."
Some viewers were confused, while others fell in love with Mocha and his unique sounds, as shown by the comments.
"It's cute when it's not trying to summon Satan," wrote one user.
"Someone could use this as a sound in a horror movie," added another.
"This is no longer a dog; it's a divine entity," one TikTok user wrote.
As for the negative comments, Mocha's "favorite human," aka Katya's dad, had one response in a video. A middle finger to all those "who don't appreciate him."
Animals With Disabilities
TikTok has been able to shine lights on pets with disabilities, with various animals going viral for the things that make them unique.
Six-year-old dog Dexter repeatedly goes viral on the app for his decision to walk on his hind legs after having his front ones amputated following a car accident.
Videos capture Dexter strolling through his neighborhood on his back legs, climbing stairs, and running through the snow.
"We bought him custom wheels; at first, he was not even using that front arm. We used the wheelchair on walks and monitored around the house for rehab strength on the front leg," owner Kentee Pasek told Newsweek.
"After a bit, the front leg became strong, and he used it while walking in the wheelchair. Then one day, he stood upright with them strapped to his stomach. My reaction was pure shock and disbelief. I called the vet, and it was decided Dexter was safer to walk upright if he wished without the wheels than to walk upright with them attached."