From Grieving to Grateful: How Chimichanga Changed Our Lives
On my 50th birthday, we faced the devastating loss of our dear Penny in a hit-and-run accident. She was staying at a friend's house while we were on vacation, and we got delayed, making her stay an extra night. On our way home from dinner, the dreaded call from an emergency vet shattered our hearts.
After a couple of months, we believed we were ready to adopt again. We brought home two puppies from a no-kill shelter, but soon realized it was too soon. With great sadness, we returned them to the shelter.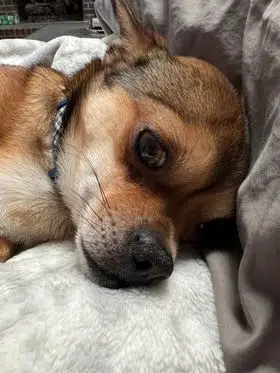 An Unexpected Shelter Visit: A Fateful Decision
On December 23, 2022, my husband suggested, "Let's just go look and see" at the shelter. We had no intention of adopting that day. As we browsed the larger dogs, I felt compelled to see the smaller ones too. Overwhelmed with emotions, I broke down at the shelter, missing Penny dearly.
Get the latest Chihuahua Buzz
A Chance Encounter: The Irresistible Chimichanga
That's when I saw him – a charming little dog with a captivating underbite. He shivered and gazed at me with the sweetest expression. The staff explained he was part of a lottery system, and they were waiting for the chosen person to call within the hour.
Instant Connection: A Life-Changing Moment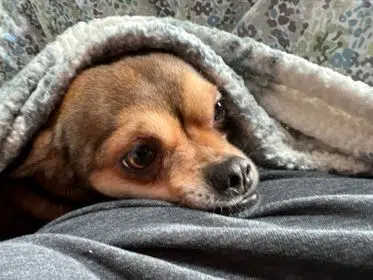 I requested to meet him, and he ran to me instantly, creating an immediate bond. The shelter staff told us they were about to draw the next name, but if we adopted him right away, he could be ours. Without a second thought, we said yes! That's how Chimichanga, affectionately known as "Chimi," joined our family.
The Best Christmas Gift: A Heartwarming Rescue
Chimi was an amazing Christmas gift, but the truth is, he rescued me that day and continues to do so every day since. He's a devoted momma's boy, and our lives have been enriched with him by our side.
Embracing Love and Healing: A Journey Together
The loss of Penny was excruciating, but Chimi's presence has helped us heal and look forward. His love and companionship serve as a reminder that while we can't replace our lost pets, we can cherish their memories by embracing new love and second chances.

We thank the pup's owner, Kim daniels for sharing their story and providing us with these heartwarming images.

Source: I Love Chihuahuas