Are you planning to get a Chihuahua? Then you've come to the right page! Indeed, there are tons of reputable breeders of this pocket-sized companion.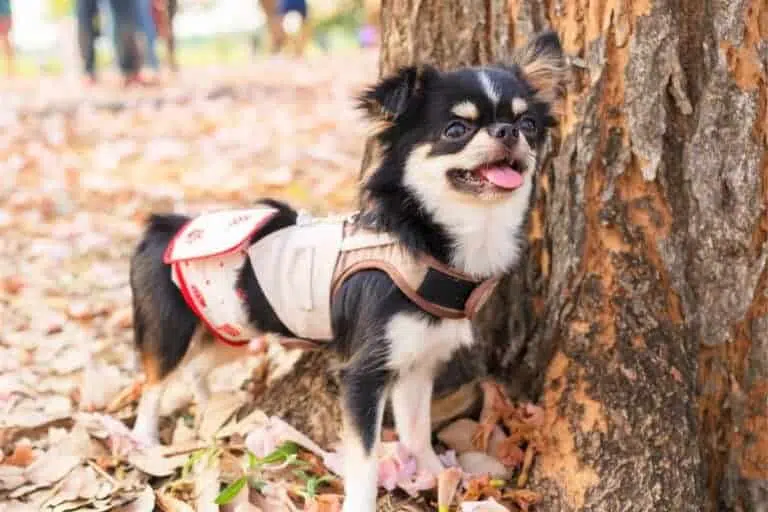 However, if you're looking for one that doesn't cost an arm and a leg, opening up your home to a rescued Chihuahua would suit you well!
In this article, we'll take you through the ten most active and caring Chihuahua rescues you can contact and check out to see if they may be holding the perfect Chihuahua for your family!
We've also included the budget you will have to prepare and some tips to help make the process smoother.
RECOMMENDED READING:
Most of the Chihuahua rescues in this list follow the same adoption process. If you want to ace your application, I suggest you read our ultimate adoption guide, which features vital tips and techniques from choosing the breed to home introduction.
Top 10 Chihuahua Rescues to Find Chihuahuas for Adoption
Although this breed is quite manageable and easy to care for, they are also one of the most common breeds you can find in a rescue.
However, this does not mean that I'm encouraging you to adopt any Chihuahua from various institutions without an in-depth assessment of your compatibility.
It would help if you opted for a rescue that genuinely cares for and humanely treats your future fur babies.
To make your search easier, we've provided a compilation of Chihuahua rescues that have made it to our favorites list by friendliness and reliability!
1. Chihuahua Rescue and Transport (CRT) – Several States
The CRT has been rehoming Chihuahuas from the Northern, Mid, and Southern regions of the United States for over 25 years.
They began their noble work in 1996 and had been rescuing neglected, abused, and maltreated Chihuahuas.
Above rescuing these pups, their main goal is to educate pet owners and advocate for responsible pet ownership.
They are a foster-based rescue team with no paid employees, limiting its service area. On the bright side, they have affiliates in several states.
Provided below is the list of states that their fosters cater to:
Midwest Region: Ohio, Wisconsin, Illinois, and Michigan
Southeast Region: North and South Carolina, Virginia, West Virginia, Georgia, and Maryland
Southwest Region: Texas and Oklahoma
Their adoption regulations strictly include a home visit, so they do not allow people to adopt for others or cater to aspiring Chihuahua parents from outside the states listed above.
If you're living within the given states, you can start your adoption journey by filling out their application form here.
Chihuahua Rescue and Transport (CRT) Information and Details:
Website: Chihuahua Rescue and Transport (CRT)
Emails: [email protected] (DFW Region), [email protected] (Southeast Region), and [email protected] (Midwest Region)
Special Note: They also have specific Facebook pages: DFW Region, Southeast Region, and Midwest Region.
RECOMMENDED:
Male vs. Female Chihuahua: A Side-By-Side Comparison
2. Texas Chihuahua Rescue (TXCR) – Texas
TXCR started in May 2015 with only 22 Chihuahuas in their rescue. After a few months, their average rescue rate has ballooned almost five-fold, averaging around 100 Chihuahuas!
Jamie Parker, the TXCR director, answered the call to save numerous maltreated and abused Chihuahuas within and around Southern Texas together with unpaid and loving volunteers.
Get the latest Chihuahua Buzz
TXCR saves unfortunate Chihuahuas and goes to great lengths to help them readjust before meeting their forever homes.
Vet their dogs thoroughly as they arrive at the rescue. They are spayed or neutered, vaccinated, and cleared of any parasite.
They even microchip them and make arrangements for the adopters. To ensure that the microchip is registered to their fur parents' name.
Texas locals who desire to adopt from their rescue need to prepare around $250 to $350, whereas those out of state will pay a hefty amount for transportation arrangements ranging from $500 to $600.
If you're ready to check out their available dogs, you can fill out their application form here.
Texas Chihuahua Rescue (TXCR) Information and Details:
Website: Texas Chihuahua Rescue
Special Note: They are also on Facebook, Twitter, and Instagram.
3. Ay Chihuahua Rescue – Texas
Another Chihuahua rescue based in Texas is Ay Chihuahua. They operate as a foster-based organization where rescued animals are cared for by loving families. While waiting for people to give them a home for the rest of their lives.
As families keep them in a home setting. Dogs from Ay Chihuahua are indeed nursed back to health and stable mental being.
Typically, the adoption process in Ay Chihuahua takes around two to three weeks as they heavily consider the references you put in your application. Hence, make sure that the person of authority knows you well!
Unfortunately, Ay Chihuahua only considers adoptive families inside Texas since their organization comprises willing volunteers and those who don't have children under six.
Chihuahuas are tiny and fragile. So they can be easily injured in households with children.
Ay Chihuahua has a non-negotiable adoption fee of $165 to $240, depending on your dog of choice. You can look at it here if you want more detailed information about their application process.
Ay Chihuahua Information and Details:
4. Enchantment Chihuahua Rescue, LTD – New Mexico
Settled in the county of Bernalillo, Margaret Wiltse and her small band of volunteers aspire to rescue, nurture and relocate maltreated Chihuahuas to provide them with the home they deserve.
Margaret started the association to assist the animal authorities in New Mexico but mainly rehomes Chihuahuas.
Pre-pandemic, the adoption of Enchantment Chihuahuas involves meet and greets to ensure that their Chihuahuas will be kept in safe, loving homes.
However, due to the COVID-19 outbreak, applications now require a video of your home. Unfortunately, this also limits the states they cater to, so they only assist aspiring Chihuahua owners in New Mexico.
Enchantment Chihuahuas categorize their dogs to make it easier for you to decide and find the perfect fit for your capabilities as a dog parent.
There are three main categories on their Available Dogs page:
Puppy dogs
Adults, seniors, and special needs dogs
Forever foster dogs
Pending adoption dogs
You can find the documents you need, such as the adoption contract and application, here.
Enchantment Chihuahua Rescue, LTD Information and Details:
Website: Enchantment Chihuahua Rescue, LTD
Address: Albuquerque, NM 87199-3815
Phone: 505-275-7283
Email: [email protected]
Special Note: They are also on Facebook.
5. Chihuahua Rescue of San Diego County – California
This Chihuahua rescue is similarly made up of a network of foster parents. They have banded together to nurse abandoned, unwanted, and injured Chihuahuas.
Unfortunately, Chihuahuas are one of the breeds primarily found in San Diego. This organization started providing warm, loving shelters to this lively breed.
Once a Chihuahua comes into their care, they are given its own space, food, and medical attention. They are also automatically spayed or neutered.
Take note that they usually arrange for you to have a meet and greet with the dog of your choice so that you can see if you're an excellent fit for each other! In addition, they will also visit your house or apartment to check out your living conditions.
When looking for a dog to take home, this organization allows you to browse available dogs, but if you're having a difficult time choosing, you can also ask for a recommendation from their team.