A couple discovered over a dozen Chihuahuas abandoned in a clearing without food or water in Cape Fair, Missouri. A couple discovered the dogs and reported the situation to the Branson Humane Society and For the Love of K9, who worked together to rescue the dogs.
Despite the rescuers' best efforts, a few of the Chihuahuas were able to escape into the nearby woods. After the couple discovered the abandoned Chihuahuas, the Branson Humane Society staff took in twelve dogs and named them after famous rock bands from the 80s and 90s, including Radiohead, Foo Fighter, Journey, Korn, and Kiss. They posted a photo on Facebook with descriptions of the dogs' size, gender, and weight. The estimated age of the dogs is three years old.
Treatment and Costs of Abandoned Chihuahuas
Someone brought six more Chihuahuas to the shelter within the next few days. Unfortunately, one of the dogs tested positive for parvo, a highly contagious virus that causes death in over 90% of untreated cases. The shelter had to be closed for ten days and cleaned with bleach. The virus was tested for and the dogs were quarantined. Additionally, seed ticks covered the Chihuahuas, requiring the shelter staff to obtain flea and tick medicine for them at a cost of around $450.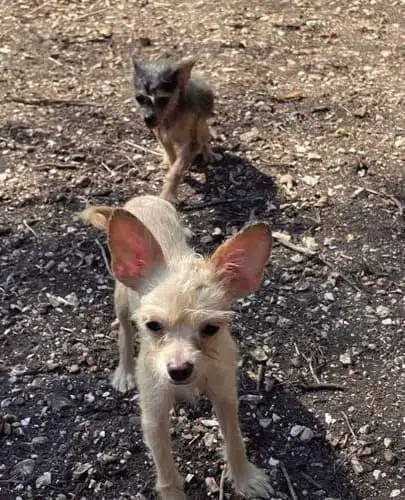 Each dog will cost about $100 to $150 to vaccinate, perform a heartworm test, spay or neuter, microchip, and dewormed. Any additional issues like parvovirus or a positive heartworm test will cost extra. Alicia Mason with the Humane Society said that the situation is a great example of why people should spay or neuter their pets.
Get the latest Chihuahua Buzz
The Branson Humane Society needs financial support from the community to cover veterinary costs and care for the dogs. The shelter and a fundraising thrift store are located at 2837 Shepherd of the Hills Expy. in Branson. If no other animals test positive for parvo, the shelter will reopen on September 30.
Help the Abandoned Chihuahuas
Animal abandonment and neglect are never acceptable.
You can make donations to the Branson Humane Society by clicking on the Donate link on their website. Blankets, towels, and other pet supplies are also welcome. This case is a reminder that people who want pets should take full responsibility for their welfare.