One little dog on TikTok is guaranteed to smile every day if you start following her account, @lisaandfrannie, which her mom runs. This sweet long-haired Chihuahua named Frannie has fallen in love with the mailman, "Postman Dan," and the two of them are such good friends that she even got him a birthday gift.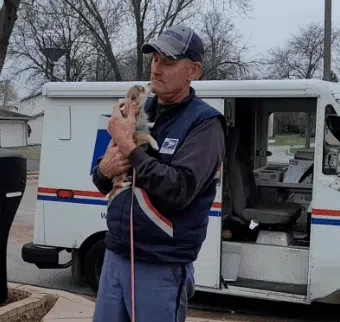 The new video of Frannie running outside with excitement to give Postman Dan his gift is so precious that we don't even know where to start. And because this day was so special, she even got all dolled up for the occasion.
These are the kind of moments we need to see more of! The beautiful friendship between these two is warming people's hearts, and TikTok users couldn't resist commenting on it. @Danita said, "A million thank yous is not enough for sharing this love ." And @terriew3 added, "She is so excited about giving him his present ."
This is only one of many videos of Frannie and Dan, as her mom has shared many other memorable interactions between them.
Get the latest Chihuahua Buzz
Dan even visited this adorable little pup the day after spay surgery to see how she was doing.
Their bond has made Dan quite the local celebrity!
Aww! They couldn't be any cuter together! Although, Dan might want to watch out because he does have some friendly competition for Frannie's heart in the form of Amazon James. When he comes to the house with deliveries, she's happy to see him, too! Something tells us Dan is willing to share her love, though!
We have a guide that tells you how to make your Chihuahua happy here.