First off, you can't and shouldn't be using human shampoo for your dog. Human skin is far different from your dog's as theirs are thinner and more alkaline. The human shampoo will only dry their skin and even leave them itchy and flaking because of the dryness.
That is where shampoo for Chihuahua dogs come in. These products are specifically made for dogs which means the pH balance is just right for their alkaline skin. The ingredients are more natural and gentle than human shampoo. Most of all, there are specific shampoos to get rid of fleas and ticks as well as other skin conditions your dog might have.
A good shampoo for Chihuahua would cater to their needs. Long-haired Chihuahua dogs have medium to long hair that's usually medium density. It's also double-layered. Because of that, the best shampoos should be able to penetrate the layers, meaning it's best to buy something more potent than gentle shampoos. Still, it must not be too harsh for their skin.
Dog shampoos must be vet-approved as well. There are some shampoos out there, artisanal or otherwise, that are not tested and approved by the FDA. Homemade shampoos are some examples.
If you want your Chihuahua to have healthy hair and skin, ensure that your vet approves of your grooming regimen first. The same goes for conditioners. They are ideal for long-haired types but are unnecessary for shorthaired Chihuahuas.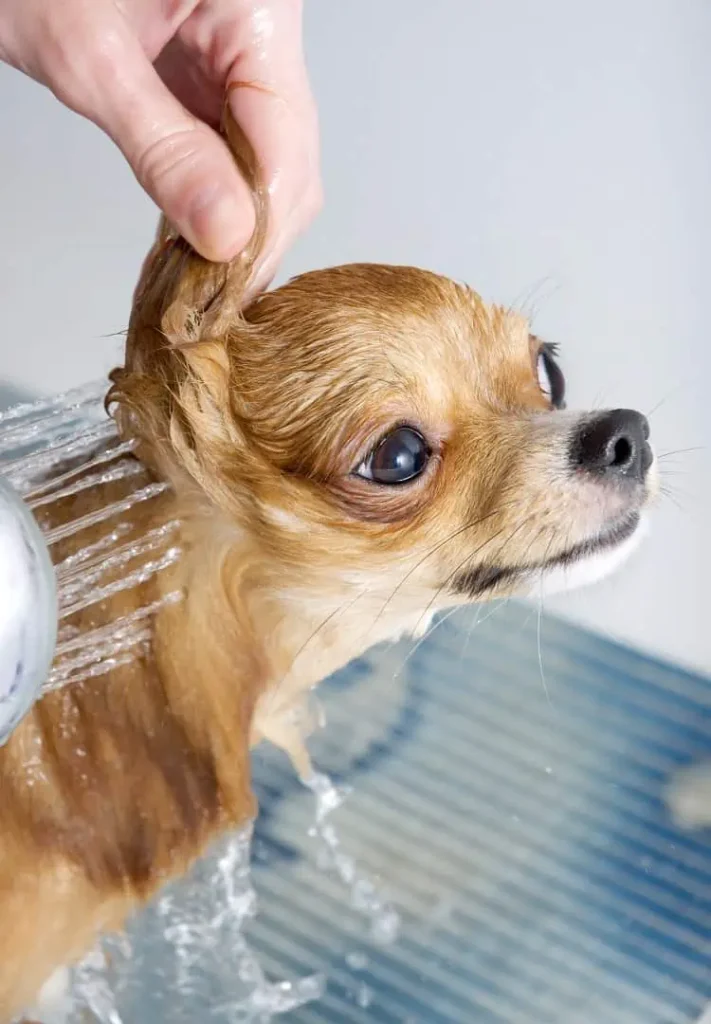 The reason is that shorthairs have fine hair that does not tangle, therefore, there is no reason for them to use conditioner at all. The sheen of their hair is not dependent on conditioner as well. Your Chihuahua's fur will shine more with proper diet and the right type of shampoo.
With all the basics aside, here are the things you need to consider when you are buying a dog shampoo:
Get the latest Chihuahua Buzz
Skin Condition
Unfortunately, not all dogs grow to have healthy skin. Your dog might have had several issues such as drying and itching due to some health problems or poor diet. You have to take these into account so you can buy the proper type of shampoo.
If your dog has normal skin and coats, you can buy almost any regular organic shampoo. Gentle shampoos are often organic and contain aloe vera, oatmeal, or chamomile. These are great ingredients to keep the nourishment and moisture in the skin and coat.
Here are several skin conditions and what type of shampoo for Chihuahua you need to get:
For severe allergies and sensitive skin, buy a soothing and mild hypoallergenic product with some aloe or oatmeal protein.
For skin irritations and if your dog has a wound, buy gentle, hypoallergenic shampoo that also contains antiseptic for the wound.
For dry hair and skin, you can buy shampoos that have aloe extract or oatmeal formula that helps soothes the skin and then buy a separate conditioner for the hair. However, you can also find dog shampoos with conditioners. These products will require emollients like silk, wheat, or proteins to help heal damaged skin.
Coat type
Depending on the breed, dogs have different coat types. For Chihuahuas, there are short-haired breeds and the long-haired breeds.
The short-haired Chihuahua dogs have a shiny coat that sticks close to the body, with a thicker layer on the neck area. Meanwhile, long-haired Chihuahua pups have a soft coat that's slightly curly or even flat. Both types of dogs have a denser double-layer coat which calls for something that can penetrate the layers.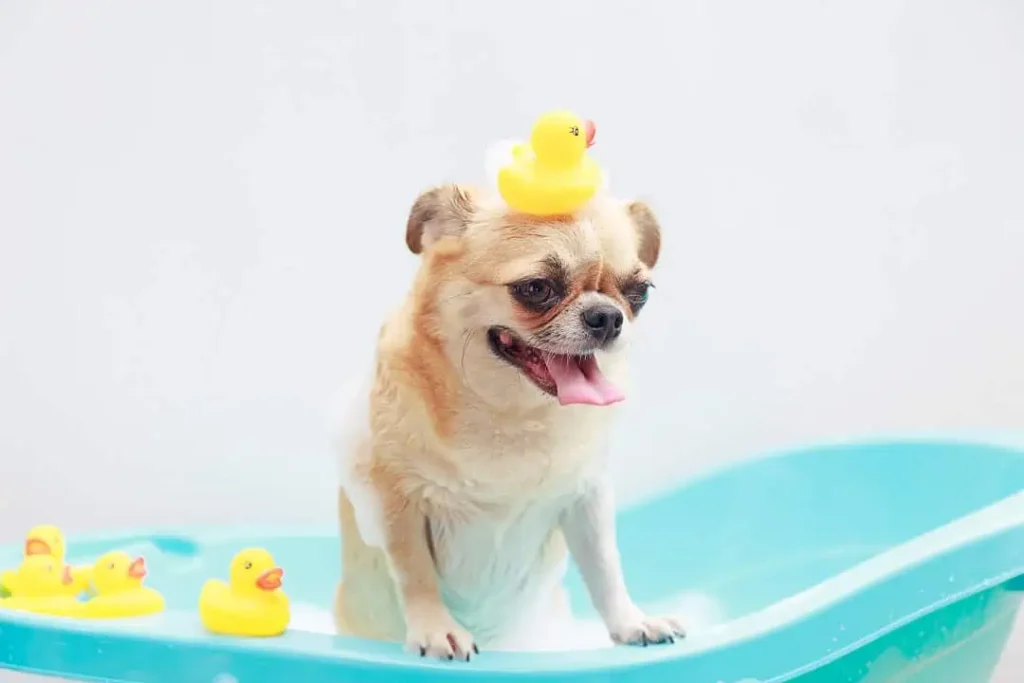 If their coat has become greasy, skip the conditioner entirely. Also, avoid shampoos with oatmeal base and instead, opt for other moisturizing ingredients such as vitamin E, aloe vera extract, or honey.
Some dog owners also think that whitening shampoos for dogs with white fur are good. But these shampoos often include blue dyes or bleach that are harsh. It could irritate the eyes and the skin. There are natural products that don't stain, especially shampoos that don't have any synthetic dyes.
Age
Your dog's age is also an important factor when deciding what shampoo for Chihuahua breeds you should buy. Puppies have more sensitive coats and skin, therefore they will require gentler products.
Most of the issues about skin and fur happen during adulthood so more often than not, shampoos for adult dogs cater to these problems more.
---