Singer adopts a larger-than-life 11-year-old Chihuahua mix and names her Stevie Nicks to pay homage to another equally strong and beautiful spirit.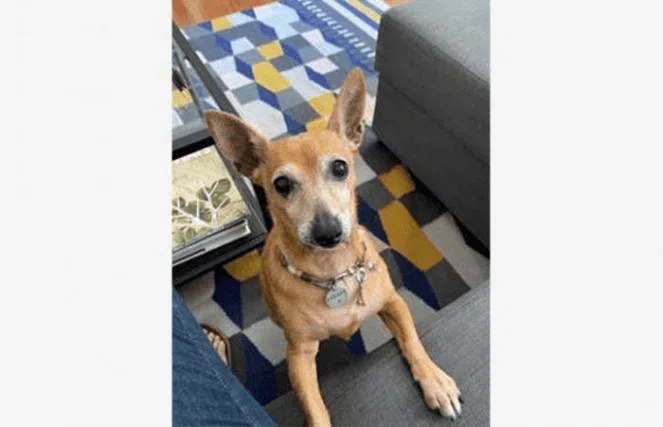 When Stevie, an 11-year-old Chihuahua mix, arrived at Best Friends in New York from a shelter in Texas, she brought along a super-size personality nearly as large as the state she came from.
Brimming with a saucy attitude and rocking to the beat of her tune, Stevie lived life on her terms. She relished her alone time and set the tone and tempo of her friendships. Besides needing slow introductions to both humans and canines. She made it clear she doesn't enjoy being picked up and that she prefers flying solo to be in the company of other dogs.
Part of the reason she didn't like being held or playing with fellow dogs could have been because when she arrived at Best Friends. Her tiny frame harbored lesions from an itchy skin infection, and she was in pain from an ear infection. To help her feel better, she was placed on a special diet. Given medication to help ease her anxiety and given twice-weekly medicated baths to relieve her itchy skin.
Thriving in a Philly foster home

For Stevie, the shelter environment is particularly stressful. So, as soon as she began to feel better, she went to stay in a foster home where she would have plenty of time and space to relax so that her anxiety no longer eclipsed her personality. But after a few foster homes and even a couple of adoptions, she returned to Best Friends. As for the Best Friends team members, they found themselves back at the drawing board, trying to figure out the best next place for Stevie.
Soon, they had their answer: Stevie was Philadelphia-bound, or more specifically, she was headed to Philly to stay with Carolyn Fitzgerald. Best Friend's senior manager of lifesaving programs for the East Coast corridor. Carolyn had heard about the spunky old Chihuahua and thought it would be fun to foster her.
"We learned much about Stevie in the home," says Carolyn. "She loved long walks, despite her age. She also traveled well in the car and became buddies with my resident old dog, Gus."
A nomad no more
While Stevie fine-tuned her skills with Carolyn's help, musician Misy Singson was busy scanning pet profiles online, searching for a small dog who would fit her apartment lifestyle. "My roommate and I would text each other dogs we would see online," she says. "I wanted a chill dog and a senior dog. Because I feel they are often overlooked because of their age and medical history."
Get the latest Chihuahua Buzz
One day after spotting Stevie's online profile, Misy contacted Best Friends to learn more about her. It didn't take her long to realize that Stevie is a kindred spirit with similar health considerations, such as allergies and anxiety. Undaunted by Stevie's age, medical needs, or quirky personality, Missy set up a meet-and-greet.
On their first meeting, Misy was shy and stuck close to Carolyn. Noting Stevie's lack of eagerness to mingle with Misy, Carolyn left the room. That's when the magical moment appeared. "At one point, I was kneeling with a treat, and she finally came over, put her head between my knees, and rubbed her face on my legs," says Missy, who was sure then that Stevie was "the one" and adopted her.
Backing snores by Stevie (no, not that Stevie)
The pitch of Stevie's life changed when she landed in a home where music filled the air. "Music is a big part of my life," says Missy, a singer-songwriter who put on a record one day and noticed that Stevie stayed and listened to the whole thing. "I think that was the first time she didn't follow me into a different room," she says. "I think it put her at ease."
Missy gave the Chihuahua her new name in honor of Stevie Nicks. (At Best Friends, her name was Sandy.)
Being the only pet in the house and a queen snoozer, Stevie occasionally adds her notes to Misy's recordings, all from the comforts of her guitar case. "She snores pretty loud for a small dog," says Missy. "It's to the point where sometimes I'll be recording music, and I will listen back and hear her snoring on the track, even though she was five feet away from the microphone."
Without a doubt, the harmony between Misy and Stevie blends well. Whether Stevie is running circles while Misy prepares her meals or the two are making music together, they seem to complement each other.
"Having a dog with a history like Stevie can be daunting," says Missy. Her anxiety was probably at the same level as mine. I think the biggest reward is knowing she's happy, and safe. And able to live her life knowing she is cared for and loved.  
Now, that's something to sing about.
Are you tired of being a solo artist?
Visit your local shelter to meet dogs waiting to be the Hall to your Oates, Sonny to your Cher, and the Simon to your Garfunkel.