A TINY pup so small he fits in a coffee cup has been saved from certain death after a kind-hearted Dundee woman handed him a "miracle" lifeline. Vets had said that 10-week-old Chihuahua pup Bruce had two dislocated legs, underdeveloped joints, and tumors in his eyes. He would need to be put to sleep as he required 24-hour care.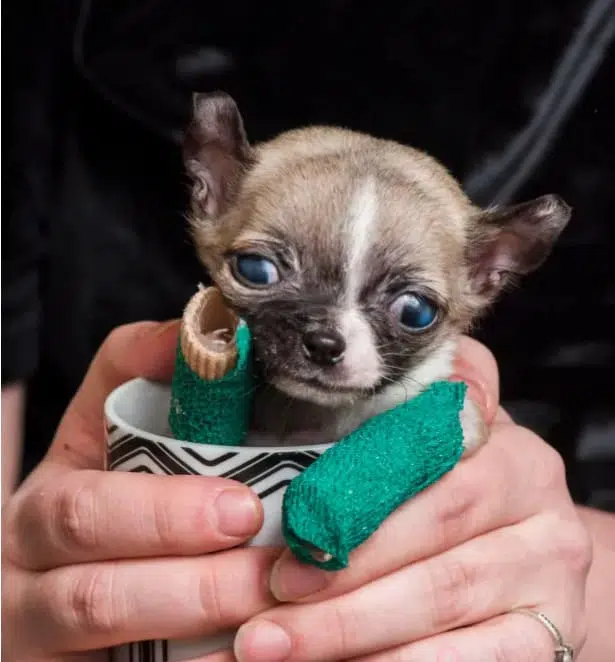 But when 28-year-old Robyn Boyd, from Lochee, Dundee, met the tiny animal, she was immediately smitten – and stepped in to save the sick animal.
Barmaid Robyn, her aunt Jayne Kelly and Jayne's daughter, Eryn, took Bruce in – staying up all night to massage his aching joints and giving him hydrotherapy sessions in their bathroom sink.
Robyn said: "We told the vet we were happy to take him in and see what we could do to help him – to give him a chance.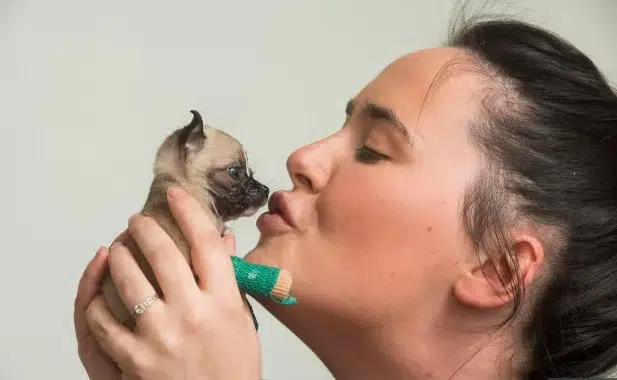 Small Chi
"Thankfully, the vet agreed. When I saw Bruce I thought 'he is coming home with us.'
"He is so wee. This Chi fits in the palm of my hand. He is the size of a mouse. You would never think he was ten weeks old, and you would think he had just been born."
Get the latest Chihuahua Buzz
Although both of Bruce's front legs are dislocated, he has underdeveloped joints, non-cancerous tumors in his eyes, and stunted growth. Robyn said he was responding well to their care.
Robyn said Bruce – named after comic book legend The Hulk's alter-ego, Bruce Banner – is thriving.
"He isn't blind but looks like he is – we are giving him eye drops from the vet. We must massage him constantly, putting him in water for hydrotherapy three times a day.
"Dundee team is doing everything we can to help his little legs. We have to give him 100 percent.
"Things like his heart are OK – he has more physical issues. We are giving him constant care – he is such a happy wee pup.
"We discovered he loves cheese – he has been scoffing at Dairylea triangles."