Demi Moore and her adorable dog Pilaf embarked on a delightful shopping excursion. They did so in the beautiful city of Santa Monica on a sunny Friday afternoon. So, let's dive into the details of their casual outing and discover what the talented actress has in store.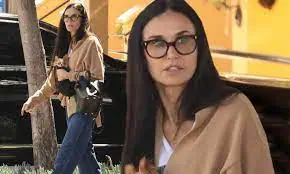 A Casual Outing in Santa Monica
Source: https://www.dailymail.co.uk/video/tvshowbiz/video-2901267/Video-Demi-Moore-celebrates-Bruce-Willis-68th-birthday-family.html
During their shopping adventure, the 60-year-old actress opted for a relaxed and effortless look. She gracefully meandered through the city streets, accompanied by her beloved one-and-a-half–pound furry companion, Pilaf. Demi Moore, known for her incredible acting skills, exuded a laid-back vibe as she indulged in retail therapy.
Sporting a dark beige cardigan sweater over a crisp white V-neck T-shirt, Moore showcased her effortless style. Complementing her ensemble, she wore a pair of cuffed, oversized blue jeans and stepped into trendy high-top leather boots. The actress completed her look with a chic leather purse, effortlessly blending fashion and functionality. To ensure her furry friend was safe and comfortable, she carried Pilaf in a matching sling, keeping them close throughout their leisurely stroll.
Demi Moore's Upcoming Horror Film: The Substance
While embracing the joy of shopping, Demi Moore has been eagerly preparing for the release of her highly anticipated horror film, "The Substance." Then, the talented actress is set to star in this unique cinematic experience, showcasing her versatility on the big screen.
Get the latest Chihuahua Buzz
In January of last year, Deadline announced that Moore had officially joined the cast of "The Substance." Directed by Coralie Fargeat, the film promised to deliver an explosive feminist perspective on the genre of body horror. Moreover, Margaret Qualley was also reported to be attached to the project, adding another layer of talent to the already impressive lineup.
As the production progressed, news emerged that the renowned actor Ray Liotta had signed on to co-star in the film. Unfortunately, Liotta's unexpected passing in May created uncertainty regarding his role in the feature. Then, Pop culture later revealed that his character would not be recast, leaving audiences to wonder how the narrative would unfold without his presence.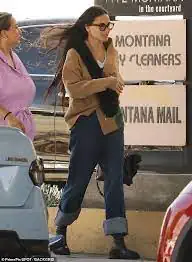 After overcoming these unfortunate circumstances, production finally commenced in August of last year, as reported by Deadline. Throughout this period, Qualley shared insights into her involvement in the film during an interview with W Magazine. She emphasized the physical demands of her role, hinting at an intense and captivating performance that awaits moviegoers.
Awaited Release Date
As of now, the eagerly anticipated release date for "The Substance" remains a mystery, leaving fans on the edge of their seats. Audiences can hardly contain their excitement as they await the opportunity to witness Demi Moore's captivating portrayal in this thrilling body horror film.
With Demi Moore's chic shopping excursion and her upcoming project, "The Substance," the actress continues to captivate audiences with her timeless talent and undeniable charm. Stay tuned for more updates on her fascinating journey in the world of entertainment!