Recently, burglars stole valuable puppies and paintball guns, putting three Chihuahuas at risk. The family-owned Pink Poodle Grooming Parlor and Camokaze Paintball Supply in Spokane found the break-in on Tuesday morning. The family is worried about the puppies, each weighing just 1 pound and needing constant feedings to avoid hypoglycemia.
Impact on Pink Poodle Grooming Parlor
Ryan Dunlavy, the son of store owners Rob and Deanna Dunlavy, expressed his concern, saying, "It's been pretty bad for us. They'll probably die if they don't have special care." The pet store break-in was followed by a burglary at SpokAnimal C.A.R.E., discovered on Wednesday morning.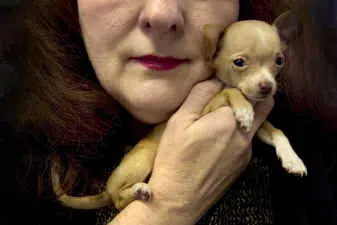 Spokane Police spokesman Dick Cottam mentioned the unusual nature and timing of the two crimes, but couldn't confirm if they were related. Pink Poodle lost eight puppies worth $600 to $800 each, including four pugs, three Chihuahuas, and a Jack Russell terrier-mix. Guns and supplies from their paintball store were also missing.
Security Measures and Break-ins
The Dunlavy family, having faced break-ins before, installed a security system and added iron bars to windows and doors. Burglars used bolt cutters to bypass the bars, broke the glass, and entered through the door's lower part. They also used bolt cutters to cut locks on the cages containing the puppies.
Get the latest Chihuahua Buzz
The thieves then cut bars on a window separating the two businesses and climbed through to steal the paintball guns.
SpokAnimal C.A.R.E.'s Break-in and Damages
SpokAnimal C.A.R.E. employees were shocked to find the door kicked in and the cash register lying outside on the street. Gail Mackie, the shelter director, said the thieves caused at least $700 in damage by ripping the register's cord out of the wall and damaging the outlet, in addition to trashing the register and the door.
With an empty cash drawer, the thieves only took $10 from a collection jar. Mackie expressed relief that they didn't vandalize the facility's new kennels or harm the pets, adding, "I'm just glad that our animals are safe and that our staff members weren't here."
Community Support Needed
The nonprofit will bear most of the expense since the insurance deductible is $1,000. Mackie hopes the community will step forward with donations of cat litter and pet food during this challenging time. Dunlavy mentioned the family is offering a $500 reward for information leading to the thieves' arrest and hopes the dogs won't be traded for drugs or sold to uncaring owners.