A pit bulldog and a small chihuahua puppy have become the stars of one of the most viewed viral TikTok videos in recent days. Here's the video titled "dog meets baby Chihuahua" for you.
A unique couple of animals met at their owner's house, and the scene they starred in when they met each other for the first time became a trend in several countries such as Mexico, Spain, and the United States.
Diego, the owner of these two friendly animals, wanted his beloved pitbull not to be alone during the hours he spent away from home and had no better idea than to adopt a warm Chihuahua puppy.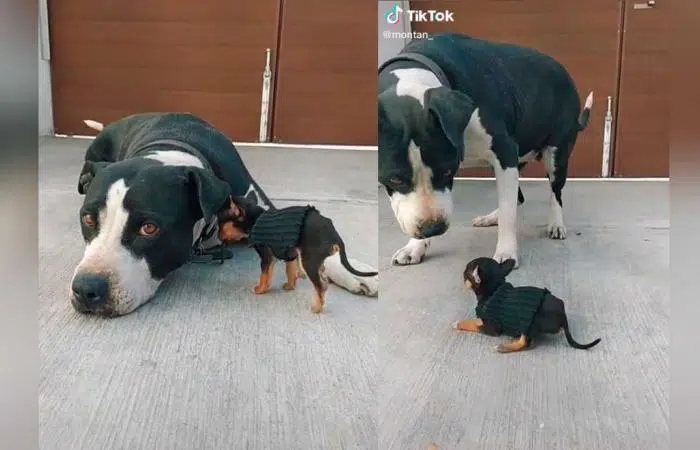 So that they both get to know each other, he puts them face to face so that they learn to get along and not have conflicts, as is often the case with a 'strange' animal that arrives for the first time at the home of another.
Get the latest Chihuahua Buzz
Huge Dog Meets Tiny Chihuahua
As can be seen in this video, which managed to exceed 2 million views on TikTok, at first, the pitbull dog was indifferent to this little animal. Still, when she saw that the chihuahua approached her to play, she reacted unexpectedly, and the tiny animal ended up rolling on the ground.
However, after this 'incident', the tiny animal approached the cub again, and together they began to play. The owner of the pets mentioned in the TikTok comments that since then, these animals have become inseparable, and both take care of each other.
Thousands of TikTok users who saw this video highlighted the serene behavior of the pit bulldog when having this tiny animal close, so they congratulated the young man for the excellent care he took with this puppy.
Source: alkhaleejtoday