SweePee Rambo is the newest champion of the annual Petaluma World's Ugliest Dog contest held at the Sonoma-Marin Fairgrounds. The event is now in its 28th year. As such, it has 15 malformed pooches battling it out to take home the title of the world's ugliest dog. Judges score the contestants based on factors such as stench, complexion, and other inherited and acquired maladies.
SweePee Rambo took the prize as the ugliest dog in the contest. This four-pound dog has a mohawk that glistens in the sun and a tongue that sticks out. The blind Chihuahua has to wear doggie diapers.
The owner of the dog, Jason Wurtz, of Encino, got SweePee as a gift for his first wife, but after a week she didn't want anything to do with it. Wurtz said he couldn't bear to let her go and called her a "ride or die chick" in the contest description.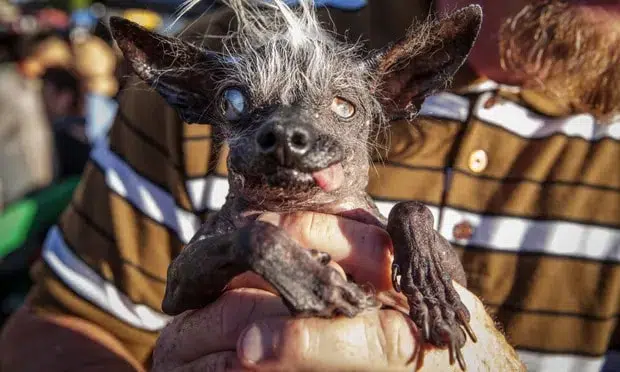 SweePee Rambo's Story and Condition
The Petaluma World's Ugliest Dog contest winner was not only a victory for SweePee Rambo, but also for Wurtz, who took home a trophy and a $1,500 prize. Wurtz said he planned to use the prize money to pay for the removal of a tumor that recently appeared on SweePee's gum line.
Get the latest Chihuahua Buzz
In the contest, one of the participants was Himisaboo, a pup that didn't place but caught the attention of the audience. Himisaboo had a flowing golden tuft that resembled that of the presumptive Republican nominee, Donald Trump.
Owner's Love for the World's Ugliest Dog
The event host said, "Whether you love him or loathe him, a vote for Himisaboo is a vote for a dog that looks like Donald Trump." The owner of Himisaboo, Heather Wilson, drove all the way from Idaho to attend the contest.
The Petaluma World's Ugliest Dog contest showcases a range of unique and unconventional dogs. SweePee Rambo's story and condition show the world that a blind Chihuahua can also be a champion.
Source: The Guardian