A dog with a passion for music has delighted the internet this week. After his owner shared a video of the Chihuahua getting snuggly on the subwoofer.

Denis Arbatov and Elizabeth Garginian adopted the Applehead Chihuahua Macaroni seven years ago. And have since discovered his love for a good tune.
In a video shared on Reddit and Instagram. Macaroni can be seen curled up on top of a subwoofer. "When Macaroni comes with us on an outing. He cradles himself snuggly on the subwoofer for the tunes ahead," the owner told.
With over 19,000 upvotes, the footage delighted the internet, where viewers rushed to share their comments.
"So that's why it's called a subwoofer," joked one reply. While another wrote: "Cool little dude is just rocking out with his tongue out."
Who was the 13-year-old Chihuahua?
13-year-old music lover Macaroni lives in Melbourne. Australia where his owners also run a sandwich shop called Applehead Deli with their friend Jasper Arrowsmith-Todd.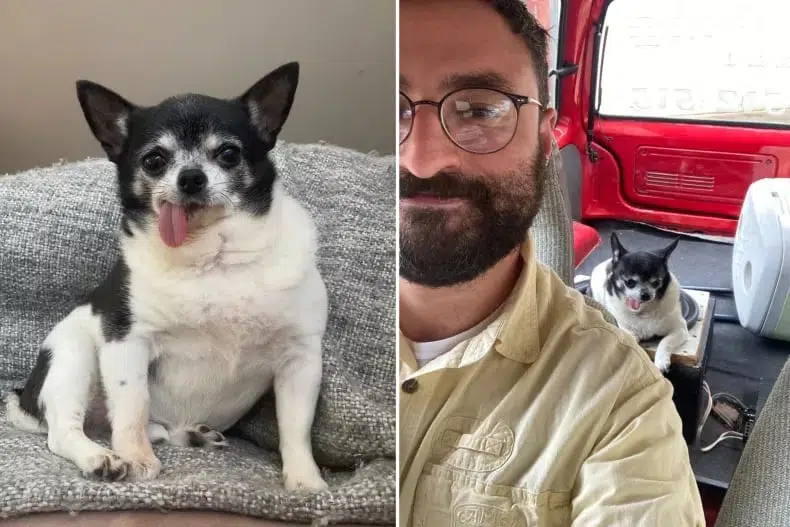 Named in homage to Macaroni and his canine brother Lenny. The pups frequently appear on the deli's Instagram pages where they are a huge hit.
But it is Maraconi's love of music and the Chihuahua getting snuggly that has really gained attention online.
Get the latest Chihuahua Buzz
"He's pretty easygoing and loves an array of music. Never hogs the Spotify and likes it when we curate the playlist, even if it kicks a little harder." "Mind you, we're pretty wary of his age so we do turn down the low frequency. Just enough for him to enjoy the music and still be comfortable," Arbatov said.
There is evidence that Macaroni isn't the only dog who reacts to music.
In 2002, psychologist Deborah Wells of Queens University, Belfast examined the influence of music on our canine friends.
Working with 50 dogs in a rescue shelter, Wells recorded the animal's reactions when they listened to pop music, classical music, and heavy metal.
What was discovered in music?
While some music didn't appear to have any impact on dogs. It was revealed that heavy-metal songs. Often prompted barking and agitation while classical music had a calming effect.
"When he's not listening to music, he likes trying to catch flies and eating schmackos, but is a couch potato at heart," said Arbatov.
"I see we have a dog of culture among us," joked another commenter.
Another Redditor joked: "Bruh there are like no brain cells in that dog's head and I'm fine with that. He just loves what he loves."
Source: Newsweek