A disabled, old, abandoned Chihuahua named Mr. Crowley. The formerly Mouse has a mysterious past – and an unshakeable spirit.
"Mr. Crowley was abandoned in a box at 12 years old," his new mom, Raquel Fernandes, told The Dodo. A volunteer for the Westchester SPCA in New York found him and brought him to get help at the shelter last May.
The tiny Chihuahua was suffering from some problems.
"He had a mouth full of rotten teeth, a rotting lower jaw, damaged trachea and Luxating patella, which made it difficult for him to walk even short distances without picking up his rear leg," Fernandes said.
The shelter named him Mouse. Mouse sat for six weeks waiting for a home, and visitors seemed to want only younger, more energetic dogs.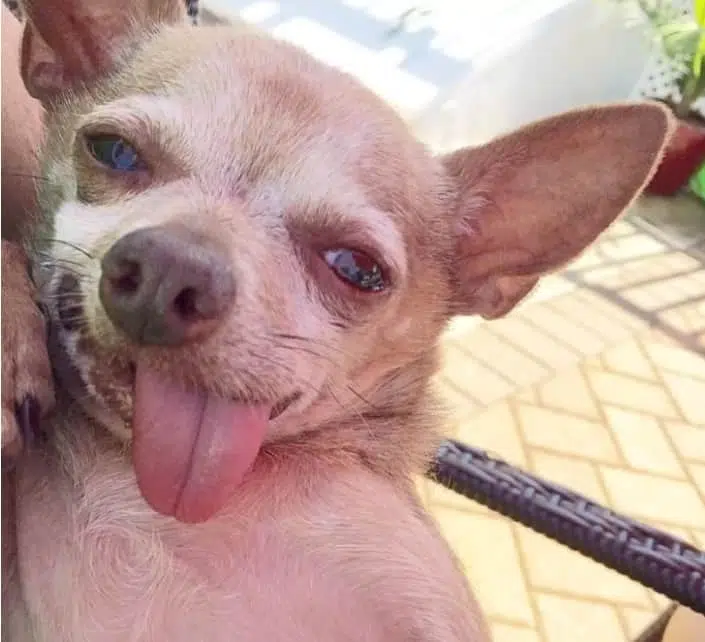 The Aftermath of the Abandoned Chihuahua
But then, one day in early summer, Fernandes and her husband arrived at the shelter looking for someone just like Mouse. "My husband and I had been looking to provide a loving home for a senior dog," Fernandes said. "We knew many of them to get left at shelters due to health issues and don't have a high chance of adoption."
While Fernandes and her husband didn't have any specific breed in mind, their research found that there were many Chihuahuas in shelters. "We knew then that we had to get one of these little guys out of the shelter and into our home," Fernandes said.
But it wasn't as easy to find a dog as they thought it would be. "A lot of the adoptions had fallen through, or there were no responses, and we honestly were getting a little disappointed with the entire experience," Fernandes said. "Then, after deciding to look [online] one last time, I saw little Mouse."
Get the latest Chihuahua Buzz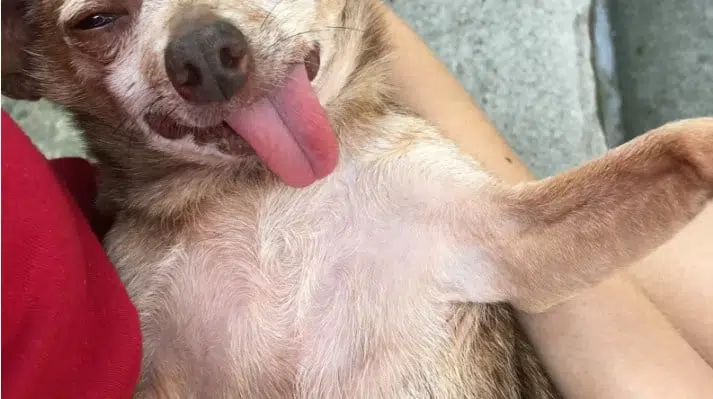 When Fernandes read that he was 12 years old, had only two teeth, and got along with everyone, she had an excellent feeling about him. "I thought to myself, 'I think we found him.'"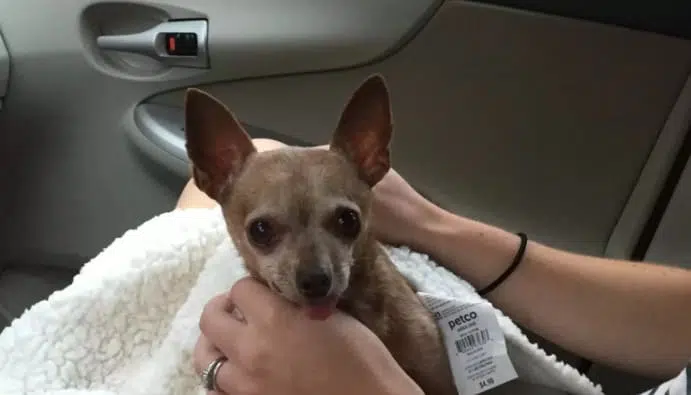 When Fernandes read that he was 12 years old
When Fernandes read that he was 12 years old, had only two teeth, and got along with everyone, she had an excellent feeling about him. "I thought to myself, 'I think we found him.'"
The couple drove up from Lyndhurst, New Jersey, to the Westchester SPCA to meet Mouse in person. "Initially, we just wanted to meet him and see if we would be a good fit together," Fernandes said, remembering the first time she saw the dog who would become part of her family.
"When they first turned the corner with little Mouse in their arms, I was simultaneously excited and sad. Here was this tiny, 3-pound, skinny, shaky, wobbly little dog that someone had just decided to leave in a box," Fernandes said. "My heart just broke for him, and I knew right away, if he'd have us, we'd love him every day of his life."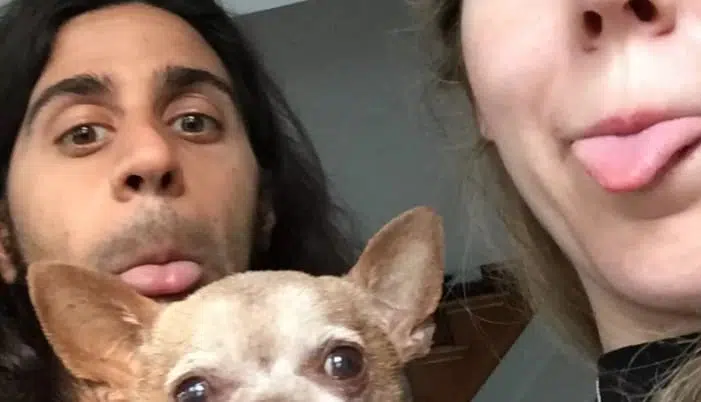 The shaky little Chihuahua
The couple took turns holding the shaky abandoned Chihuahua, who reached out and gave Fernandes a lick on the nose. "That moment to us was joy, excitement, and peace all at once," Fernandes said. "Anyone who has rescued a dog will agree, and that moment is magic."
They renamed Mouse Mr. Crowley after an Ozzy Osborne song. "Looking at Mouse making these little noises, and his little tongue sticking out, I just thought he kind of looked like a Crowley," Fernandes said.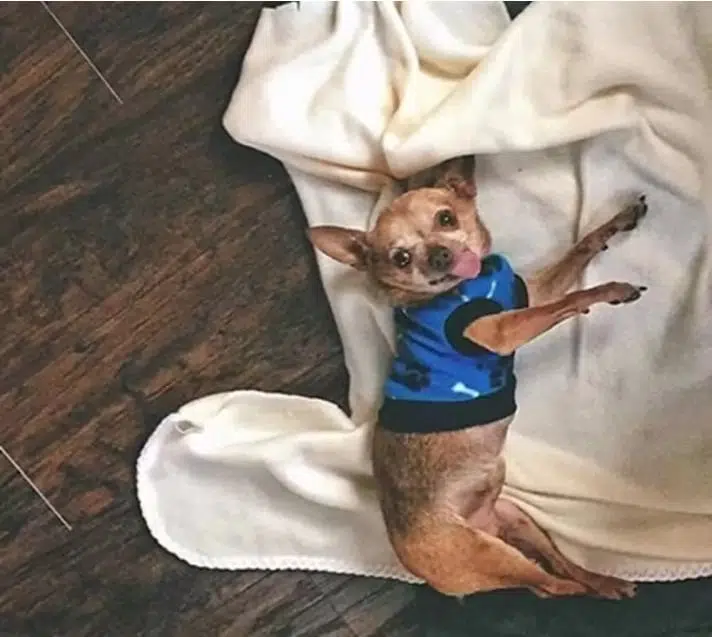 Now Mr. Crowley enjoys a life of love and luxury. He accompanies Fernandes on errands in his favorite tote so that he can see the world. And at home, he has a particular spot on the couch where he loves to relax. He even has his own Instagram.
And as the couple gets to know the dog who entered their home, they realize that they didn't just do him a favor – he's teaching them about hardship.
"How can this little guy be so open to loving and trusting us, even with all that has happened in his past?" Fernandes said. "We thought we were going to do something good for a dog in need, and turns out, Crowley is the one showing us what unconditional love, forgiveness, trust, and patience are."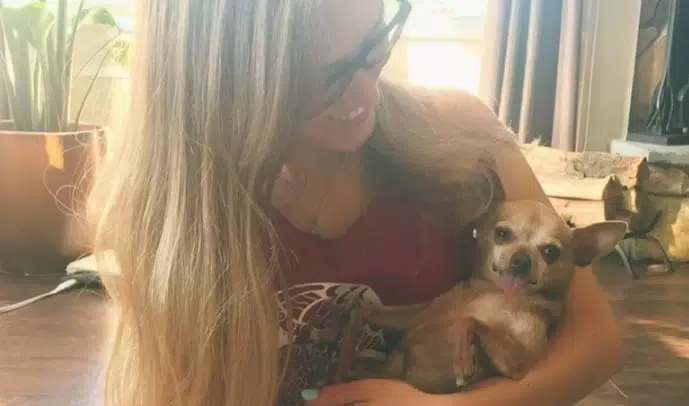 If you're ready to add a furry family member to your home, visit Adopt-A-Pet to get started.