A 100-year-old Californian woman, Johanna Carrington, found solace and happiness after losing her beloved dog. To help her cope with her melancholy, Johanna's daughter, Debbie, introduced her to a senior chihuahua through a special adoption program in San Francisco. The "Seniors for Seniors" adoption program aims to provide senior citizens with the mental health benefits of animal companionship by matching them with senior dogs and cats. When Johanna expressed her desire to have another dog, Debbie was initially concerned about her mother's limited mobility. However, the program presented an opportunity to find the perfect companion for Johanna.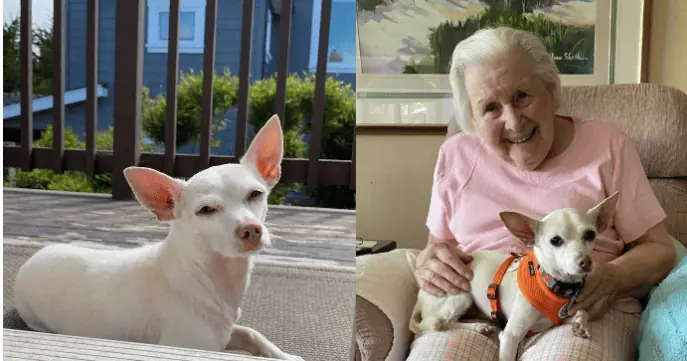 Gnocchi, a small chihuahua with a reserved personality and no teeth, was up for adoption at the Mutsville Shelter. Rescued from a dog hoarding situation, Gnocchi, later renamed Gucci, caught the attention of the shelter staff who believed he would be a perfect match for Johanna.
With the assurance that Johanna's caregiver, Eddie, would assist with walks, Gucci was brought to his new home. The arrival of Gucci brought joy and laughter back into Johanna's life.
Debbie noticed the positive impact Gucci had on her mother. Gucci's playful antics and funny behavior brought joy to the household. He would run around and do funny things that made everyone laugh. Moreover, Gucci provided companionship to Johanna by sleeping on her lap or joining her in bed.
Get the latest Chihuahua Buzz
101st birthday with Gucci
Johanna, who is about to celebrate her 101st birthday with Gucci, believes that animals have played a significant role in her long life. Growing up in war-torn Germany, Johanna was unable to have a dog as a child. However, she has always surrounded herself with animals, including eight Pekineses at one point.
The instant connection between Johanna and Gucci was remarkable. Gucci immediately made himself at home, jumping onto Johanna's lap and bringing comfort and happiness to her. Johanna showers Gucci with toys and gives him back massages while they watch TV together in the evenings.
Johanna's heartwarming story highlights the transformative power of animal companionship, even in the later stages of life. Through the "Seniors for Seniors" adoption program, senior citizens like Johanna can experience the joy and love that a furry companion can bring.
Conclusion
As Johanna prepares to celebrate her birthday with Gucci by her side, their bond serves as a testament to the profound connection between humans and animals. Gucci has become a cherished member of Johanna's family, bringing happiness, comfort, and companionship in her golden years.