The ASPCA's Community Medicine team routinely provides free, low-cost outpatient medical and spay/neuter services. These are reserved for communities without access to veterinary care. But the team went above and beyond for a one-year-old Chihuahua named Chispi, who was born with just two hind legs.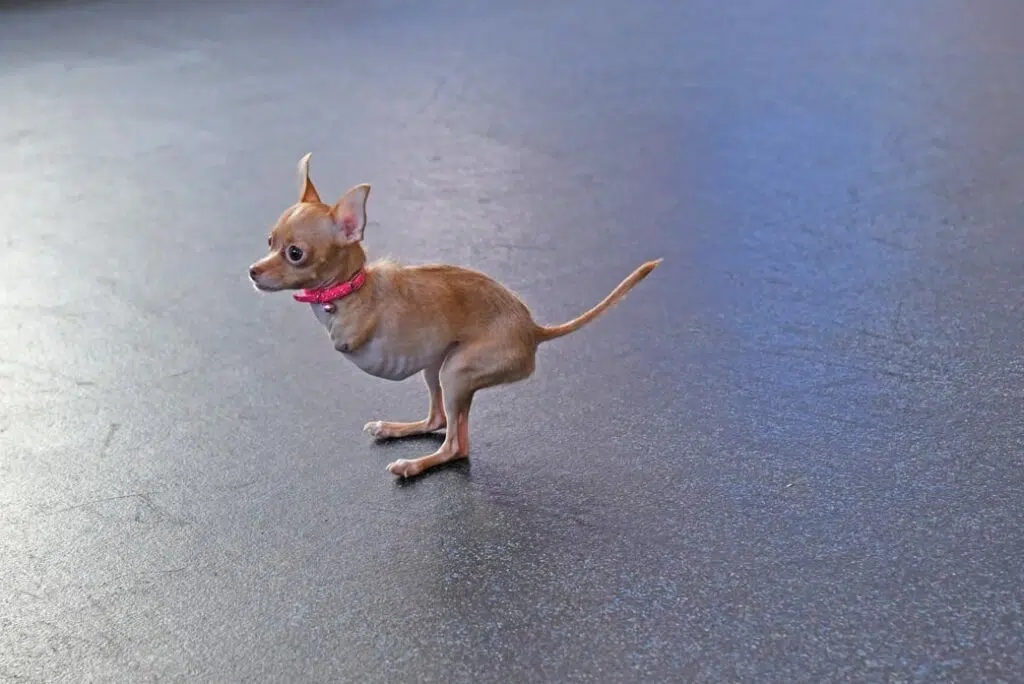 "When I heard Chispi's story, I thought, 'This is a dog we need to help,'" said Dr. Lori Bierbrier, Medical Director for the ASPCA's Community Medicine department. "Chispi' is in a loving home; she's well cared for; she's healthy. Overall she has a good quality of life. But her mobility is compromised, so she can't be independent."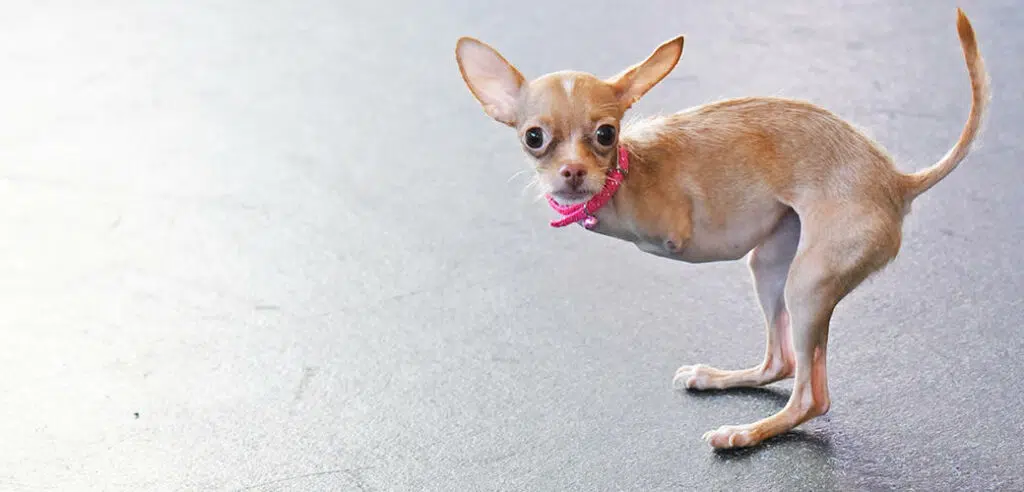 "Since she can't walk properly, this puts extra pressure on her back and her hind legs," added Dr. Bierbrier. "Most of her time is spent being carried from place to place, and when she did walk on her own, she could only hop a few steps and sometimes fall. We knew we needed to go the extra mile to find a solution, because we wanted her to have a full quality of life."
"My reaction when I first saw Chispi was mostly shock," recalled Giselle Pescador, a Community Advocate for the ASPCA who met Chispi's owner, Sasha V., when Sasha brought her pets to the ASPCA for vaccines and spay/neuter surgery. "I had never seen an animal like that. I wondered, 'How will this dog ever live a normal life?'"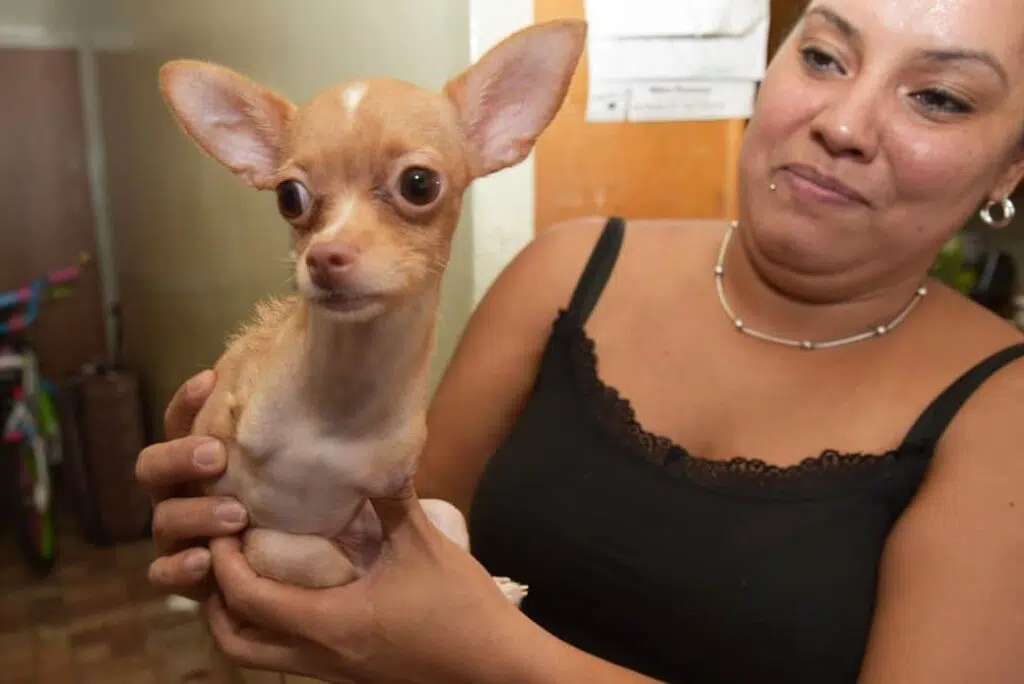 Chispi's disability also weighed heavily on Sasha, who briefly considered relinquishing her to a shelter. Moreover, Sasha and her children, Hector, 18, and Elizabeth, 10, husband Carlos and stepson Carlos, Jr., had never imagined having a two-legged dog—but the family decided to keep her. 
"My philosophy is that life is full of challenges," said Sasha. "We wanted to give her the life she deserves."
Putting Plans for Chispi in Motion
The help Chispi needed would come from a custom-made "wheelie vest," created by a company that also made prosthetics for Dr. Bierbrier's dog Margot, who was born without hind feet. Moreover, the Community Medicine team visited the family's South Bronx home multiple times to take Chispi's measurements and make a fiberglass mold of her body. From this, the device would be created.
Finally, the time came for the Community Medicine team to deliver the wheelie vest to Chispi. As Dr. Bierbrier nestled Chispi into the device and tightened the strap around her torso, Sasha and Carlos' extended family—on hand for the occasion—looked on with anticipation.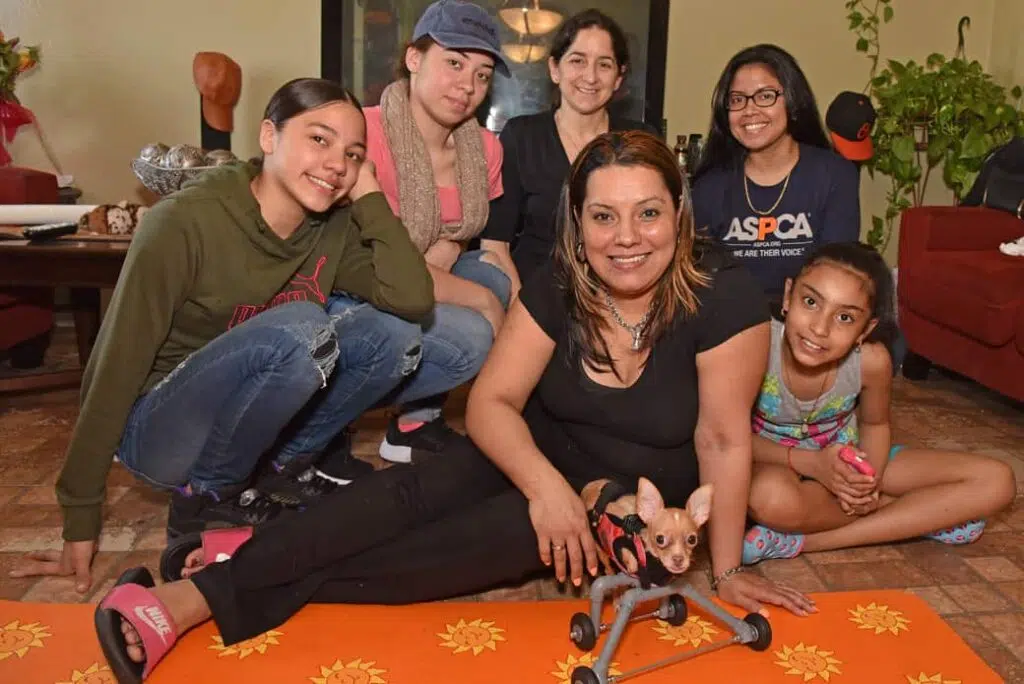 After watching Chispi's first steps, the family gathers for a photo with Chispi, Giselle Pescador and Dr. Bierbrier.
Get the latest Chihuahua Buzz
Then, Chispi's large brown eyes widened. She took a few steps, then a few more. The chair rolled forward. Applause broke out. Elizabeth squealed.
"Que linda! It's like a baby's first walk," Sasha declared.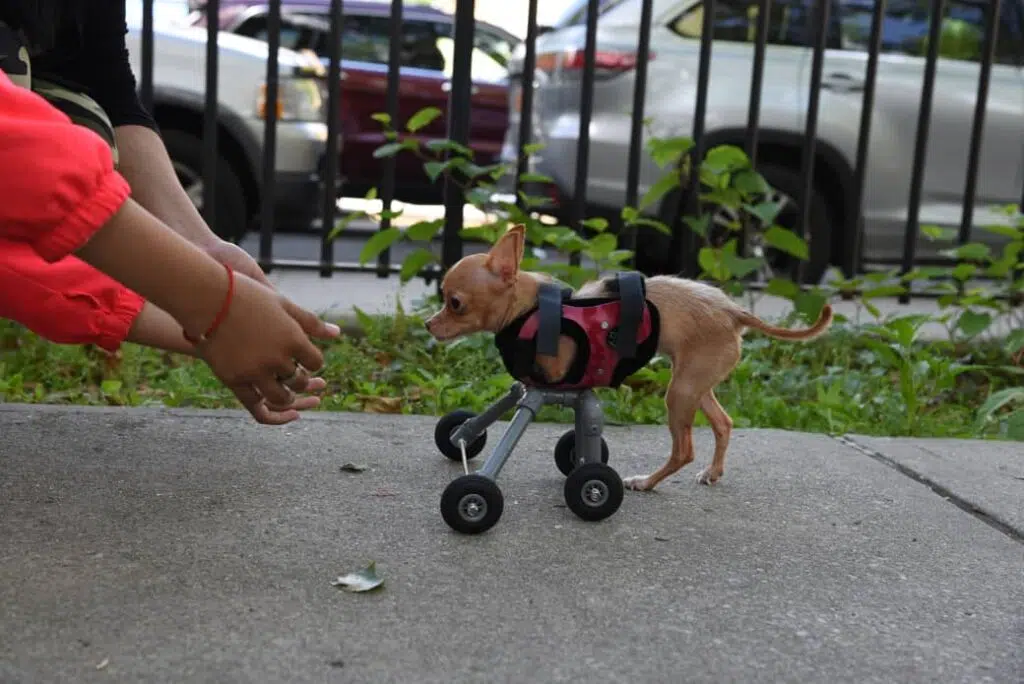 "I felt such joy when I saw that the whole family was there watching Chispi walk for the first time," said Giselle. "They're such a close family. When Chispi took her first steps, it was very exciting."
Elizabeth agreed. "Chispi's like a sister, and I always wanted a sister."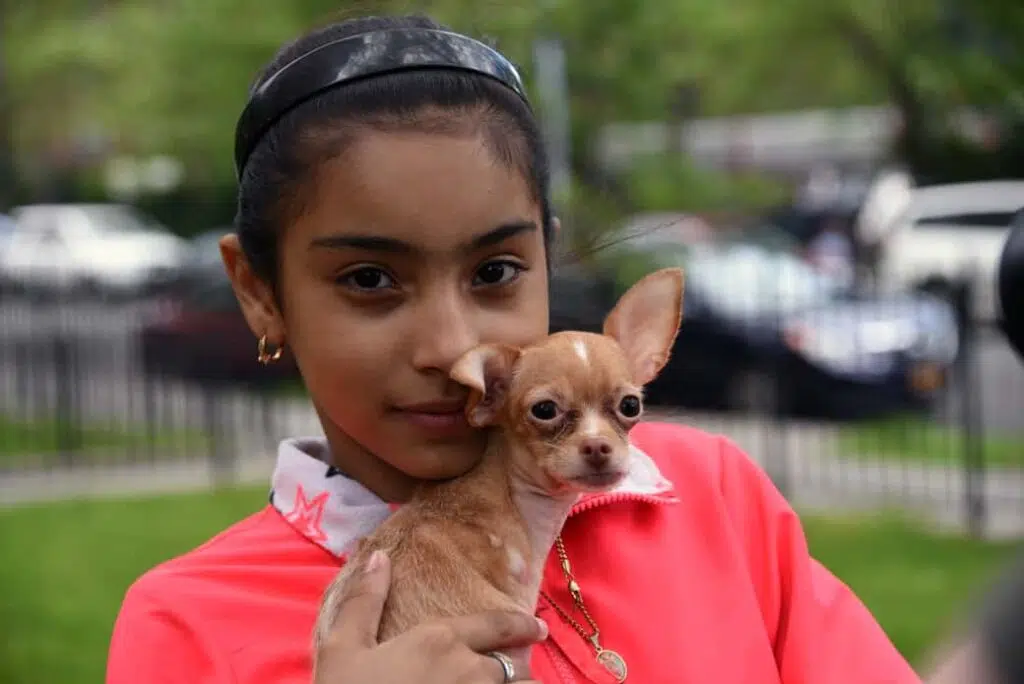 A New Life
Chispi's name comes from the word Chispita, which means "spark" in Spanish. Sasha gave her that name because she says that Chispi is "like a little firecracker." True to her name, Chispi wasted no time allowing the vest to spark her new life.
"Typically with devices like these, they need a few adjustments to work perfectly," said Dr. Bierbrier of Chispi's new wheelie vest. "But the minute we put Chispi in it, she started walking. It was like she was waiting for it; she just took right off."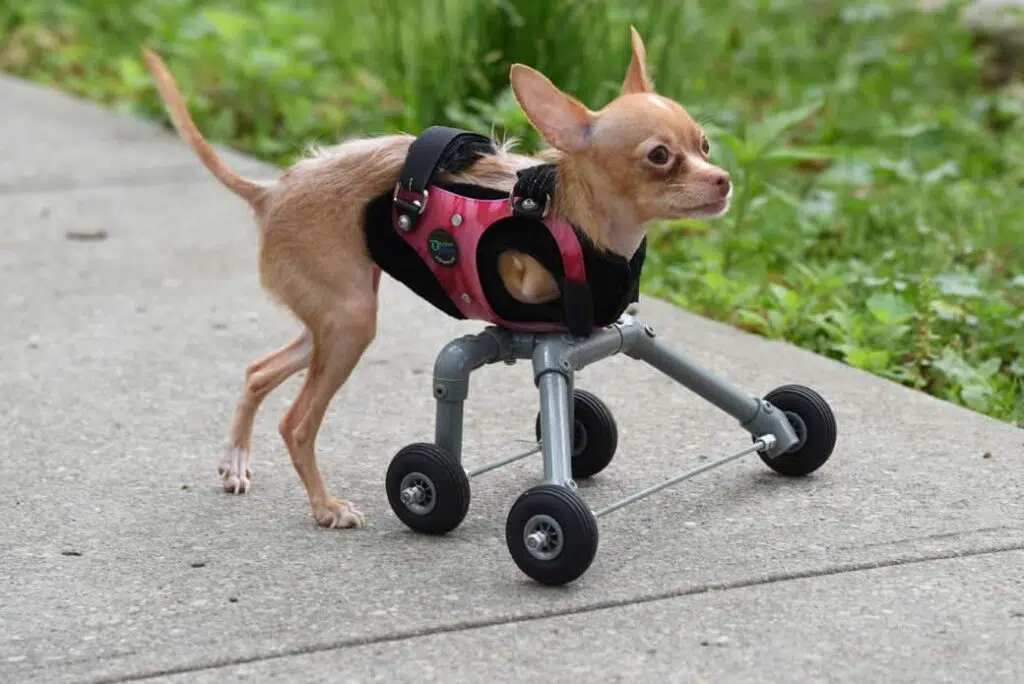 "Having this chair is going to greatly improve her quality of life," she added. "It will allow her to get around the apartment, go outside for walks, meet other dogs and smell the outdoors."
Sasha said, "She's like one of the kids; she's one of us. Si está contenta. Her life is 100 percent better."
"It's actually life-changing for the whole family, not just Chispi," says Giselle. "I feel like we've made a small dent for this dog and also given hope to the family."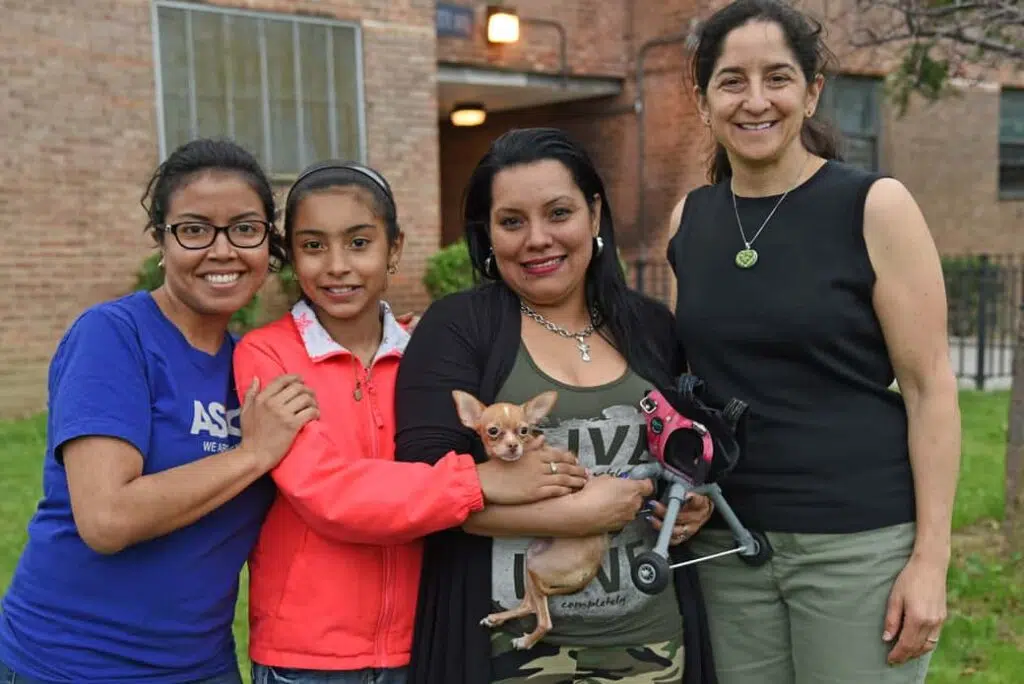 Giselle Pescador (left) and Dr. Lori Bierbrier (right) pose with Chispi, Sasha and Elizabeth.
Chispi is proof that even a little hope can create a truly moving experience.
Source: aspca