A man in Orlando has spoken of his grief after the dog he had kept as a pet for 16 years was found dead in a pile of ash.
Rick Parmenter had offered a $200 reward for his dog Stink, which went missing on Saturday. Posters of the black chihuahua went up around Orlo Vista, Florida, appealing for information.
But on Monday, around 100 yards from their home, his grandson Donny found the dog's charred remains behind business premises. On top of an ash pile surrounded by beer cans and bottles. She still had her collar on.
"It's like the beginning of a horror movie. I mean, she was burnt to a crisp, and she didn't have her back legs." Donny Parmenter said.
Parmenter believes someone brutally tortured the dog before killing it. His family has suspicions over who was responsible, although no one has yet been arrested, WFTV reported.
Parmenter told the network: "She was so wonderful. Anyone who has been to a concert in the Orlando area knows Stink."
Get the latest Chihuahua Buzz
Animal crime investigators are searching for clues and talking to nearby people.
The dog's body is being examined to find exactly how it died.
"The findings will help you know how the forensics are these days. So we'll see what happens," Parmenter said.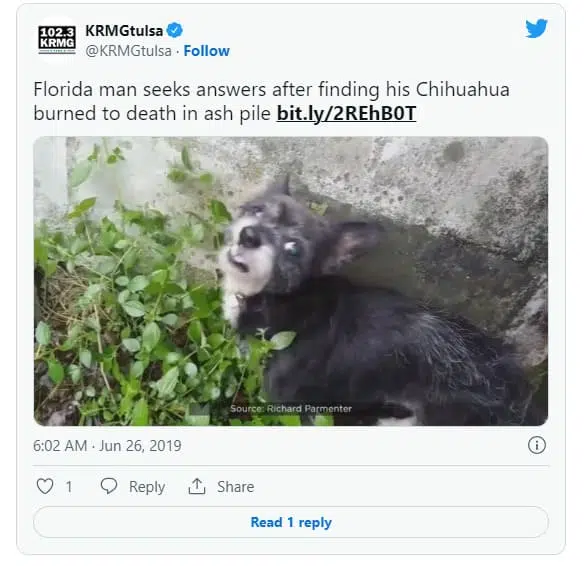 In April, a man from Venice, Florida, was arrested after allegedly using a tile scraper to kill an eight-pound chihuahua during a domestic dispute.
Police were called to the house of Aaron Merwin, 26, reporting that he had tried to kill the small dog named "Lucky." The implement also threatened to kill a woman inside the house.
Officers said he stabbed the dog five times near its neck and head until it died and was charged with five counts of aggravated cruelty to animals and one count of aggravated assault with a deadly weapon, NBC reported.
In June, 29-year-old Robert Joseph Kayat was arrested after he was caught on surveillance video running over a dog. He is then seen getting out of his truck, nudging the dog with his boot, and kicking it. Before driving away, CBS Miami reported.
In May, Florida's Volusia County set up an animal abuse registry to stop people who have ever hurt animals from owning one. The county launched a website with names, information, mugshots, and offense details of people who had been convicted of crimes against animals, the Daytona Beach News-Journal reported.