A chihuahua puppy due to be euthanized after he was born with only two legs has been saved after being adopted. Deuce, now two months old, lives happily with Ken Rogers and his wife, Melissa, at their Steamboat Springs, Colorado home.
Deuce is just the latest addition to their vast family of animals. Which includes seven other dogs and two cats, almost all of whom are disabled.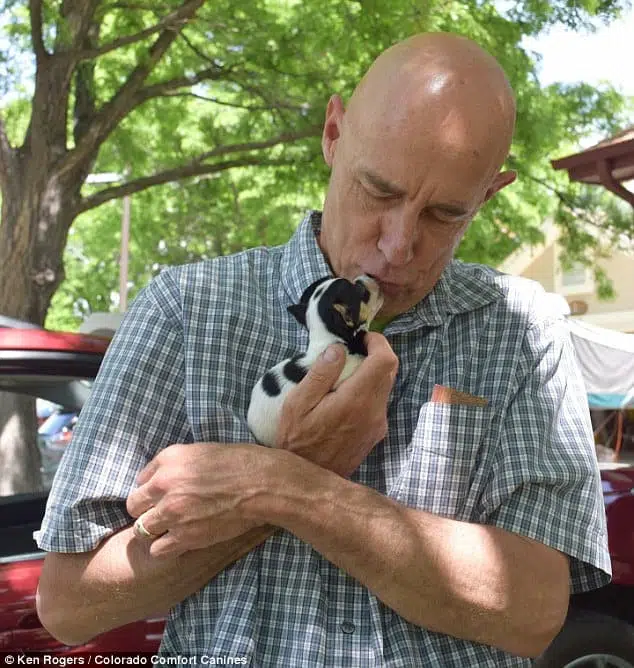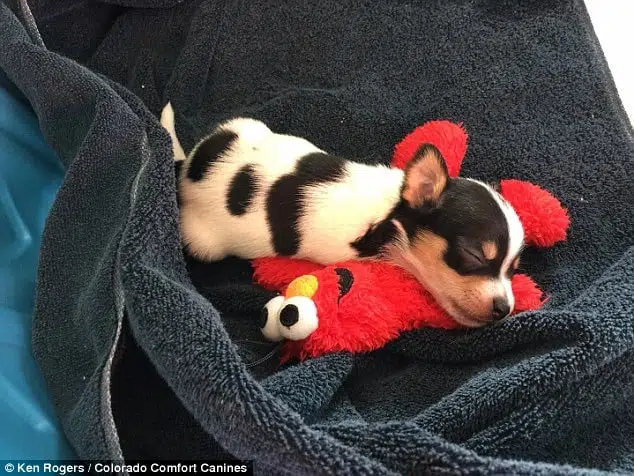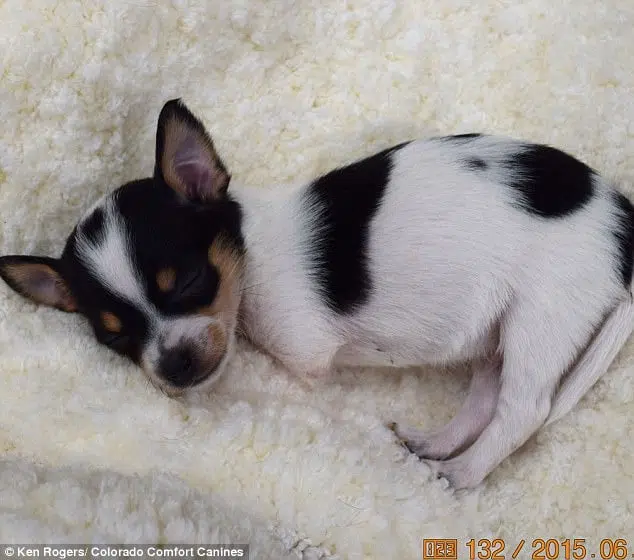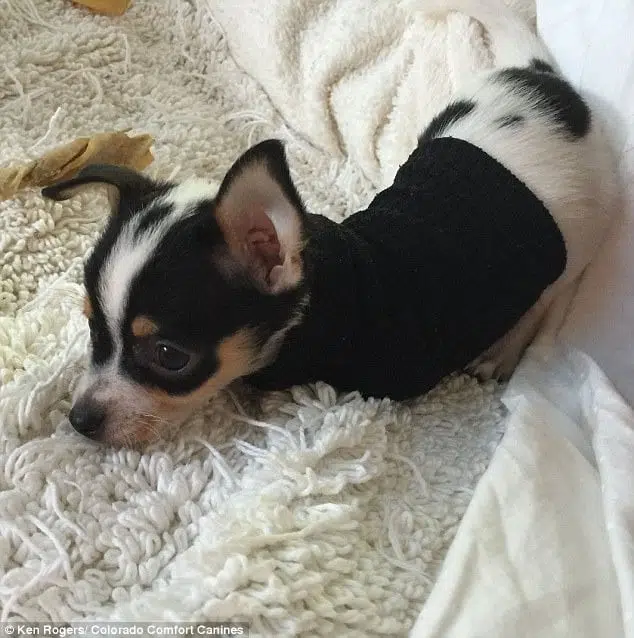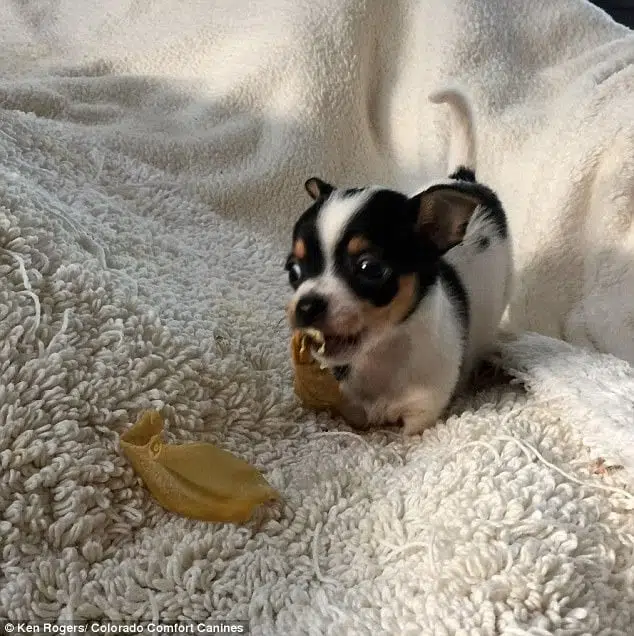 Ken Rogers told us
We have eight dogs with 19 legs. It started ten years ago when we adopted Kandu, our first disabled dog. 
'We adopted Kandu, and ever since then, the disabled dogs have a way of finding us. My wife says people spin through their Rolodex until they get to "S" for "sucker" and then call us.'
Kandu, a Jack Russell who is now 13 years old. It was followed by a Chihuahua the couple named Footloose, or Lucy for short. He is now nine, and both of whom are missing front legs.
Doug, a two-year-old Red Setter, and Griff and Rupaul – named after the famous drag queen – are nine-month-old Chihuahuas. They also either miss front legs or have legs that don't work.
Larry, another Jack Russel who is around ten years old, completes the couple's family of disabled dogs, though he has three legs.
Jasmine, a four-year-old Labrador, completes the pack, though she is the odd one out, having all four working limbs.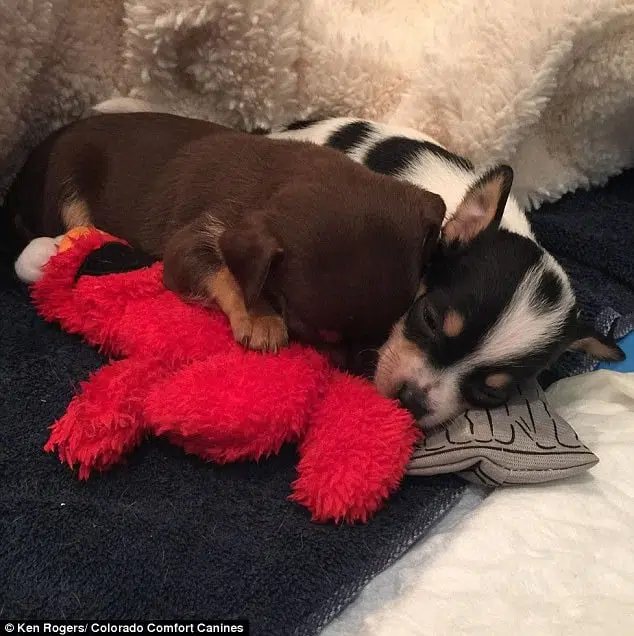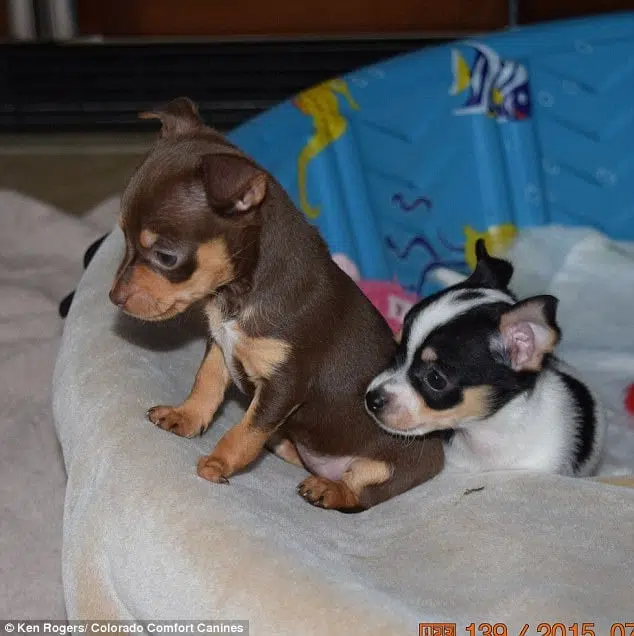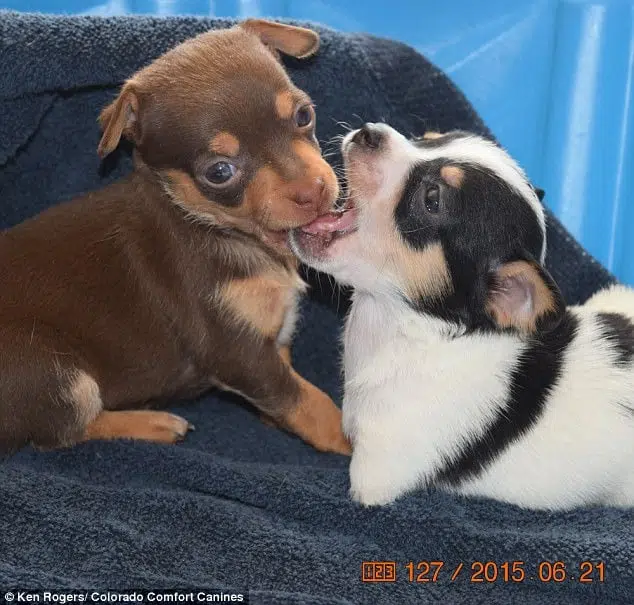 The couple also has two disabled cats
10-year-old Willow has no back legs or tail. And another four-year-old cat whose legs don't work splays out to the side. 
They named her Mateez – the Hebrew word for 'splat.'
Get the latest Chihuahua Buzz
Mr. Rogers said he and his wife had always kept a dog, and at the time they adopted Kandu. They were thinking of using their animals as therapy dogs to help comfort people going through trauma.
As their collection of animals grew, they started up their non-profit organization. Colorado Comfort Canines, which Kandu, Jasmine, and Lucy all work for.
Mr. Rogers said he decided to add Deuce to the family after the Evergreen Animal Protective League. Which provides specialist care for disabled animals, contacted them two months ago.
They explained that an owner from Texas had been thinking of putting Deuce down. Along with his sister Tres, who was born without most of her left front paw.
The Rogers eventually agreed to take on Deuce, worried that adopting Tres would make their already packed home too complete.
A foster parent looked after Deuce for two months. And until he was finished bottle feeding and potty trained before the Rogers came to pick him up.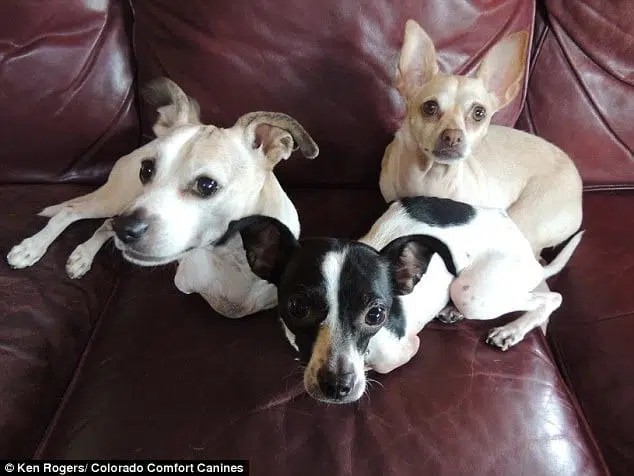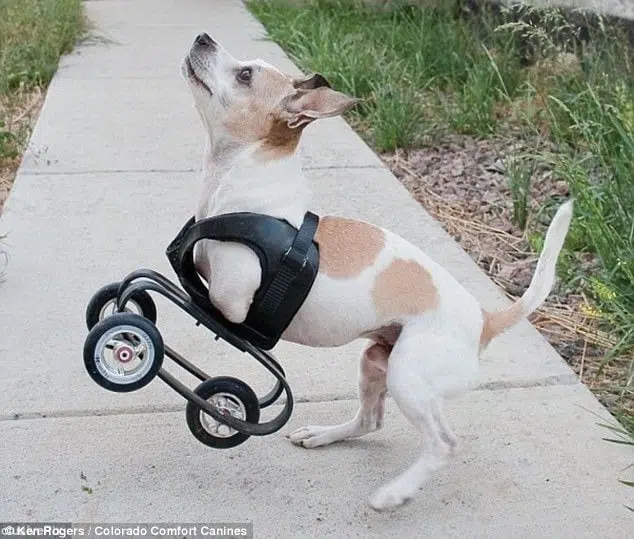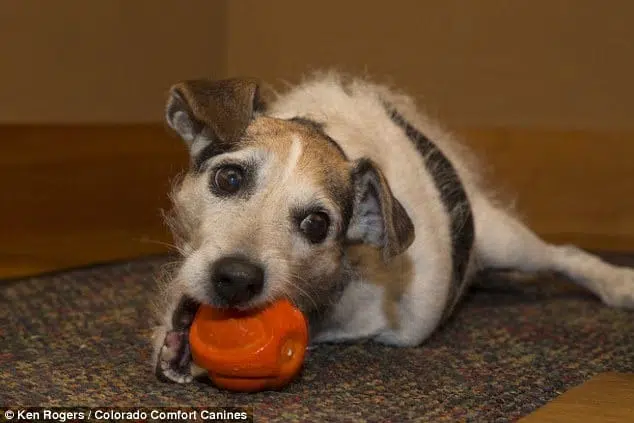 Mr. Rogers said:
Since coming home, Deuce has been great. Like a typical puppy, he is curious and wants to play with everyone. His favorite thing to do is crawl inside your shift and sleep.
We felt Deuce needed to be rescued and given a good home and a first chance to be an average dog.
'We do treat our dogs like normal dogs. The only difference is when they want to go outside or to be fed. We must put them on their wheels, but how hard is that?
'It can be difficult to wrangle them all at once when we're out on a walk. But the neighbors love them and always come to see us.'
Working with online pet prosthetic store Orthopedics Mr. Rogers. Designs wheeled supports for his disabled animals, including special ski adapters so they can go outside in the snow.
But while he insists that the two-legged dogs are no problem to handle, Mr. Rogers. He works for the local community college. And his wife, who works as a nurse, said they have no plans to get any more.
He added: 'I think we've almost officially reached the stage where we could be called hoarders. Eight is perhaps already four too many, and people are questioning our sanity.'.