A chance meeting in 2003 with a former coworker at a dog shelter in New York City opened a new door for Holly DeRito. The breed rescue organization has created many new opportunities, and here's why.

It happened after she rode her bike from lower Manhattan uptown to Animal Care Centers of NYC. She wanted to choose a companion dog for her adopted Chihuahua, Taco.
The former coworker worked in pug rescue and was at the shelter pulling dogs on death row and only available for returns. "Come help me get some dogs," the woman said to DeRito.
"There were cages and cages of dogs on death row," DeRito said. "I couldn't leave any, and I went for one and came home with seven Chihuahuas."
Have Dogs but No Space
Being around animals was natural to DeRito, who had volunteered for shelters all her life and grown up next to a wildlife sanctuary in Pennsylvania. Her breed rescue fostered baby bunnies and other orphaned animals.
But even so, DeRito lived in an apartment and didn't know what to do with seven Chihuahuas. She called some neighborhood friends and asked if they would watch the dogs until homes were found. She soon met Jenni Graham, a woman who was "my complete opposite but had an equal love for dogs," and they joined.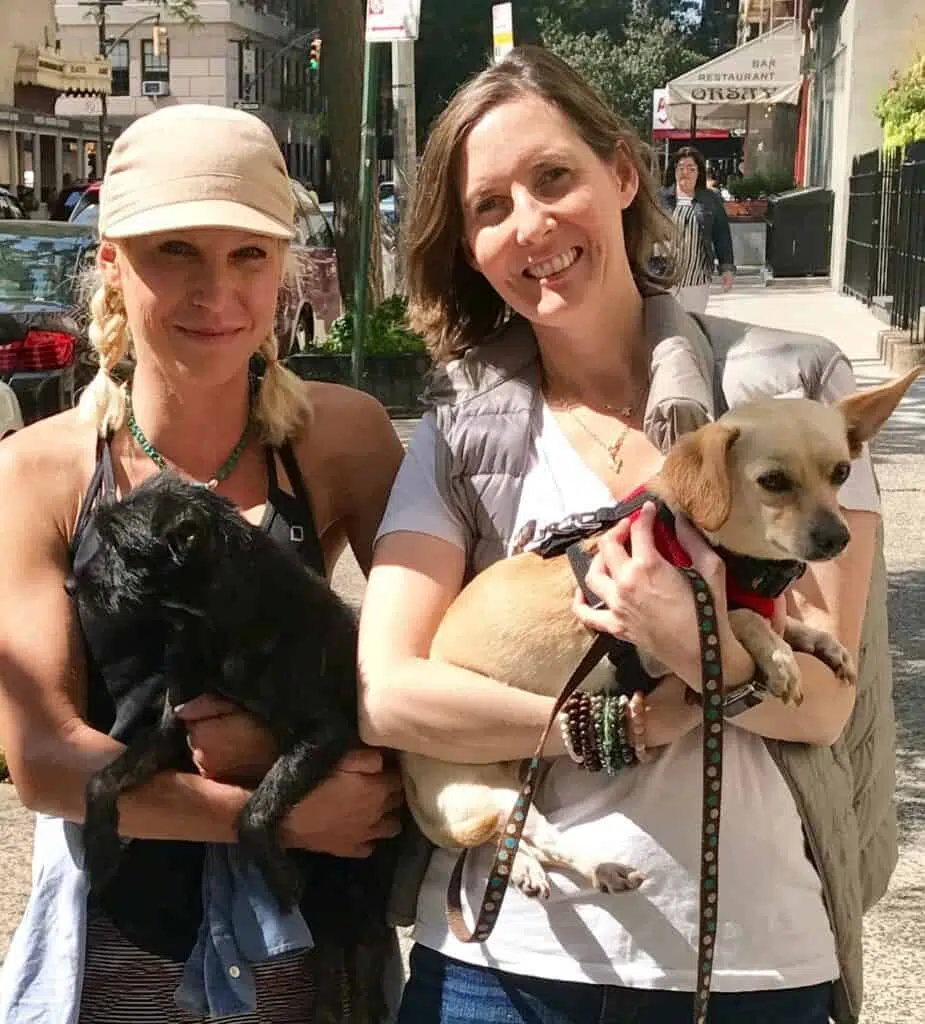 "She built the website and was good with computers while riding my bike to the shelter, pulling out dogs, and personally delivering them to foster homes," DeRito said. "We then decided to go for it and got our 501(c)(3) in 2004." Waggytail Rescue was born in New York as a foster-based rescue saving small-breed dogs and became a member of the Mayor's Alliance for NYC's Animals.
As the founder and president of Waggytail Rescue, DeRito named the organization after Taco. When he wagged his tail, his rear end shook back and forth. "I would say, 'Do the waggy tail,' and he would," DeRito said of the dog who passed away at 12 in 2014.
Honor a Life by Saving Another Breed Rescue
Two weeks after Taco died, DeRito fostered Ludwig. "I found a dog who needed me," she said. "The best way to honor the loss of life is to give another life a chance. It doesn't replace the dog, but every dog brings something different."
"Ludwig, who was from Missouri, was extremely feral and scared. "Having this new dog who was so terrified and had been abused was what I focused on and helped me function again after losing Taco. It made me realize I could go on and why I continued doing rescue."

New York – Breed Rescue Heaven
After some of Waggytail's volunteers moved to Los Angeles, they told DeRito about the overabundance of Chihuahuas. They thought she could get many of them adopted back in New York City, where fewer Chihuahuas are at the shelters.
Soon after, DeRito offered to fly to Los Angeles to watch a friend's two dogs while he was in London. She established relationships with staff and volunteered at the city and county shelters in Los Angeles and San Bernardino.
Get the latest Chihuahua Buzz
"We're now set up and can pull dogs from those shelters," DeRito said, adding that they're partnered with other groups and resources in Los Angeles, including vet clinics and fosters.
Fly the Doggy Skies, Breed Rescue Pups
For its first official transport in 2013, Waggytail flew six Chihuahua puppies from Los Angeles to New York in cargo. The puppies had been abandoned by their mother. Although they made the trip, DeRito was unhappy with the shipment and decided transports would only take place in the main cabin.
DeRito was at first told that no one would volunteer to transport dogs across the country. they"posted to social and started getting volunteers," DeRito said."""t was shocking to see how many people stepped up to fly with the dogs. We have people who have passed seven or eight dogs on trips."
Waggytail Rescue makes it easy, providing the under-seat airline-approved carrier, harness, collar, and leash. Dogs are pulled from Los Angeles shelters and placed in short-term foster homes for two weeks. Each dog is vaccinated, medically cleared, and behaviorally evaluated while a foster home is found in New York.
A volunteer flies the dog to New York, is picked up at the airport, and goes directly into a foster home. Waggytail pays for the dog's flight as well as medical bills.
A Companion for Ludwig
About a year after adopting Ludwig, DeRito wanted to adopt another dog. She saw one for sale two hours outside of Los Angeles but wanted to adopt, not buy. Three months later, DeRito was in Los Angeles and found that the dog she would later name Angelina was still for sale at a reduced price.
She talked to the sellers, explaining she ran a rescue and wanted to find her dog's home. Coincidentally, the seller had just had a baby and didn't want any of the dogs, so DeRito took five.
She paid a friend to drive her two hours into the desert to a shack-like home without a street address.
Even comedian David Cross got in on the act, transporting Angelina's father, Diesel, to New York. We went up to him after the show, told him about our program, and asked if he would fly "a dog."
By the Numbers
Wagtail has saved more than 6,000 dogs (and even some cats and kittens). Its Waggy West service, One by One, has transported roughly 600 dogs from Los Angeles and Dallas, Texas, to New York. There are even some flight attendants who help.
After a dog escaped from his carrier on a flight, there was a cute write-up in a Yahoo travel guide. "The dog chewed his way out of the page and ran down the aisle of the cabin", DeRito said.
Waggytail does not do pre-adoptions. Some people foster dogs with the potential to adopt them. We want to make sure there's something new about the dog that we can evaluate. And we make sure the dog is a good match with the adopter.
The organization pays for dental for senior dogs as well. One of the reasons people don't adopt older dogs is because of health issues, so we take care of the extensive details before adoption.
California Wildfires
With many dogs displaced because of the recent California wildfires, the shelters there have to be cleared to make room for the displaced pets. We are taking dogs from there and from San Francisco", DeRito said. She added that her close friend is a volunteer at a San Francisco shelter. DeRito also started a program with San Diego, where many dogs come from Mexico.