Spike, a Chihuahua from Preble County, Ohio, just broke the record for being the oldest living dog. On December 7, 2022, he took the title.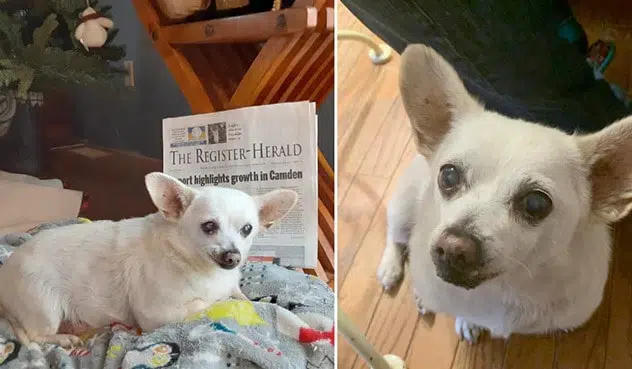 An American family's dog named "Spike" has become the world's oldest living dog, a Guinness World Record announced on Thursday (January 19). "Spike" is a Chihuahua breed dog that lives with the Kimball family in the village of Camden in Preble County, Ohio.
According to the GWR, the dog was 23 years and 43 days old on December 7, 2022, stood 9 inches (22.86 cm) tall and weighed only 12.9 pounds (5.85 kg).
Explaining the story of the dog's owner, Rita Kimball said that when she found Spike in the parking lot of a Camden, Ohio, grocery store, she had no idea the little Chihuahua would still be her pet over 13 years later, let alone become the oldest dog living. He was already ten years old when Rita and her family found him.
"Spike" lives with the Kimball family in Camden.
Rita chose to bring Spike home to join the rest of the herd on her tiny farm. This is because she didn't know who Spike belonged to.
Get the latest Chihuahua Buzz
"He had been shaved up his back, had blood stains around his neck from a chain or rope, and looked pretty rough. The clerk in the grocery told us he had been there for three days. And they were feeding him scraps," said Rita.
"When we left the store and entered the parking lot, he followed," recalled Rita.
"We opened the car door to put our grandson in his car seat. And Spike jumped right in and sat on the seat as if he knew where we were going. It was meant to be."
Spike, according to Rita, is a quiet and cute dog, despite his name and the infamous Chihuahua breed.
It only becomes aggressive when someone else pets it. "He is friendly, but since he's almost blind and hard of hearing. He gets testy at times and just wants to be left alone," said Rita.