After losing her beloved dog, a 100-year-old Californian found solace in the companionship of a senior chihuahua. Overcoming concerns about mobility, Johanna Carrington, a German immigrant, expressed her desire to adopt another dog to her daughter, Debbie. Luckily, they discovered a special animal shelter in San Francisco with a "Seniors for Seniors" adoption program that matched senior citizens with senior dogs and cats, promoting mental well-being through animal companionship. This heartwarming story follows the journey of Johanna and her new furry friend, Gucci.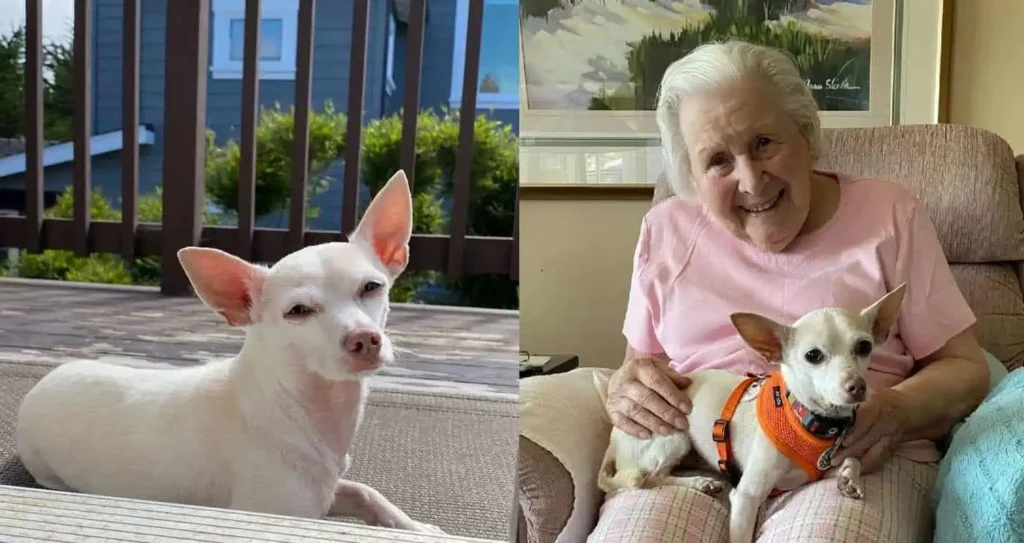 The Healing Power of Companionship
In the wake of her previous dog's passing, Johanna felt a deep sense of sadness and silence enveloping her. Recognizing the transformative effect of canine companionship on her mother's well-being, Debbie decided to explore adoption options despite concerns about her mother's mobility. It was then that they discovered the "Seniors for Seniors" program, which aimed to enhance the mental health of senior citizens by connecting them with senior animals in need of a loving home.
A Perfect Match
Among the shelter's residents was Gnocchi, a senior chihuahua with a reserved personality and unique circumstances. Rescued from a dog hoarding situation, Gnocchi had no teeth but possessed an endearing charm. Johanna's caregiver, Eddie, reassured them that he would assist with walks and ensure the well-being of the still-active pooch. After a swift name change to Gucci, reflecting his newfound Italian flair, he embarked on a new chapter in Johanna's life.
Get the latest Chihuahua Buzz
Rekindling Happiness:
Debbie Carrington described the transformation that occurred once Gucci entered their home. The once-somber atmosphere was infused with laughter as they delighted in Gucci's playful antics. Gucci's presence brought immeasurable joy to Johanna's life. Whether he was sprinting around or cozying up on her lap while she relaxed in her recliner or bed, Gucci's companionship filled the void left by her previous dog's departure.
Unconditional Love and Endless Happiness:
Approaching her 101st birthday, Johanna eagerly anticipates celebrating the milestone with Gucci by her side. Having been deprived of owning a dog during her childhood in war-torn Germany, Johanna cherishes the opportunity to provide love and care to Gucci. She showers him with a plethora of toys and indulges him with back massages during their nightly television sessions. The bond between Johanna and Gucci is evident in their mutual affection and the comfort they find in each other's presence.