Tap is a beautiful style of dance that takes significant skill to master. But when it's done right, it's something you could watch for hours on end. Check out this Chihuahua dancing in tap shoes and see for yourself.
All the clicks and tapping of a dancer's shoe pull viewers in. It's mesmerizing! The only thing better than watching a tap dancer is if that dancer was a dog.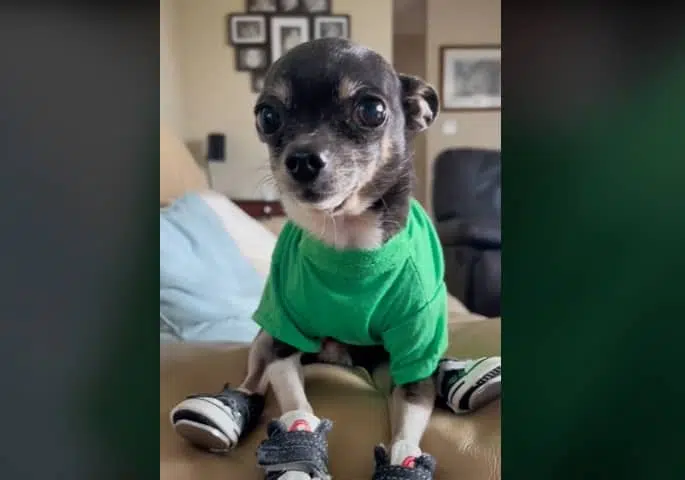 Impossible, right? Think again! TikTok user @tommyboy3131 decided to make custom tap shoes for his Chihuahua after he received several requests. Brilliant! Why didn't anyone think of that sooner?! L.O.L.! He prepped the shoes by measuring, cutting, and gluing together pieces. And the final result…tapping Vern! Check him out! 
Get the latest Chihuahua Buzz
O.M.G. This is PERFECT! We weren't sure where the beginning of this video was going, but we're so glad we stuck around to the end. A tap dancing dog?! Life doesn't get much better than that! And honestly, Vern's good at tapping! Who knew?!
"It's like music to our ears 😌," said @weratedogs. Right?! We could listen and watch this doggo all. Day. Long. He's brilliant! @ShilohHalo wrote, "America's Got Talent "worthy 🙌🏼 innovative 😂." Oh, this dog needs to go on America's Got Talent. He's got a golden buzzer-worthy performance!
@uhmynamejess commented, "Give 'em the olllll razzle-dazzle, Vern." Vern gave us more than the ole razzle dazzle. He tapped right into our hearts, and we're in love! When's his next performance? We want to come! @Miriam Perkins suggested, "If you put them at different thicknesses, each foot will make a different sound." Ohhh, now we're talking! Soon enough, he'll be the best tapper in the world!