If keeping just one dog can seem like a problematic commitment sometimes, spare a thought for these women with 30 dogs. These pups range from chihuahuas to Dobermans and even a Great Dane.
As Newsweek has reported, Toni and Lydia Enright have shared their life with a pack of 30 dogs. They all live under one roof and share their story on the TikTok account @thedogmoms. The couple regularly share clips of all their canines roaming the house. They keep taking over the furniture and going out for walks as one giant pack.
The married duo lives on a 24-acre farm in Virginia. This allows their animals plenty of space to wander around and get their daily exercise.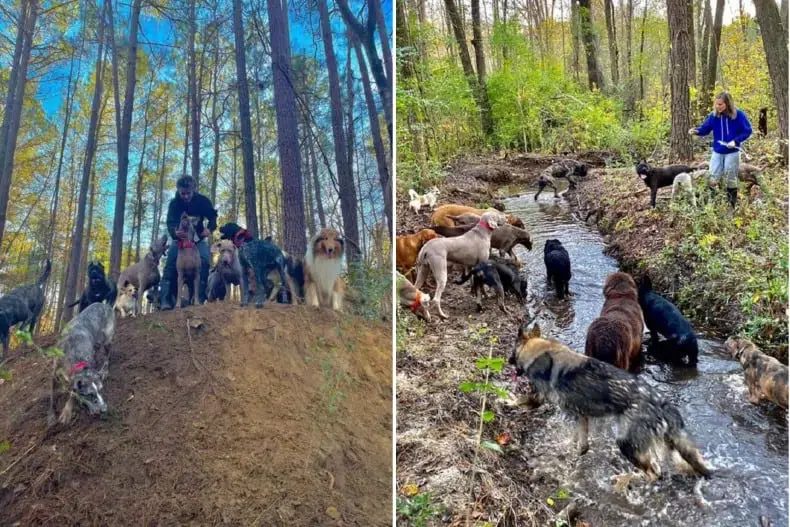 Toni Enright told Newsweek: "I don't know if I could really tell you why I chose this lifestyle. But it's more that I followed what felt right to me in the present. In other words, my intuition. Connecting with animals has always been something my soul desired."
The Women with 30 Dogs
Although keeping 30 dogs has become the norm for this couple, they are used to getting shocked reactions from people they meet in person or online through social media.
Enright continued: "When it comes to reactions from people experiencing our world for the first time, I would say their first emotion is usually shock. But then they're quickly overwhelmed. They see how incredible it is to see so many dogs of different sizes, breeds, ages, as well as a cat, ducks, chickens, a pig and geese all beautifully coexisting together as one family unit."
Get the latest Chihuahua Buzz
Among the dog breeds that the two women have, there is a Weimaraner, Pomeranian, border collie, Vizsla, Yorkie, French bulldog, English mastiff, Newfoundland, Belgian Malinois and a Great Pyrenees, with some of the dogs being rescues.
The number of dogs that are rescued in America has risen in recent years. This is according to the American Pet Products Association. The survey data shows that in 2021, 40 percent of dogs were rescued from shelters or humane groups. This compares to just 21 percent of dogs that were purchased from a breeder in the same year.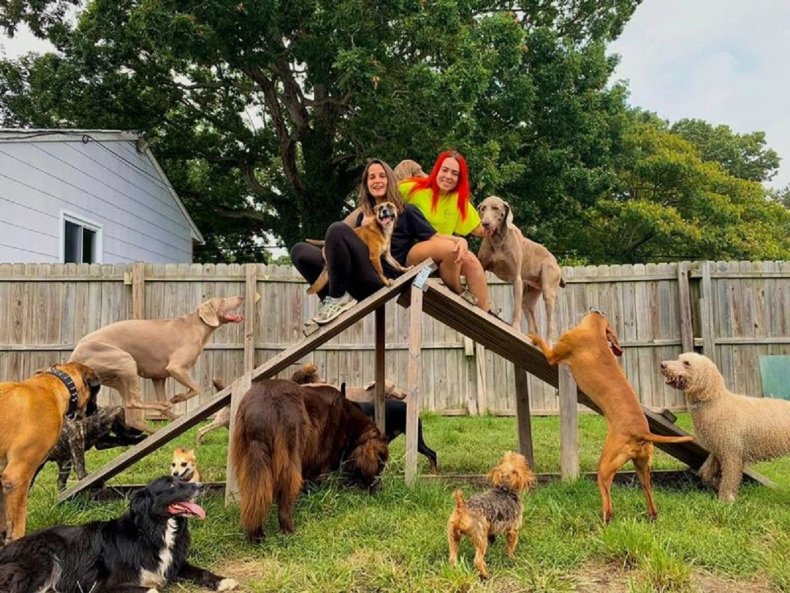 Living with Fur Babies
Not to let other people's shocked reactions put her off, Enright spoke about how she would never change her lifestyle. "For the past 20 years I have been developing a pack of dogs. They are able to help humans reconnect with mother nature. They have a purpose, and I was the human vessel to finish connecting the lines," she said.
"My need to be around, observe and connect with mother nature was so strong. I don't think I could have gone down any other path. It's not something that anyone has ever seen before. The magical experience here speaks volumes to the soul, and it's one that you can't ever forget."
They regularly post videos to share what life is like with so many animals in one home. They have developed a devoted following of people fascinated by their way of life. Many of the videos have generated over 10,000 views. But, one particular TikTok video went especially viral and amassed 1.6 million views at the time of writing.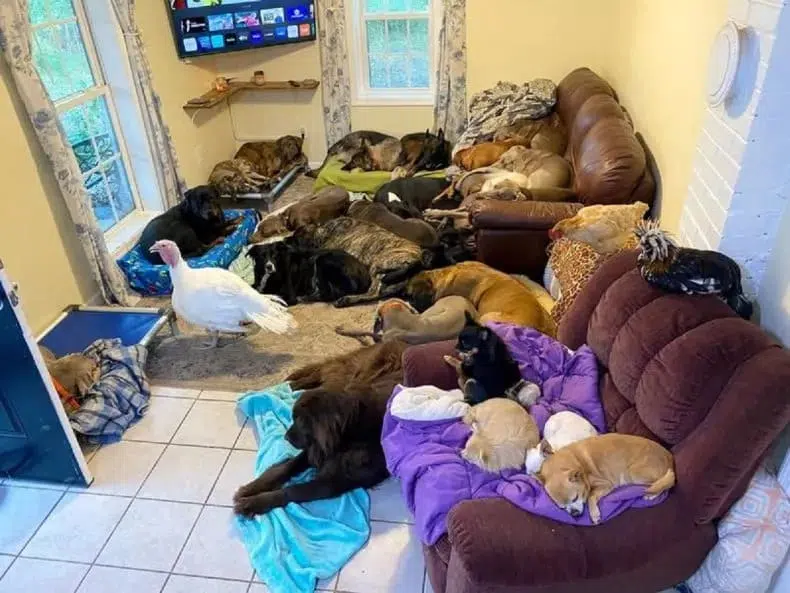 The specific video shows many of the dogs lying calmly in one room, observing their owner welcoming a guest into the house. The caption accompanying the video reads: "We have people come over to our house every day and never worry that our dogs are going to act a fool. Whether they know the person or not, their reaction is always the same, relaxed and respectful."
The Takeaway
Many of the comments are used to ask the owners questions, such as one comment which asks: "Do they each know their names or do they all come running when you call one?" They will often answer these questions with another video showing the answer to the question to give people a better glimpse into their life. This specific question was answered with a video of the dogs coming one by one as they were called.
Living with 30 dogs would no doubt be a huge challenge, but it's one these women are devoted to, and as they put it, they "wouldn't have it any other way."