As the enfant terrible of the British art world, Damien Hirst found fame – and a significant fortune – pickling sheep, a cow, and even a tiger shark. But if there is any animal safe from the artist's renowned creativity, it's his girlfriend's Chihuahua.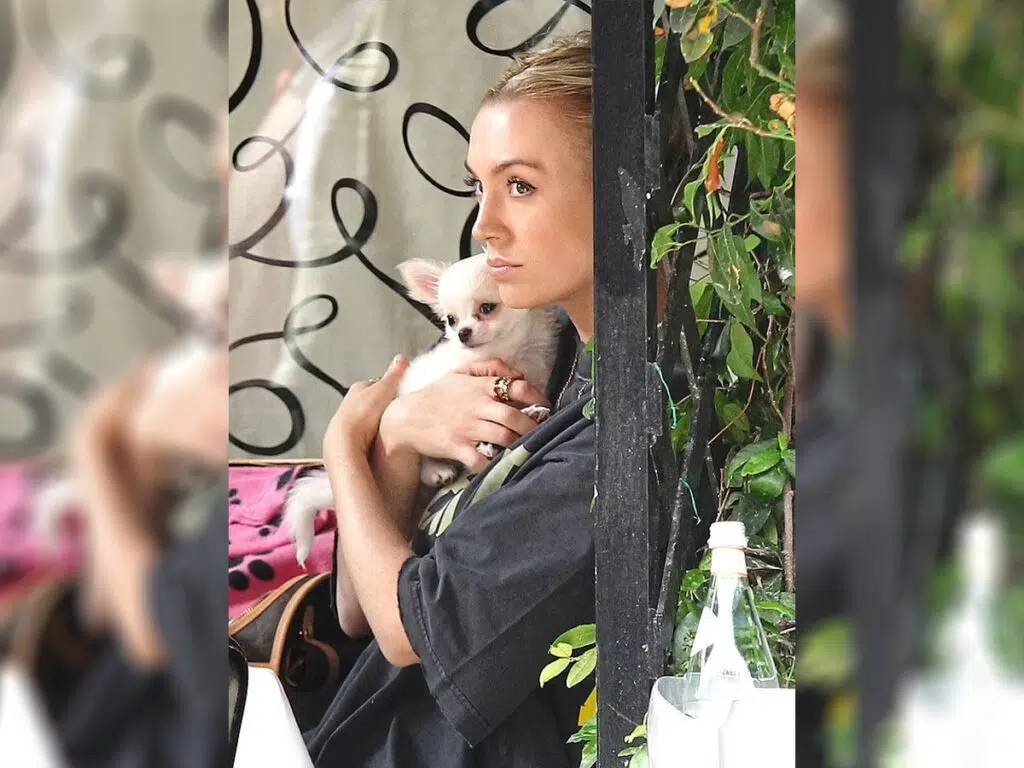 Damien Hirst and The Adorable Chihuahua
Damien Hirst, 58, who has an estimated fortune of £300 million, was spotted engaging in an uncharacteristic display of affection towards the pampered pooch. This was while having lunch at his favorite restaurant Scott's in London's Mayfair.
Showing off a rarely seen softer side, the Hirst snuggled the Chihuahua and gazed into its eyes as his girlfriend, 29-year-old former ballerina Sophie Cannell, fed treats to it.
Hirst, who wore a pale pink knitted beanie, later demonstrated his devotion to the dog by carrying it in a cross-body sling. He chose this particular mode of transportation for the petite Chihuahua out of sheer love and concern for its comfort and safety. It's evident from this gesture that Hirst shares a deep affection for his girlfriend's dog.
The father-of-three also seemed happy to carry its stuffed fox toy, fleece blanket, and Louis Vuitton pet carrier. Sophie was also seen with the carrier.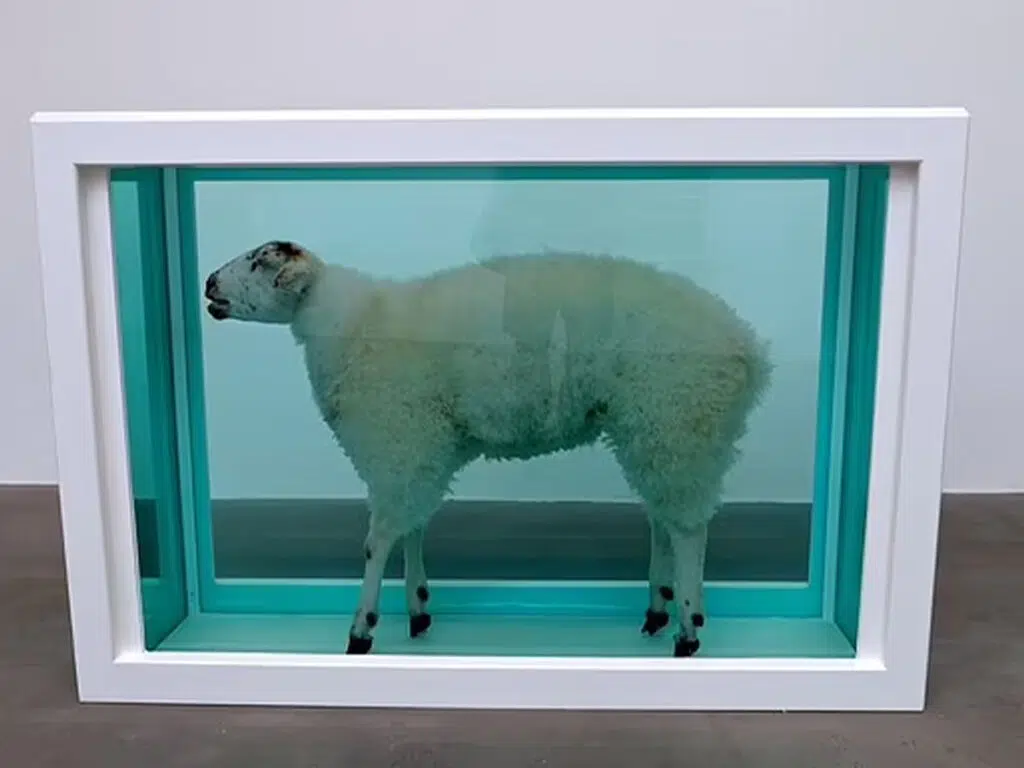 Damien Hirst and His Art
After he burst onto the art scene in the 1990s with his controversial exhibitions, Damien Hirst is said to be the UK's richest living artist, according to the Sunday Times Rich List.
He made his name as part of a group of provocative Young British Artists, securing the backing of influential art collector Charles Saatchi and winning the prestigious Turner Prize in 1995.
Hirst is best known for his pickled animals – including The Golden Calf, an animal with 18-carat gold horns and hooves preserved in formaldehyde. These pieces sold at auction for £10.3 million, his diamond-studded skulls, and colorful spot paintings.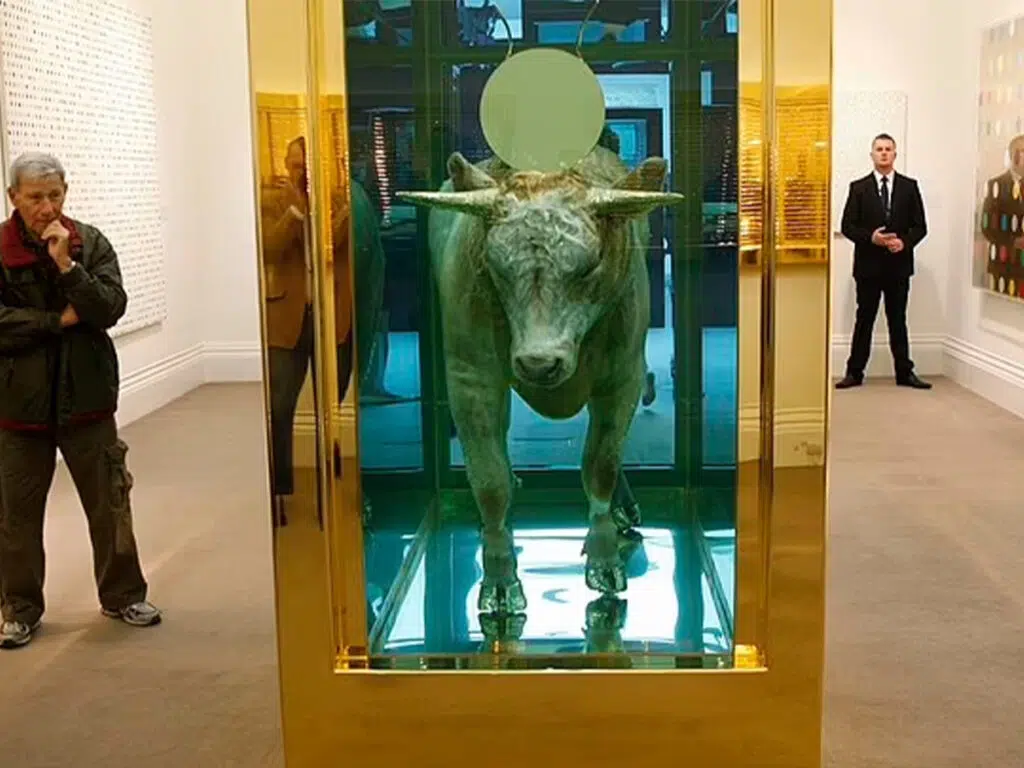 The Artist's Personal Life
As we delve deeper into the life of Damien Hirst, it's worth noting his personal relationships. Until 2012, David Hirst lived with his American partner Maia Norman, and their three sons in Devon. A shift in his personal life led him to meet his current partner, Sophie Cannell.
Get the latest Chihuahua Buzz
Hirst declared his love for her last year in a predictably unconventional way. He did so by immortalizing her in a sculpture, based on her body, as part of one of his four works for Richard Caring's new Mayfair restaurant Bacchanalia.
This unusual method of expression is quintessential Hirst – a testament to his unconventional and avant-garde approach to art. It's not just about the eccentricity of his gesture, but also its significance in the overall narrative of their relationship.
By incorporating Sophie into his artwork, Hirst not only proclaimed his affection but also affirmed her role as a muse and integral part of his creative process. This act intertwines their personal and professional lives in a deeply symbolic way.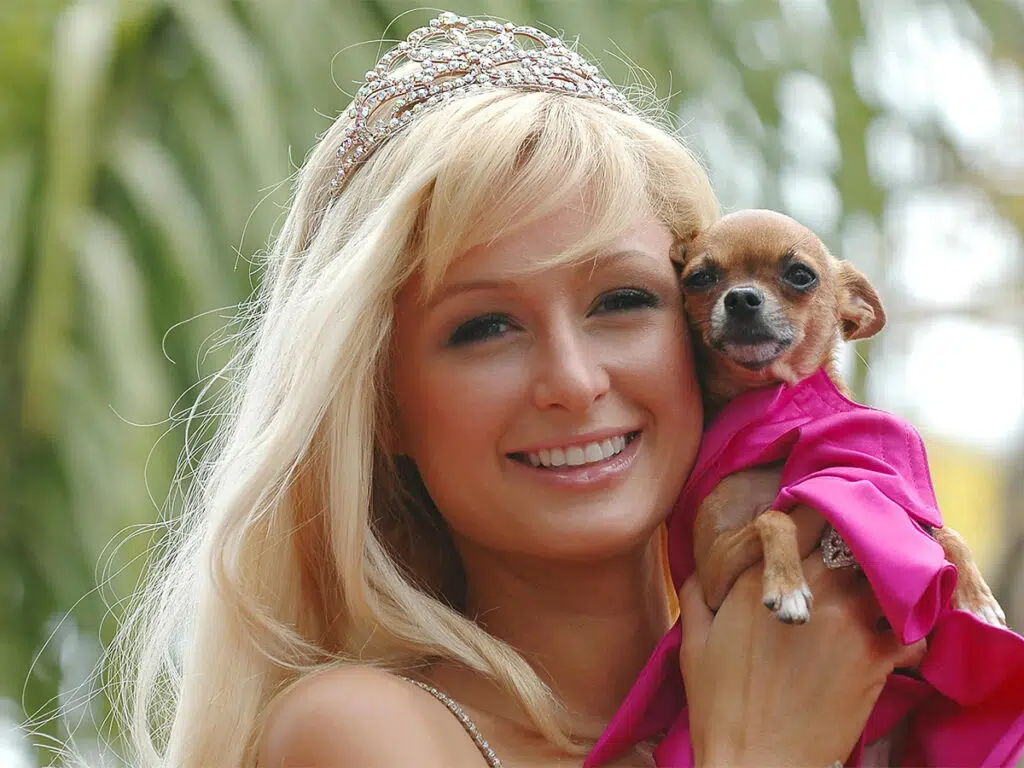 Other Famous Artists and Their Chihuahuas
It's no secret that artists draw inspiration from many places, and for some, their beloved pets offer more than just companionship. They serve as muses, friends, and even brand symbols. So, we have many celebrity dog owners to look up to.
For example, Paris Hilton brought a wave of popularity to this canine breed with her trend-setting fashion that got a syndrome named Paris. Her Chihuahua, Tinkerbell, often seen peeking out from her designer handbags, was more than just a pet; she was Paris Hilton's Tinkerbell, a significant part of her public image.
"I think the reason people loved Tinkerbell so much is because she had such an amazing personality. She was like a person, but in a dog's body. She was just so sweet and loving and really, really smart."

Paris Hilton
Then, we have the actress and film producer Demi Moore, who is not only known for her successful career in Hollywood but also for her love of Chihuahuas. She has been the proud pet parent of several Chihuahuas over the years. Demi's pups have often been photographed accompanying her to various events, adding a touch of charm to her glamorous life.
Following in the footsteps of Moore, another celebrity who has garnered attention for her love of the petite breed is the hilarious Gabriel Iglesias. Iglesias often shares adorable pictures and videos of his furry friends on social media, showcasing their distinct personalities and their significant role in his life.
These artists remind us that our pets often play an integral role in our lives, providing comfort, and companionship, and even serving as a source of inspiration in our work.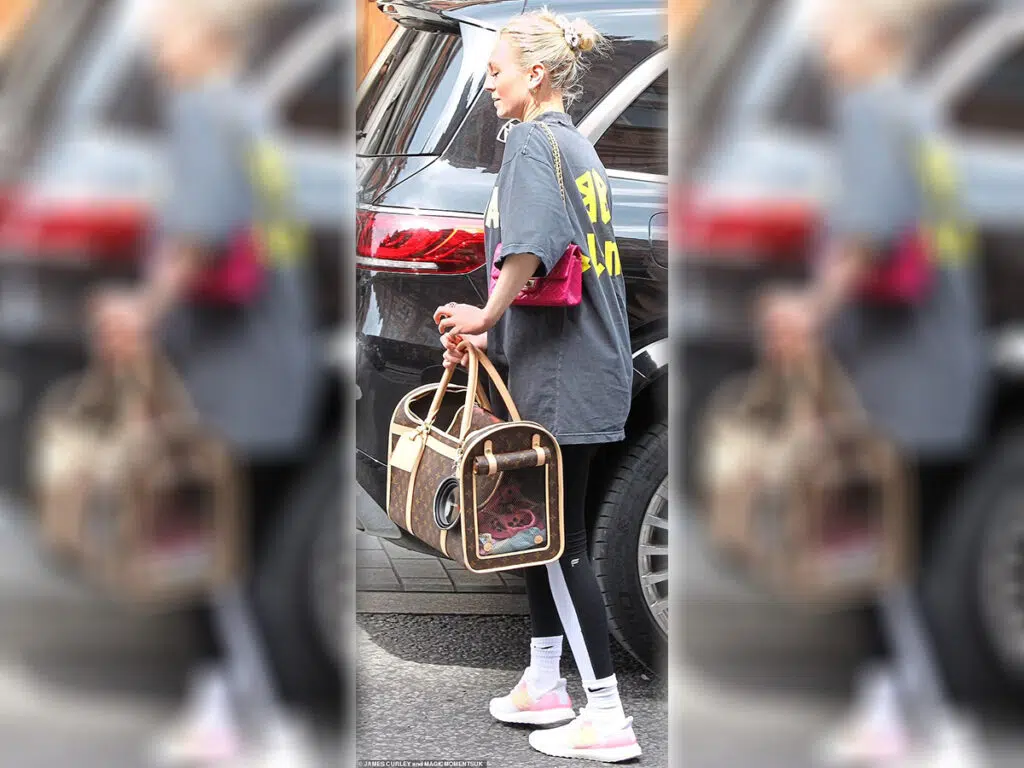 Wrapping Up
What a delightful sight it was to see Damien Hirst, the acclaimed artist, enjoying a heartwarming moment with his girlfriend's Chihuahua in a London restaurant. Who knew that behind the intricate artistic genius, there's a soft side for small dogs?
When we consider the entirety of Hirst's artistic persona, it becomes clear that he is not just about the grandeur and the avant-garde. He is also about engaging with the every day, the intimate, the seemingly mundane, and making it extraordinary.
In the end, it's these simple, authentic moments that truly define us. So, next time you see a Chihuahua, remember this charming scene of Damien Hirst, and who knows, it might just inspire you to appreciate the little joys in life.